As Anaheim Ducks fans begrudgingly know, the team lately has found itself at home in April instead of competing for the Stanley Cup. However, from 2003-2018, they were springtime hockey regulars. With 12 postseason berths in those 15 seasons, they reached at least the second round seven times, including five Western Conference Final appearances and two Stanley Cup Final appearances. They had some pretty memorable battles in those 15 years. In the spirit of first-round upsets in the Stanley Cup Playoffs, let's reminisce about a particularly exciting series in Ducks playoff history: their series win in 2009 over the top-seeded San Jose Sharks.
A Tale of the Tape
The Sharks entered the 2008-2009 season with a loaded roster after a string of premature playoff exits. Among the roster were hockey legends and future Hall of Famers Patrick Marleau, Joe Thornton, and Rob Blake, not to mention studs Dan Boyle and Jonathan Cheechoo. They won the President's Trophy as the league's best team, recording a franchise-high 53 wins and 117 points.
Conversely, the Ducks needed 81 of a possible 82 games to qualify for the playoffs. Following regime changes and significant trade deadline activity, the Ducks went on a hot streak to end the season, going 11-5-2 in March and April to squeak into the postseason as the eighth seed. That hot streak, plus a roster that still included Chris Pronger, Scott Niedermayer, Teemu Selanne, Ryan Getzlaf, and Corey Perry – key members of their 2007 championship squad – gave the battle-tested Ducks all the confidence heading into the postseason.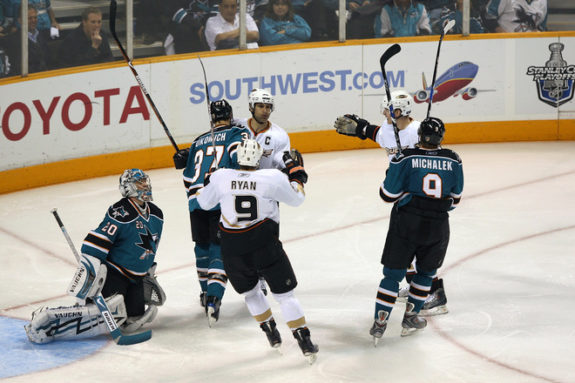 The teams had never met in the playoffs, and it was the first playoff series between California teams since 1969 when the Los Angeles Kings faced off against the Oakland Seals. This series had all the makings of a classic. It had elite players. It had legends versus the next generation. It had a very David vs. Goliath feel to it with the one versus the eighth seed. It had a rivalry. You name it.
Ducks Surprise by Taking First Two Games in San Jose
Success in the playoffs depends on so many factors. Among them are who is coming into the series healthier and with greater momentum. Sometimes it comes down to who has the better players. Or, it's none of those, and instead, which team gets out in front from the beginning. Well, that was the Ducks in this series. In front of a notoriously loud and ruckus HP Pavilion, Getzlaf, Niedermayer, and company jumped on the Sharks from the opening puck drop and never really allowed the Sharks to catch up. Stealing road games against a team as dominant at home as the Sharks were was huge.
Jonas Hiller was Phenomenal
While the Ducks' star players played accordingly, Hiller likewise handled business in net. The Swiss netminder was MVP of the series, and the primary reason they never relinquished the momentum from the two series-opening road wins I spoke of. Hiller produced two shutouts and another one-goal performance for the eighth-seeded Ducks. He posted a .957 save percentage in six games, surrendering 10 goals total. He had two 30-save and two 40-save performances in their victories and never looked shaky or unprepared for the moment. It was special to see him stump such an offensively gifted team, and his performance in this series measured up to other dominant playoff rounds by Ducks goaltenders, including Jean-Sébastien Giguère and Ilya Bryzgalov.
Ducks Star Players Were Better Than Sharks Star Players
When the playoffs roll around, so do the cliches. You need four lines to win. You need contributions from your depth. Only a complete, 60-minute effort will get the job done. Well, how about your best players need to be better than their best players? Six Ducks registered four or more points. Getzlaf led the way with eight. Niedermayer was second with five. Perry had multiple goals, and Chris Pronger registered four points while playing almost 25 minutes a game. It would be Pronger's last postseason in a Ducks uniform, as he was traded in the off-season. Niedermayer would play one more season in Anaheim before retiring.
Related: 5 Teams Ducks Fans Should Cheer on in the 2023 Playoffs
---
Latest News & Highlights
---
On the Sharks' side of things, their star players failed to match. Only three Sharks registered four or more points. Joe Thornton led the way for them, but they just didn't get enough from guys like Marleau, Joe Pavelski, Ryan Clowe, Cheechoo, and Evgeni Nabokov, who was badly outplayed by his counterpart for most of the series.
Top Moment: That Getzlaf-Thornton Fight…
How can you not love this battle? After five games of fierce competition, and with the Sharks on the brink, these two centers went at it right off the opening draw for an intense tilt that got Honda Center absolutely buzzing right from the jump.
Thornton, an offensive wizard in his prime and one of the best passers ever, did have a habit of pestering young players. He would get into it with a variety of young stars over the years, including Jamie Benn, Drew Doughty, and others. Sure, he may have gotten the best of the 23-year-old Getzlaf in this exchange, which ultimately was more of a swing-and-miss tussle, but Getzlaf outplayed him in the series, going plus-5 with eight points to Thornton's minus-3 and 5 points.
Series was an Upset to Remember
No stranger to dismantling Stanley Cup contenders in the first round (ahem, 2003 Detroit Red Wings), Anaheim delivered its most exhilarating series win since their Stanley Cup championship two seasons prior. This easily ranks as one of their biggest postseason wins in franchise history. While the Ducks would ultimately fall in the next round to the Red Wings in a back-and-forth seven-game series, their win over the Sharks was an unexpected yet fun brand of hockey that would set the standard for a sustained run of playoff appearances over the course of the ensuing decade. Knocking off a Presidents' Trophy winner in the first round is always notable, and their 26-point differential in the standings is one of the bigger upsets in NHL playoff history. Not bad for the boys from Orange County.