Ron Francis, general manager of  the Carolina Hurricanes is watching his team disappoint at many levels. The 'Canes are holding on to last place in the Metropolitan Division of the Eastern Conference with 45 points. They have lost their last two games, 2-1 to the Anaheim Ducks, and 6-3 to the Minnesota Wild.
The team is in the same position it has been for the past several seasons. They are out of the playoffs and out of serious contention for a potentially team-changing draft selection. When they do win at this point in the season, it may actually not be helpful. I talked about the irony of possibly losing by winning in an article on February 7th.
What Does Ron Francis Have?
I wrote of a possible move regarding Andrej Sekera a few days ago. Suffice it to say that Sekera is still in the rumored mix of Ron Francis assets to possibly trade.
On February 13th, Chip Alexander of the Raleigh News & Observer, wrote that Ron Francis said he wants to be "fairly active" up to the March 2nd trade deadline.
CanesNow: Francis says Canes 'hope to be fairly active' before trade deadline.http://t.co/hNFEsnCgmz

— Chip Alexander (@ice_chip) February 13, 2015
What does "fairly active' mean, and will being "fairly active" be beneficial to the rebuilding of the Carolina Hurricanes? What does Ron Francis have to offer in the way of trades for other teams, and will anybody want his assets? Let's look at a few possibilities that have been mentioned in the past week as possible trade bait being dangled in the league pool.
Veteran D-man
Tim Gleason has moved around a bit, and found himself back in a 'Canes sweater this season. His one-year, $1.25 million contract is up at the end of this season. Is he a trade target for a team that wants a veteran defenseman with some grit? He could be, if he doesn't fight his way out of being attractive.
Thursday night against the Ducks, the 'Canes had real momentum, when inexplicably Tim Gleason got in a fight with Tim Jackman. The play had moved on from where they were but nevertheless they dropped the gloves:
Television color analyst Trip Tracy initially said that Gleason may have been trying to help Carolina keep their momentum going, but after the game, Coach Bill Peters was not sure if the fight actually helped:
"I thought from the fight on we weren't very good. I don't know what happened there, but to me, that's when the game changed a little bit for whatever reason. I didn't think we played with the same pace and intensity from that point on."
By the way, at www.hockeyfights.com Gleason garnered 75% of the votes as the winner of the fight. Be that as it may, did the questionable brawl cause Ron Francis to think less of having Gleason on his team? Did another team like what they saw in Tim Gleason's toughness? Or did Gleason fight his way out of any meaningful contract extension with the 'Canes or with another team? We will see.
Take my assets, please
Jiri Tlusty has been mentioned as a possible trade target in the past few days. Bob Mckenzie of TSN, said of Tlsuty and also Jay McClement:
Pending UFA forwards Jiri Tlusty and Jay McClement haven't been able to come to terms with CAR on extensions, so they're likely to be dealt.

— Bob McKenzie (@TSNBobMcKenzie) February 13, 2015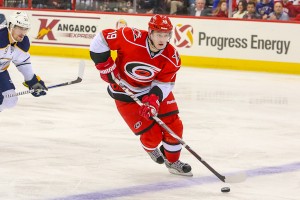 In Chip Alexander's above-referenced article, he mentioned a particular agent visiting the Hurricanes last week:
"Rick Curran, an agent for the Orr Hockey Group who represents a number of Canes players including Tlusty, was in town this week. Curran said he's visiting with his clients, although talks with Francis had to be on the agenda."
Whether or not the talks between Rick Curran and Ron Francis took place, it's obvious something is afoot in Raleigh.[tweetthis]Whether or not talks between Curran and Ron Francis took place, it's obvious something is afoot in Raleigh.[/tweetthis]
Is Jiri Tlusty an attractive addition to another team? He is currently tied with Jeff Skinner for 2nd on the team in goals scored this season with 12. He has 8 assists, and is tied with Riley Nash at fifth on the team in total points with 20. As an unrestricted free agent at the end of a season, he will very likely want to see an increase in his $2.95 million salary. Todd Cordell tweeted that there is definitely value in Tlusty:
Top-10 players in CF% Relative to their team since Jan. 1. Jiri Tlusty would be a nice deadline addition pic.twitter.com/Ke9ZAf0kDW

— Todd Cordell (@ToddCordell) February 14, 2015
"Tlusty could be a good fit for the Washington Capitals. He's a very skilled player who has experience as a top six forward. I think he would represent an upgrade for the Washington Capitals on either the first or second line. However, there is the issue of the proposed cost"
The scenario falls into the category of "rumor" at this point, but I bet Jiri Tlusty would salivate at the chance to play with Ovechkin and Backstrom. Will Carolina Hurricanes fans be salivating at the end of the when Ron Francis announces that he has traded Tlusty (if he does) and what he got in return?
"the promising Burakovsky could fit into their potential rebuilding process."
I guess, but I would not be salivating over Burakovsky. Would you?
Ron Francis and Jay Mac
Jay McClement has also been mentioned as an asset that Ron Francis has that might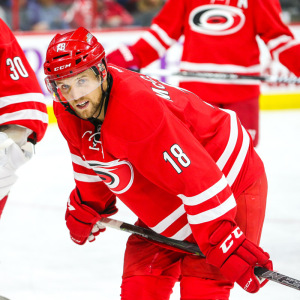 be attractive to other teams. He has 2 goals and 10 assists as a fourth line center. His strength is in the faceoff circle and on the penalty kill. The Hurricanes are ranked 2nd in the league in killing off penalties. Scott Burnside of ESPN said that
"Jay McClement is a good two-way forward with good faceoff skills."
His contract pays him one million this season, and he might be attractive to other teams looking for a rental. But, like Tlusty, what can Ron Francis get in return for Jay McClement? At the end of the day, this is the thing that concerns Hurricanes fans the most.
Spotlight on Ronnie
Like his rookie coach, Bill Peters, Ron Francis is a rookie general manager. He will undoubtedly make some moves that he will later look back on and question. He will also very likely make some moves that will be impressive and start to turn his team around. Which move will be his first, and how will Hurricanes fans and the team respond? He is, after all, hoping to be "very active." Let's hope this will translate into the Carolina Hurricanes being "very active" in the playoffs soon.