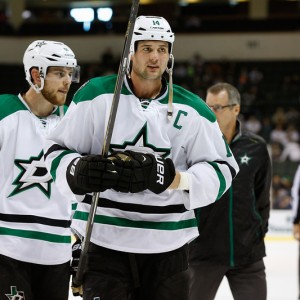 At 14-4-0 through their first eighteen games, Coach Lindy Ruff's Dallas Stars are off to the best start in franchise history. Six weeks into the season, they sit atop the Western Conference, the alpha males of the Central Division wolf pack. Their 3.61 goals per game average is best in the league. Tyler Seguin, Jamie Benn and John Klingberg comprise three of the NHL's current top six scorers. Everything's coming up roses in Dallas, despite one statistic which would be panic-inducing for any other team: The Stars have allowed three or more goals in ten of their first eighteen games. Though the franchise is in unfamiliar territory, Lindy Ruff might be experiencing a bit of deja vu.
The 2006-2007 Buffalo Sabres
Back in 2006-2007, Ruff coached the Buffalo Sabres. That team started the season on a 15-2-1 tear, despite giving up three or more goals in twelve of those games. Over the course of the season, they would allow opponents to score three-plus in fifty games, posting a team goals-against average of 2.90. Fueled by a high-powered offense consisting of three thirty-goal scorers (Chris Drury, Daniel Briere and Jason Pominville) and one forty-goal man (Thomas Vanek), the Sabres averaged 3.63 goals per game, finished first in the Northeast Division with 113 points and advanced all the way to the Eastern Conference Final.
When asked about the similarities between the those Sabres and these Stars, Ruff said, "I think what is similar is the depth of scoring in the lineup," and spoke of Buffalo's top three lines back then. When he turned to the current Stars, the coach had this to say:
…I feel any one of our lines is dangerous, five on five…you have a line of Sceviour-Fiddler-Hemsky, and as well as Sceviour's playing…the last few games, the way Fiddler's played…Hemsky, last night [Thursday's 3-2 OT win over Minnesota] was probably his best game…they were in on a lot of opportunities. So you have a chance to create with every line, and when you have that, it's a dangerous position to be in.
Ruff's focus on the fourth line is key, as that's the biggest difference between the 06-07 Sabres and the 15-16 Stars. Buffalo's bottom line of Andrew Peters-Paul Gaustad-Adam Mair combined to score just twelve goals that season, while the Sceviour-Fiddler-Hemsky trio is on pace for thirty-nine. These Stars have greater forward depth than those 113-point, Eastern Conference Finalist Sabres. How high can they go? General Manager Jim Nill doesn't think they've played their best hockey yet this season. Just eighteen games in, the Stars are already in unfamiliar territory. When Dallas plays Buffalo this week, however, the past will be present for Lindy Ruff, in more ways than one.
Matt blogged about all things hockey at On Goal Analysis/The OGA Blogs from 2008-2014 and has written several travel articles for The Dallas Morning News. He began covering the Dallas Stars and Florida Panthers for The Hockey Writers in August 2015. Matt is also writing a biography of "Tex" Rickard, the Texas cowboy who founded the New York Rangers and the Madison Square Garden Corporation.