The San Jose Sharks have the 21st overall pick in this year's NHL Entry Draft. After years of missing out on first-round picks, the Sharks need to hit a bullseye this year to stock their prospect cupboard. A first round pick is always the one that gets the most scrutiny from a team's fan base and Sharks fans are no different.
Since the 2008 NHL Entry Draft, the Sharks have struggled in the first round. They didn't have a top 30 pick in four drafts since 2008, and of the six picks they've made, three have been traded. Charlie Coyle (2010, 28th overall, center) was the centerpiece in the Brent Burns trade with the Minnesota Wild. Mirco Mueller (2013, 18th overall, defense) was traded last summer to accumulate more draft picks after being mishandled by the Sharks in his rookie season. Finally, Nikolay Goldobin (2014, 27th overall, right winger) was always a gamble and was ultimately traded to acquire Jannik Hansen.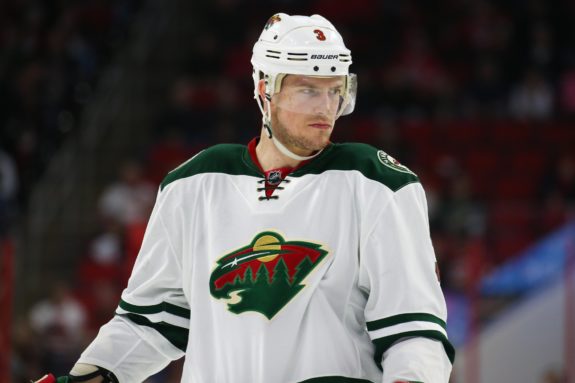 That leaves the Sharks with only three homegrown first round picks in the last ten years: Tomas Hertl (2012, 17th overall, center), Timo Meier (2015, 9th overall, right-wing), and Joshua Norris (2017, 19th overall). Hertl and Meier are key members of the roster while Norris just finished his freshman season with the Michigan Wolverines. All three have great upside, but it remains to be seen if one of them can become a consistent star in the NHL.
What Do the Sharks Need in a Top Prospect?
Speed
No matter what position the Sharks select with their first pick, they need to select a player with speed as one of their top three assets. Speed is the direction of the game, and it doesn't appear to be slowing down anytime soon. Size is becoming less and less beneficial to players as long as they are fast.
Players like Johnny Gaudreau (5'9″, 157 pounds) are thriving because they have fleet feet and silky hands. Gaudreau had 84 points in 80 games this season for the Calgary Flames, and despite his lack of traditional hockey size and strength, he is typically the best player on the ice.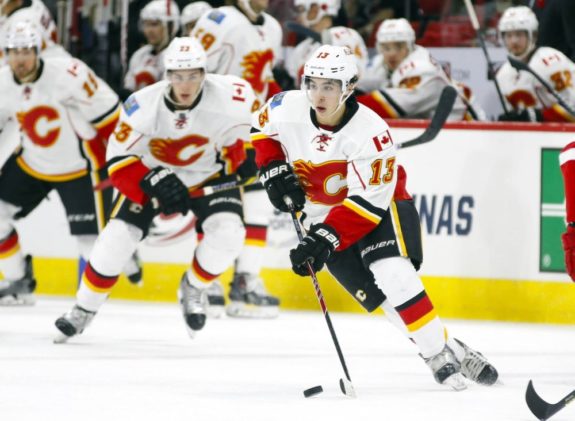 For this year's draft, the Sharks should black out the height and weight boxes so they can hyper-focus on the players that possess speed.
Point Production
The Sharks have enough defensively responsible prospects in their pipeline. They need to take a risk and go for a player that has been an offensive dynamo even if they have defensive deficiencies. Defensive skills can be learned and typically requires a player to change their mindset to give more effort in their own zone. Offensive power isn't something that is easily learned and requires a high level of skill, especially at the NHL level. It may be a gamble, but the Sharks need a potential top scorer since their prospect pool does not feature one.
Ideal Position
In Doug Wilson's tenure as GM, the Sharks have gravitated towards picking centers in the draft. Most of those players don't end up playing center but get converted to the wing. The Sharks have done a decent job of drafting defensemen in the later rounds and have some potential studs that could make the roster in the next few years. In the first round of this year's draft, the Sharks should target a forward. A center is always preferable because strength down the middle is essential to championship caliber teams.
Who Should the Sharks Take?
Ryan McLeod of the Mississauga Steelheads in the OHL. He's a 6'2″ center with speed as his primary asset. McLeod potted 70 points in 68 games this season for the Steelheads and will most likely play in the OHL for another year before turning pro. He has the speed that the Sharks are looking for and particularly at the center ice position.
Not only is McLeod fast, but he has the explosive acceleration to go with it. Quick first steps are almost more important than top speed. He has impressive edge control which drives opponents crazy when they attempt to defend against him. It's a bonus that he has a big frame to go with all of that quickness.
McLeod is a pass-first player and could always shoot more but Sharks fans will be used to that since they've watched Joe Thornton for the last 13 years. He is skilled off of the rush, something that the Sharks struggled with against faster opponents the last few seasons. McLeod's long-term projection is a playmaking second-line center, but the opportunity to be a first-line center will be there.
Backup Plan
If McLeod is off the board by the time the Sharks make their selection, then they should pick Akil Thomas of the Niagra IceDogs in the OHL. Thomas had a productive second season with the IceDogs by putting up 81 points in 68 games. He is an all-around center with solid speed and two-way skills. His offensive ceiling isn't as high as McLeod, but he would make a great pick as well.