Buffalo Sabres general manager Kevyn Adams had a successful second day at the 2020 NHL Draft, executing a clever trade with the San Jose Sharks and drafting four high-quality prospects. Throughout the course of an eight-hour day, the Sabres welcomed their newest members to the organization; J-J Peterka, Matteo Costantini, Albert Lyckasen, and Jakub Konecny. Adams is confident in the players he and his scouting staff selected and believes that each of their 2020 draftees will play a key role in the team's future.
Related: Who's Never Picked #1 in the Draft?
"I challenged the staff to really dig in and to do the work and to make sure that when we're about to announce the name that we feel that he's a Sabre," said Adams in his post-draft press conference. "I feel we accomplished that."
Round 2, 34th Overall: J-J Peterka
The Sabres kicked off the second day of the NHL Draft by trading their 38th and 100th overall picks to the San Jose Sharks in exchange for the 34th overall pick. The team moved up four spots to draft Peterka, a dynamic, 5-foot-11, 192-pound left-winger from Münich, Germany. Adams had been eyeing Peterka since the first day of the draft and was initially hoping to trade up for him in the first round.
"We were trying hard yesterday… I think that's why I didn't sleep a lot last night because I was thinking about Peterka," said Adams. "I got in the office this morning early and we started going to work on it."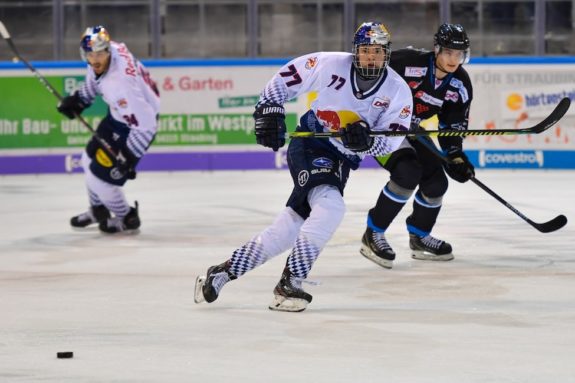 In 2019-20, Peterka recorded 11 points (7 goals, 4 assists) in 42 games played with EHC München in the DEL, Germany's top professional league. In the previous season, he posted 94 points (45 points, 49 assists) in 48 games played for RB Hockey Akademie in the Czech U19 league. He was ranked the seventh-best European skater in the draft by NHL Central Scouting and is a high-potential prospect who could see ice time with the Sabres as soon as next season.
"My goal is, for sure, to play as soon as possible in the NHL and help the Buffalo Sabres win a Stanley Cup," said Peterka.
Round 5, 131st Overall: Matteo Costantini
Costantini is a 6-foot-0, 174-pound centre from St. Catharines, Ont. who played the 2019-20 season with the Sabres' OJHL (Junior A) affiliate, the Buffalo Jr. Sabres where he recorded 68 points (36 goals, 32 assists) in 50 games played, and earned himself OJHL Rookie of the Year and Second All-Star Team honours.
"Character-wise, he's a very, very solid kid," said Patrick Kaleta, president of the Jr. Sabres. "And then skills-wise, on the ice, I think his game can speak for itself. You don't get drafted to the NHL if that part is lacking. Obviously, as you get older, speed and skill gets better and better at every level. So, he'll have to work."
Costantini was the #1-ranked OJHL prospect in the 2020 NHL Draft and will serve as assistant captain of the Penticton Vees in the BCHL next season. In 2020-21, he plans to join the University of North Dakota in the NCAA to continue working towards playing in the NHL. Costantini is a highly-skilled offensive weapon known for his strong work ethic and determination.
"He knows it's going to take work," said Kaleta. "He'll do whatever he can to get to the point where he puts on the actual Sabres jersey."
Round 7, 193rd Overall: Albert Lyckasen
The Sabres' only defence draftee in the 2020 NHL Draft came in the seventh round with the selection of Lyckasen. The 5-foot-11, 187-pound Swedish blueliner played the 2019-20 season with Linköping of the Swedish U20 SuperElit league, recording 36 points (14 goals, 22 assists) in 43 games played. He was also a member of Sweden's gold medal team at the IIHF U18 World Championship in 2019.
Lyckasen will play the 2020-21 season with Tranås AIF in HockeyEttan, Sweden's third-tier professional league. The 19-year-old defenceman will likely need a few more seasons to develop before he can push for a spot on the Sabres' roster, so expect him to be in the picture around the 2022-23 season.
"He's got great edge work and four-way mobility," EliteProspects noted in their 2020 NHL Draft Guide. "He wants the puck on his stick. He wants to lead the puck up-ice. He wants to quarterback the power play. He wants the puck back as soon as his team has lost possession. And he plays like it. He's got such a great gravitational pull with the puck, which creates so much extra space for his teammates every time he's on the ice."
Round 7, 216th Overall: Jakub Konecny
The 216th-overall pick was acquired by the Sabres when they traded defenceman Taylor Fedun to the Dallas Stars in 2018. Their final pick of the 2020 NHL Draft saw them select Czech centre Konecny. The 5-foot-10, 157-pound forward is playing with HC Sparta Praha in the Czech U20 league and has recorded 13 points (four goals, nine assists) in nine games thus far. In 2019-20, he tallied 25 points (11 goals, 14 assists) in 32 games played.
"What Konecny brings to the table is pretty straightforward: he's fast and has above-average puck control," Defending Big D said of Konecny in their pre-draft scouting report. "The fact that he plays center is a bonus, although there's some doubt about whether he has what it takes to stay as a pivot-moving forward. The 2020 crop of Czech forwards is fairly underwhelming, which has given Konecny a lot of opportunity to represent his country internationally, something that is likely to continue. Scoring totals don't fully reflect his tools."
Related: 2014 NHL Draft Top 10 – Where Are They Now?
Adams' second day at the 2020 NHL Draft was a huge victory. The rookie general manager can now look forward to free agency which is set to begin on Friday, Oct. 9. With the acquisition of future Hall-of-Famer Eric Staal and five highly-touted prospects, including the top goal scorer from this year's draft, Adams has done some exceptional work in his first few months on the job, but he can't slow down now.
There are still plenty of crucial issues that need to be addressed, including finding a solid starting goaltender. If his recent transactions and draft selections mean anything, Adams seems to be up for the challenge. He will look to have a playoff-calibre roster ready to go by the start of the 2020-21 season. "We need to improve our roster, period," said Adams. "We need to become a better team."
---
---