The cardboard cut-outs in the KeyBank Centre are starting to turn on the Buffalo Sabres. It's a sign that there's trouble in New York's Queen City.
One effigy, in particular, has metaphorically had enough. Chris Calarco wanted to honor his aunt's memory with her simulated attendance at Sabres games for the 20-2021 COVID season, but now he wants to remove her likeness so she "doesn't have to watch this anymore." Head Coach Ralph Krueger wants his team to believe in the process, but most of the fans – and apparently their lifeless stand-ins – have lost their faith a while ago.
There's a long history of sending a message by setting something on fire. Ancient Chinese civilizations used systems of daytime smoke and nighttime flame to convey messages about approaching armies, for example. By setting the comment section of this post-game summary ablaze, Calarco represents the anger of all Sabres fans and sends a clear signal to the team.
But, what anyone outside the Sabres locker room has to say about how the season has gone so far, will be of little concern to the players and coaches inside it. They already know where they are and what the standings say about their season. Hell, they're living it. Imagine going out and trying to accomplish something night in and night out, just to come up short. Every. Time. It's frustrating and it's starting to show on the player's faces in post-game interviews, and it's symbolized by Jack Eichel's broken stick – smashed over an empty seat as the horn sounds on another defeat.
Burn the Boats
For the first time since the season began, Krueger's postgame message on Feb. 16 changed from positivity to desperation at the need for the Sabres to get themselves out of the funk they're in. Following back-to-back losses to the New York Islanders, the coach – visibly tired and flummoxed – made no bones about the fact the team has no other option but to fight their way out of the darkness.
Another igniting throwback comes courtesy of Spanish Conquistador Hernán Cortés. Upon landing with his forces in Mexico in 1519 on a mission to destroy the Aztec Empire, Cortés made a famous example having no choice but to move forward, by setting the boats his army arrived in ablaze in the water. For the Sabres, the boats are already charred and at the bottom of the sea and the fire signals clearly show approaching hordes of displeased fans are growing in strength.
"Nobody is going to feel sorry for us here for this situation that we're in and we need to show our character right now," Krueger said. "We need to step up and deal with this pain in a constructive way. It's the way we're built and it's the way we need to act now, very quickly."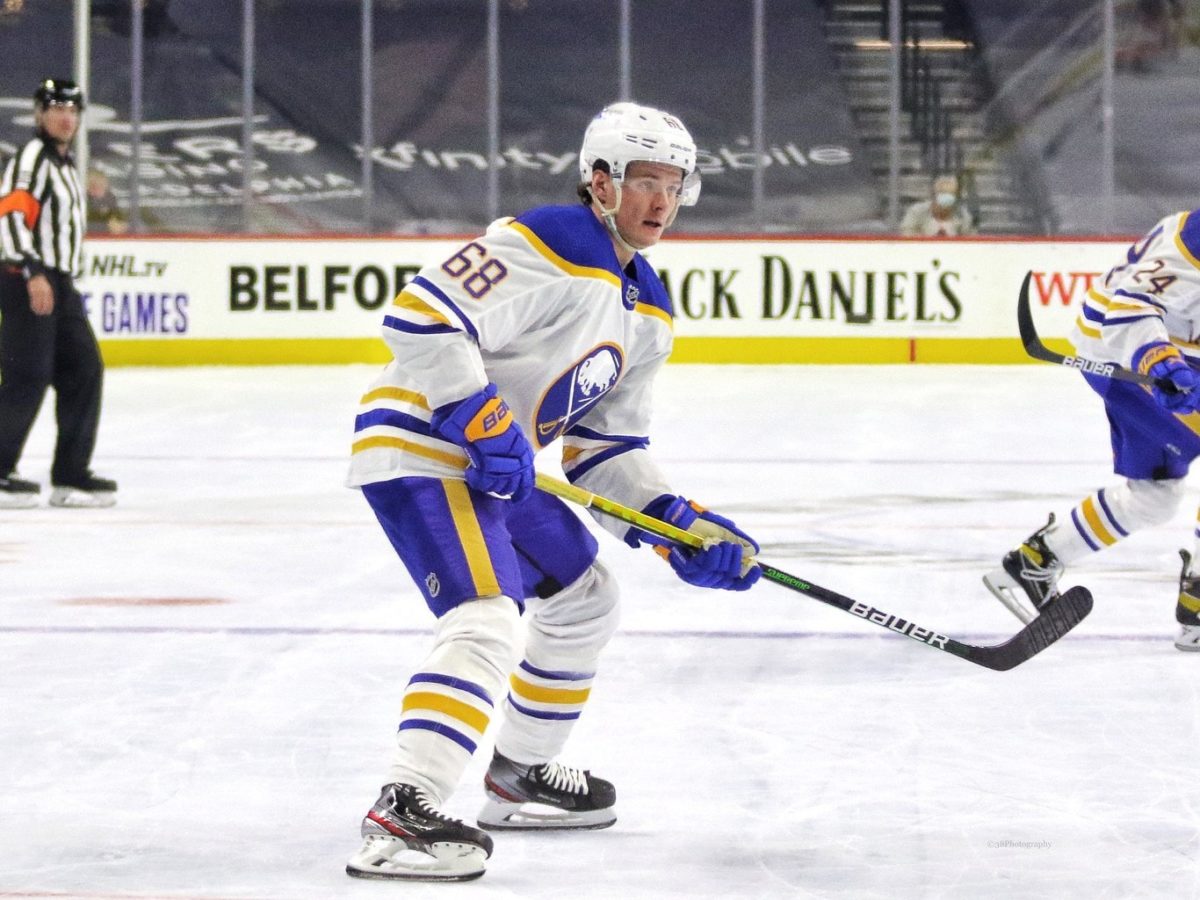 In the next breath, the coach was quick to defend his team's ability to match the Everest-sized mountain they now need to climb towards contention for a playoff spot. "I don't think anybody can call these guys anything but guys that [are] still believing. But we didn't get it done. We need to be disappointed but we need to react to it.
"We come out of this one angry but that's not useful unless we use it properly. I'm going to make sure the team remembers what happened here these two games," Krueger said.
Defensive Depth
There is one positive out of the many negative lessons the team can take to the bank after the series with the Islanders. In the first game, without Rasmus Ristolainen, Brandon Montour and Jake McCabe – three big parts of the team's defensive core – taxi squad call-ups William Borgen and Brandon Davidson held their own and didn't look out of place. This shows management that they have some defensive depth to work with.
"Borgen and Davidson stepped in and really played a good game for the fact that they haven't played in something like a year," Krueger said. "It was a pretty good depth effort…We did learn something about ourselves and our depth on D and of course, when you see the roles that Montour, Ristolainen and McCabe play, you would have expected us to give up much more than we did."
Throughout the season, the case has always been that the Sabres defense has been stingy. They haven't given up a whole lot. The reason they aren't winning games is they aren't scoring goals.
Shallow Offence
"If you don't score, you can't win," forward Jeff Skinner said bluntly, appearing taken aback by both his own personal efforts and that of his team after another loss. It's not like these guys aren't trying and that's something that is reflected in the numbers. During Feb. 16's 3-0 loss, the Sabres dominated with 70.5 % of the high-danger scoring chances throughout the game. Though, the overall shot-attempt differential between the teams was closer, with the Sabres at 57.4% and the Isles at 42.8%.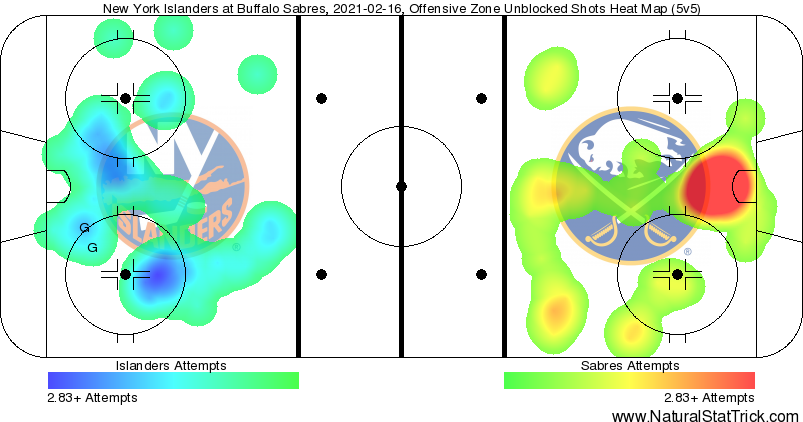 The team is still getting chances, they just aren't able to bury them. It's something coach Krueger thinks can be fixed by making a few adjustments.
"The heart was there and the compete was there but they got the momentum on us early," he said on Feb. 15, in a game where the team went without a shot in the third period. "For me, it would be the energy that you could feel dwindling in the third that we would have needed to be able to turn this game…Personally, I think there are just some five-on-five habits that need to be strengthened and the shots can come and will come and we're going to concentrate more on the process than on that final shot clock result.
"I'm never one that'll hang it on anybody's shoulder as an individual. I think it's a team production of goals that need to happen on five-on-five and we need to keep working on the habits that will get us there."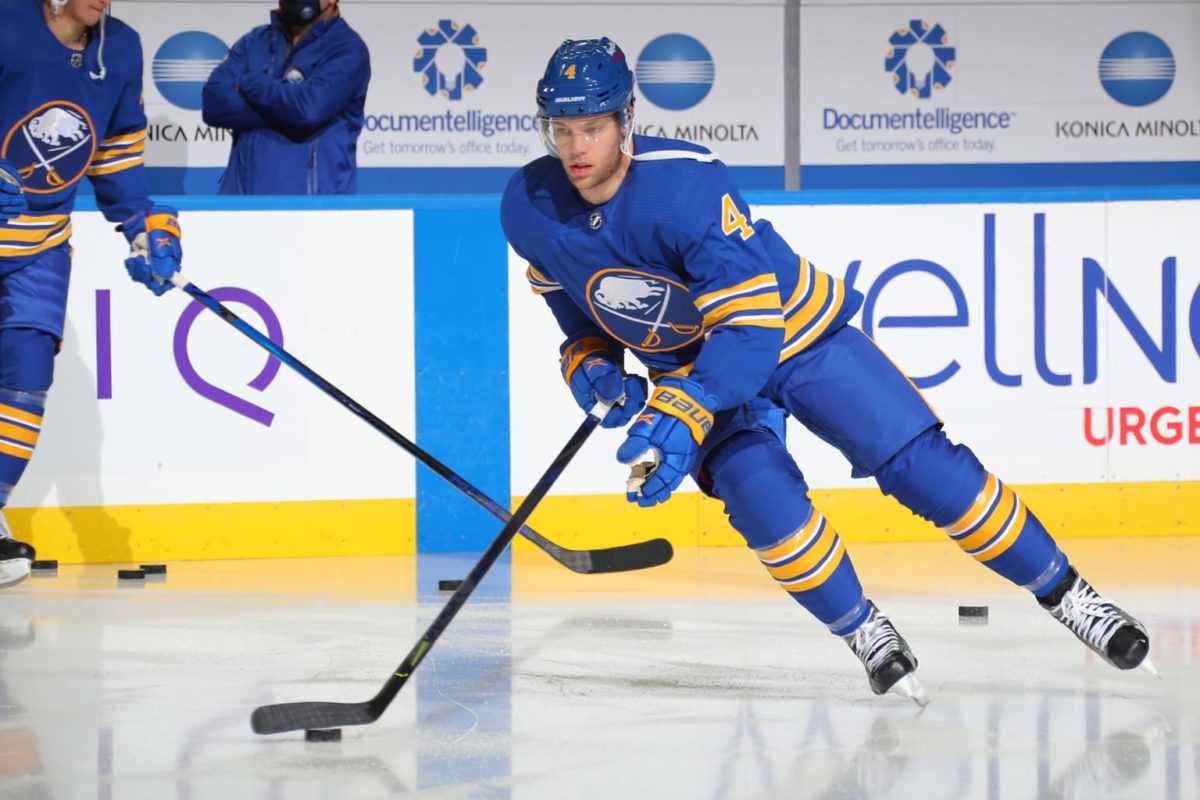 Krueger's message about exactly what habits need strengthening might need to be revisited or restated, though. Because, when he was asked Feb. 16 about what can be done to get more five-on-five scoring, Taylor Hall was left scratching his head.
"You look at the last two games, taking into account everything that we've gone through as a team – not playing for two weeks and coming in against a team that is probably playing their best hockey of the season so far – there's a lot of good things and I know that's probably not what people want to hear and not the spicy headline but, we are doing things that a lot of times are going to win you games and right now we can't find the offensive part.
Related: Sabres Weekly: First Game in Two Weeks, Missing Pieces & New Faces
"If I have four or five goals right now you don't really know what our season looks like, especially with how close the games we've had [have been] and how much we've been in games right until the very end. I've got to find out what I can do better to score and produce offense because that's what I was brought here to do."
Sabres Losing Games Early
It's always been in the Sabres game plan to come out with a strong start and get the lead early, but they've not been able to accomplish that much this season. They've given up the lead in nine of the first 12 games. They've lead in games for only 1:35:43, while they've trailed for 5:15:22.
"That's a storyline we need to stop," Krueger said. "I thought the effort was there. There are some tired guys in the room [to prove it]. It wasn't for lack of trying but, lack of success is unacceptable and we need to work through it. The early starts are killing us. We're not getting any momentum on our side and we need to find ways to enter the games better.
"We are in a league where results matter and results count so, speaking about the process here, and speaking about the good things that happened in this game… the job of us here and myself and leadership is to maintain rigid, rigid focus on the process working on solutions for what's not happening here and it's our inability to score 5-on-5."
Hall agreed. "It's important for us to not come in [the dressing room] after the first period down 1, down 2," he said, "especially in a season when teams are keeping it simple. Team's that get leads are going to keep leads."
If they're going to turn that trend on its head against the Washington Capitals on Feb. 18, they're going to have to get some net-front presence, something that gave the team a bit of success against the Islanders.
"We're not a big, physical team that's going to go and man handle guys in front," Hall said, "but we do have to have net presence and we do have to have layers of guys coming in for rebounds. We're going to figure it out we're going to get better."
---
---
Mike Carter is a freelance writer and contributor for the Buffalo Sabres with The Hockey Writers and NHLTradeRumors.Me He is @mikecarterlives on Twitter. Mike has been writing professionally since 2012, with stints as a reporter in northern British Columbia and Edmonton, Alberta. He now calls Salmon Arm, B.C. home.