Give the Buffalo Sabres credit. The team worked hard to bounce back from a 10-4 beat down by the Dallas Stars on Thursday. They played well but simply could not beat the New York Rangers and goalie Igor Shesterkin. The game went to overtime, with the Rangers gaining a tough 2-1 overtime win over the Sabres on Saturday night.
Shesterkin was the Rangers' hero in Saturday's game. The Sabres pushed hard, but he stole the game by making 32 saves to force the extra period. Artemi Panarin scored the game-winning power-play goal just over two minutes into overtime. Patrick Kane also scored his second goal in four games for his new team.
Related: 7 Cool Things About the Buffalo Sabres French Connection
Jeff Skinner scored for the Sabres. He is now better than a point-a-game player, with 29 goals and 37 assists (for 66 points) in 62 games played on the season.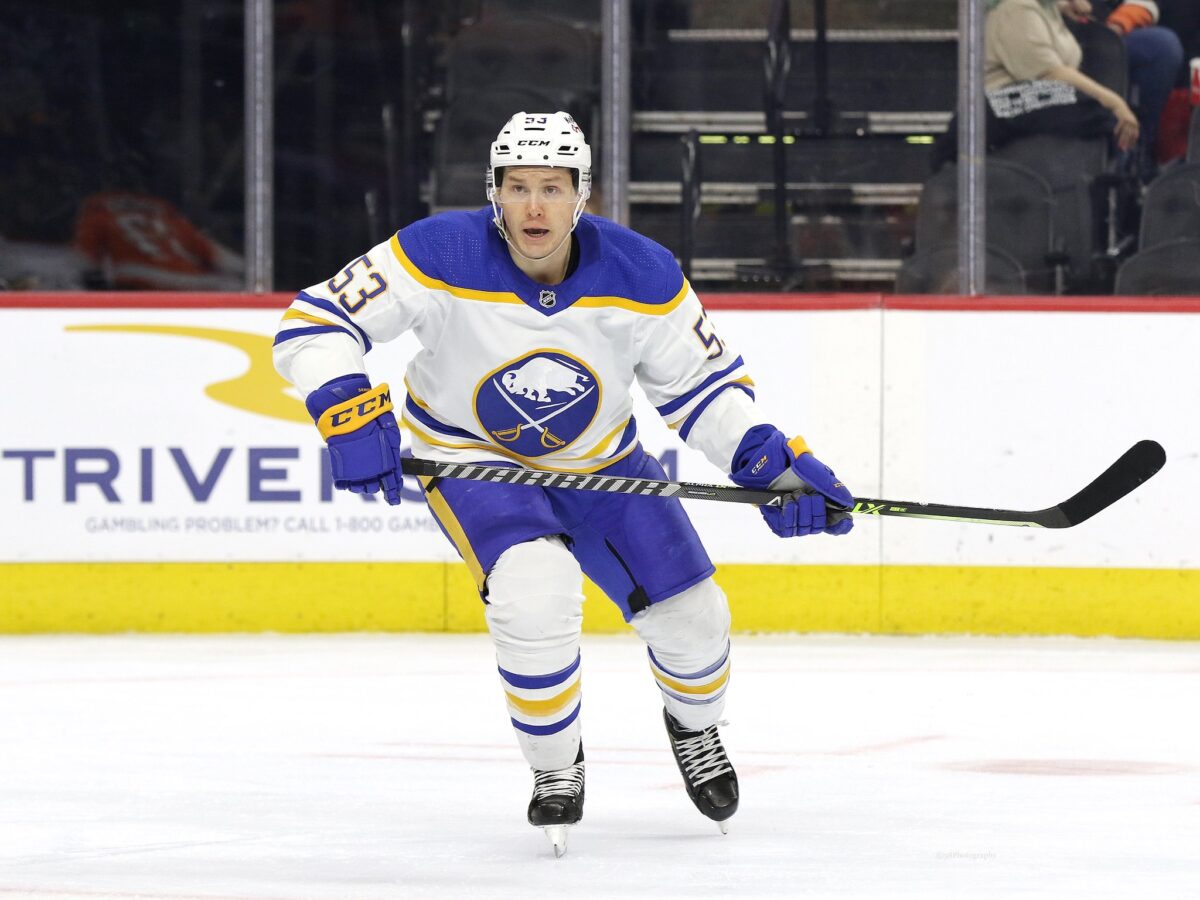 It was another tough loss. The Sabres have now lost five of their last seven games. While they were close not long ago, they find themselves slipping out of the playoff race in the Eastern Conference.
Item One: Tough Loss for Sabres' Goalie Ukko-Pekka Luukkonen
Sabres goalie Ukko-Pekka Luukkonen started at home Saturday against the Rangers. He came into the game with a 15-10-2 record, a 3.61 goals-against average (GAA), and a .893 save percentage (SV%) in the 27 games he had played this season. However, he had allowed at least three goals in each of his last four outings.
Related: Sabres: Revisiting Tom Golisano's Purchase to Save the Franchise
---
Latest News & Highlights
---
He played much better Saturday night and lost a tough game to the Rangers. Despite stopping 24 shots, Luukkonen couldn't stop the Rangers from scoring the game-winner in overtime. The loss adds to his recent struggles. He's only won two games since the beginning of February. On the season, his record moved to 15-10-3, with a 3.54 GAA and .894 SV%.
With Eric Comrie sidelined due to a lower-body injury, Luukkonen will likely split the workload in net with veteran Craig Anderson for the remainder of the season. Anderson, by far, has the best goalie numbers for Buffalo.
Item Two: Ilya Lyubushkin Records an Assist in Saturday's Low-Scoring Game
Ilya Lyubushkin registered an assist in Saturday's 2-1 overtime loss to the Rangers. He set up Skinner's goal with a nice cross-ice pass midway through the second period. That goal gave the Sabres a 1-0 lead, but they couldn't hold it.
The big Russian defenseman now has 12 points in 51 games this season. He's also collected 72 blocked shots and registered 81 hits.
Item Three: Alex Tuch Has Returned to Practice
In some good news for the Sabres, forward Alex Tuch returned to practice. He's missed eight games with a lower-body injury, but he soon might return to game action.
Tuch is having a great season for the Sabres. He's now scored 28 goals and added 34 assists (for 62 points) in 57 games. When he returns, he'll rejoin the top line of Tage Thompson and Skinner. There's even a possibility he could return for Monday's rematch against the Toronto Maple Leafs.
Related: Sabres Need to Use Jordan Greenway Differently
Interestingly, who would have thought that the Sabres would have won the Jack Eichel trade? However, compared with Tuch's 62 points, Eichel has scored 23 goals and added 27 assists (for 50 points) in 53 games. That's not a bad season at all, but it doesn't compare favourably to Tuch's season.
Item Four: Rasmus Dahlin Suffers Upper-Body Injury Against the Rangers
Rasmus Dahlin has been a workhorse for the Sabres this season. Last night, he played over 27 minutes in the overtime loss to the Rangers. It was his second-highest ice-time total in almost two months. However, during the game he suffered an upper-body injury. He's listed as day-to-day.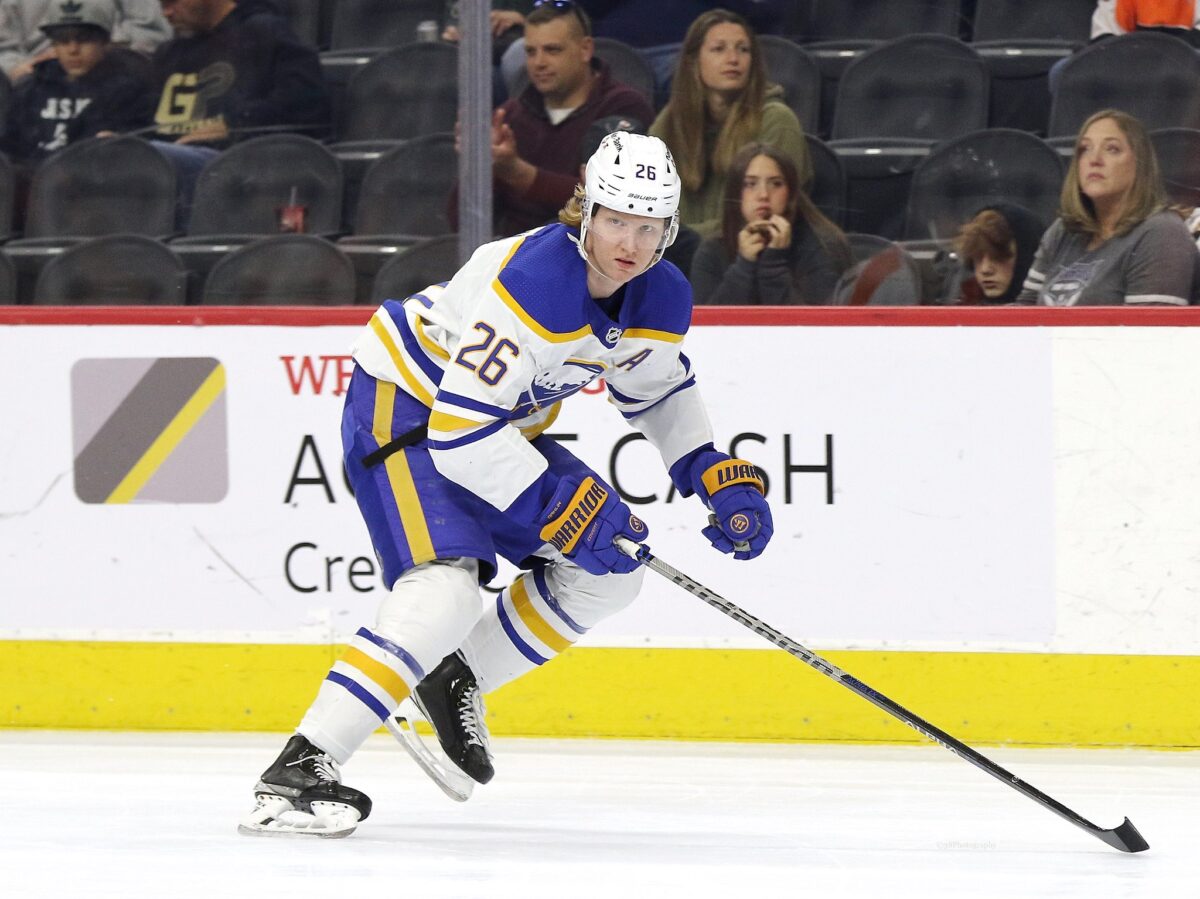 Dahlin is not only the Sabres' top defenseman, but he's one of the NHL's best. He averages the third-most minutes per game in the NHL and leads his own team in scoring and high-danger chances. If he's unable to play tomorrow against the Maple Leafs, it will be a loss for the Sabres. His absence will be felt.
Related: Sabres News & Rumors: Goalie Play, Cozens & Beast of the East
Dahlin has scored 14 goals and added 49 assists (for 63 points) in 61 games this season. He also has registered 104 shot blocks and 87 hits. Owen Power is the top candidate to replace Dahlin on the team's first defensive pairing.
What's Next for the Sabres?
Sabres head coach Don Granato was happier with Saturday's game. After the game he noted that: "I think we played less tight than we have the last few games. I don't know if we got to fearless yet. I think there's a whole other level for us. Without compromising defensively, I felt we still generated enough to win a hockey game." The Rangers are a tough team and the Sabres played well. It was a tough loss.
---
---