The Edmonton Oilers were deadly serious about trading for Erik Karlsson at this season's NHL Trade Deadline. An elite defenseman who is on pace for 103 points this season, GM Ken Holland was willing to push most (if not all) of his chips in to acquire the blueliner in what would have been considered a blockbuster deadline deal. He would have been a difference-maker this season and there's always a chance Holland kicks tires on this again in the offseason.
With that in mind, the question about whether the Oilers should revisit the idea of a Karlsson trade is one Holland should heavily consider. Making a move to try and re-spark trade talks in the summer might not be the best decision for the organization.
Bouchard and Ekholm Might Be a Top Pairing
While Karlsson was on their radar, the Oilers instead chose to go with Mattias Ekholm and the early signs of the return are solid. He's been excellent with the team since his arrival, he's mentoring a player like Evan Bouchard, and while the Oilers are giving up goals more often than they'd like, Ekholm is not to blame. In fact, in a game where the Oilers allowed the Toronto Maple Leafs to score seven goals on them, Ekholm and his playing partner were one of the few bright spots.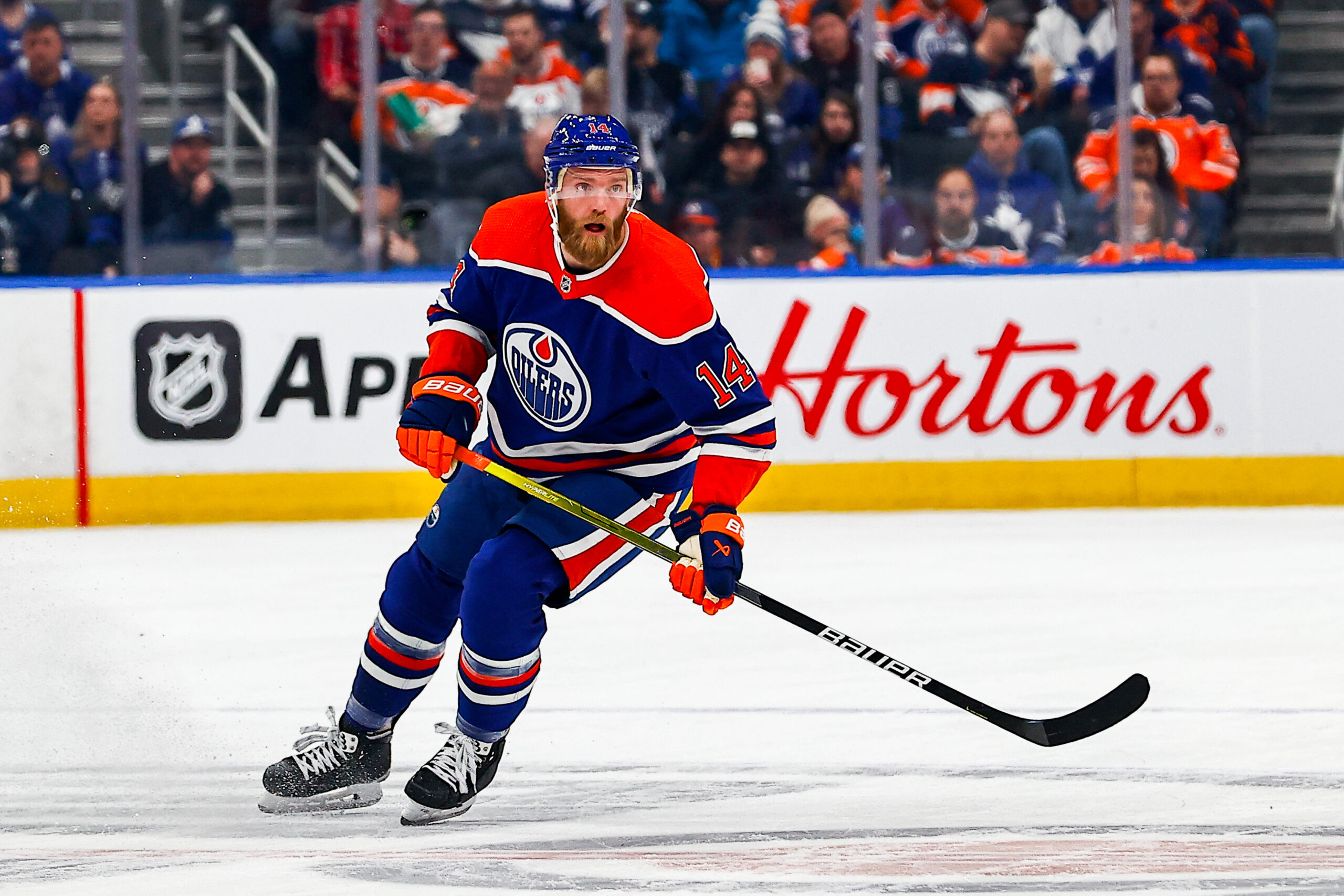 With Tyson Barrie having gone to Nashville in the trade that saw Ekholm come in, the big piece the Oilers would have moved to send salary to San Jose is now gone. That makes the challenge of adding Karlsson's $11.5 million salary — or at least a healthy portion of it — much more difficult. The Oilers will have money coming off of the books and have the ability to go 10% over the salary cap during the summer, but there aren't a lot of pieces on this current roster the Sharks might be interested in.
One player could be Bouchard and while his current salary doesn't even things out money-wise, he will be more expensive moving forward regardless of whether the Oilers offer him a bridge deal or a long-term extension. That said, trading Bouchard is not a slam-dunk decision, especially if he continues to progress and flourish alongside Ekholm for the remainder of the season.
If these two find chemistry, they may turn into the Oilers' top pair. A steady, well-rounded defender with an offensive upside (Ekholm) and a gifted offensive producer who is rounding out the other areas of his game (Bouchard) might be a key part of the team's success over the next three seasons. Holland shouldn't be so quick to trade that away.
The Oilers Will Have Competition For Karlsson
One of the advantages the Oilers had at the deadline was that they were the only serious bidder for Karlsson's services. There were other teams that checked in on his availability, but none were capable of making the math work on their salary cap. That won't be the case in the offseason where the Sharks will surely try to get as many buyers involved as possible to up the potential return.
---
Latest News & Highlights
---
Holland shopping in a seller's market is unwise. He can't and shouldn't pay for an aging defenseman when the cost is at its peak, especially if other teams are willing to get into a bidding war. The potential for a mistake in that scenario is too great and the Oilers can't afford to make a mistake when the GM will need to round out the team with roster members at a strong dollar value.
Holland needs to be willing to make difficult decisions, but he needs to find value in the market as he does so. A Karlsson trade during the offseason probably won't be good value.
Karlsson May Not Reproduce This Magical Season
At the end of the day, there's no guarantee that Karlsson will ever produce at the same level he's producing this season. He'll always be a good defenseman, but it wasn't that long ago his contract was deemed untradable. Should he regress in terms of his offense (which is likely), the Oilers will have added another $9-$10 million on their salary cap for a player that isn't doing much more than someone like an effective and more developed Bouchard can do.
At the same time, the Oilers will undoubtedly have to give up their 2024 first-round pick to make the deal work and that means no first-rounder for two consecutive seasons.
If there's no market for Karlsson and the Sharks are more motivated to move him, then Holland should certainly look at this. But, one has to imagine the market will be greater than it was just a few weeks ago and that means the Oilers should rethink acquiring the Sharks' defender as their primary objective.