Seven! Eight! Nine! We want ten!
The Buffalo Sabres are gunning for their tenth straight win Tuesday night, hosting the San Jose Sharks in KeyBank Center. With one more victory, they can match their franchise-best ten-game streak set in 1983-84 and matched in 2006-07. They're sitting pretty, firmly in playoff position, with a 16-6-2 record — the best start by the team since the 2009-10 season.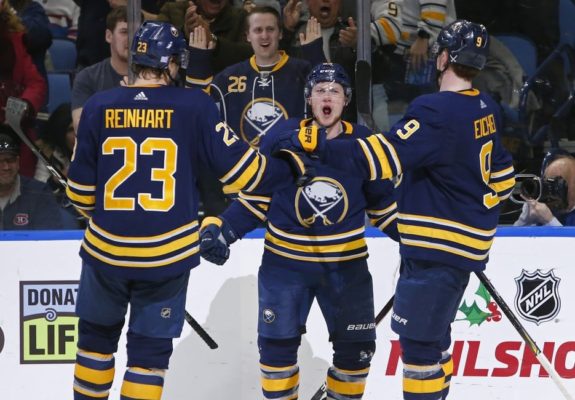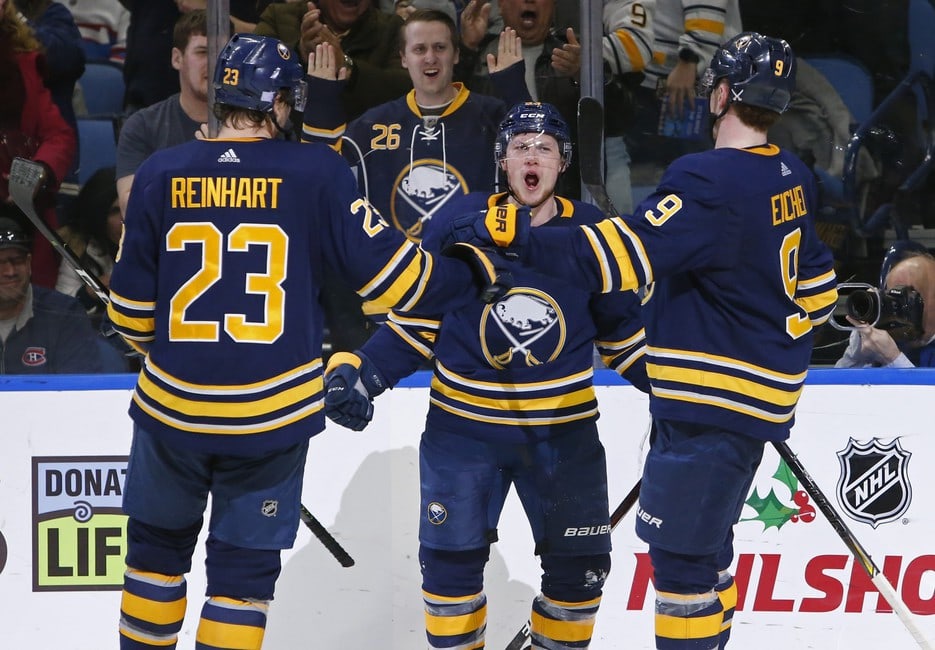 The team has electrified a passionate, win-starved fanbase with speed, timely scoring, tenacious forechecking, a puck-moving defense and a goaltending tandem that's proving itself more than capable of stealing games. It's a dose of much-needed adrenaline for fans who haven't seen much from their team in seven playoff-less years.
Related: Sabres Top Line Tearing up the League
Different Sabres Stepping Up
Aside from league-leading sniper Jeff Skinner, who has been filling the net with regularity, it seems they have a different hero every night. Conor Sheary wristing a shot in overtime to knock down the Winnipeg Jets. With the game on the line in a shootout, Tage Thompson posterizing Detroit Red Wings netminder Jimmy Howard to let Sam Reinhart seal it in the seventh round while roofing a backhander. Johan Larsson picking a corner to snipe one past Alex Lyon like he's Winnipeg Jets' Patrick Laine. Everyone is contributing.
Jack Eichel doesn't care how many assists he has or how many goals he has. He just wants to win.
"During this streak you can look at it and see how many different heroes we've had," said team captain Eichel. "There are guys stepping up in key situations. You've got Tommer (Thompson) going out for the shootout and putting on an incredible move. Linus (goalie, who made 35 saves) stepping in and playing out of his mind, making huge saves."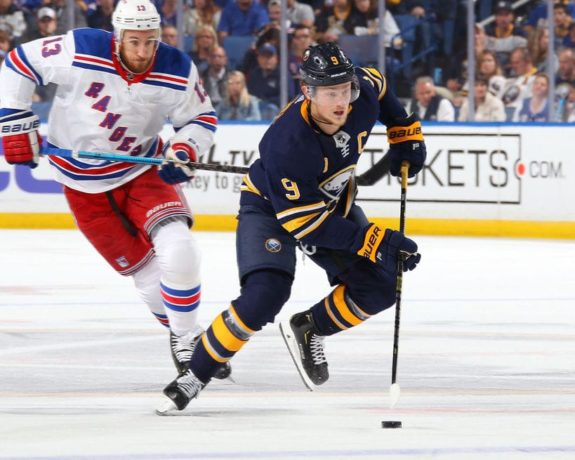 The stage has a different star every night. During the winning streak, nine different players have scored game-winners, including Rasmus Ristolainen, Casey MIttelstadt, Kyle Okposo, Sheary, Jason Pominville, Eichel, Evan Rodrigues, Skinner and Reinhart.
"It can be anyone on any given night," said Reinhart. "More times than not, it's a combination of guys. It kind of keeps everyone involved and keeps everyone into it, emotionally and physically invested in the exact same thing. That's what's been so fun about this little streak we've put together."
Never-Say-Die Sabres
Whether you call them the 'Comeback Kids' or the 'Cardiac Kids," this team never gives up. Down a goal or three, they're unfazed. Rather than pout or go through the motions after a bad play, they stick to their system and keep plugging away. They're playing for one another, inspired to lift one another.
"It's been a grind and the guys continue to find energy and ways to win hockey games," said Sabres coach Phil Housley. "It wasn't pretty, it was sometimes sloppy, but we found a way to win."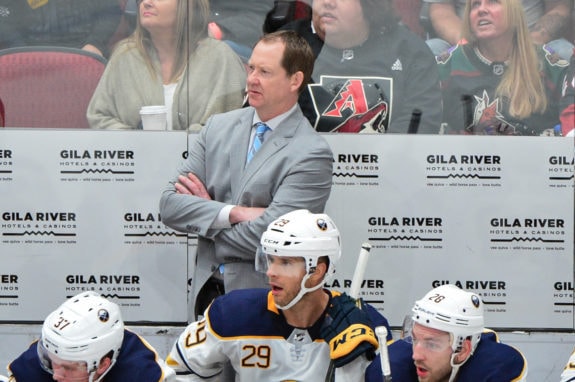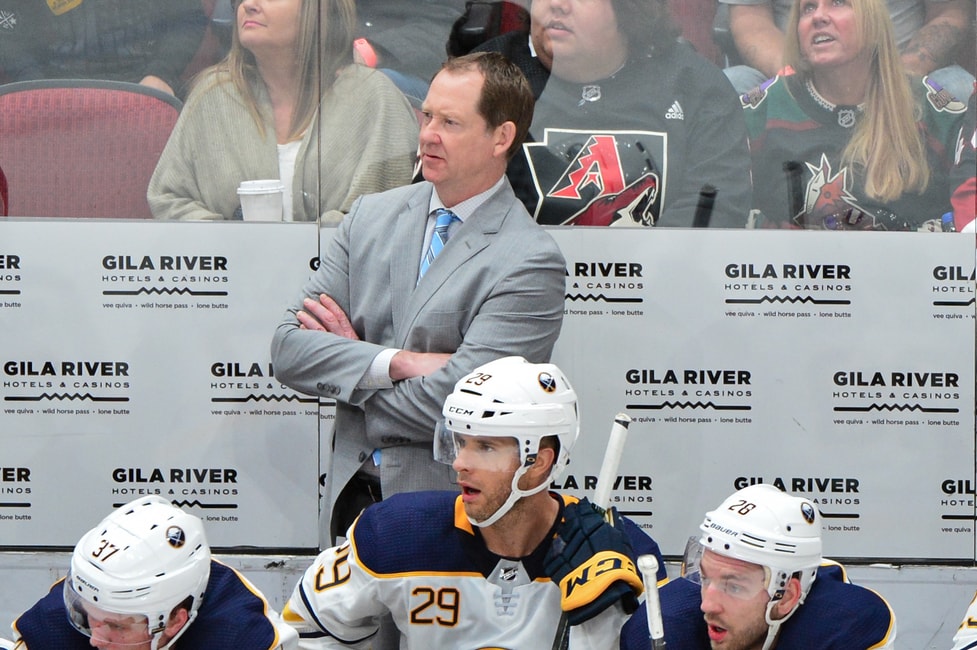 Players like Okposo have found their game again–hustling, forechecking and backchecking.
"The mindset we have going into the third period is we're just going to wear them down," said Eichel. "If it doesn't work in the first five or if it takes the full 20 or a shootout then so be it. It's a credit to everyone in the room for committing to the game plan and sticking with it as much as we can."
The No. 1 overall draft pick, Rasmus Dahlin, is gaining confidence and racking up points. While he's made his fair share of mistakes, he hasn't dwelled on them. His crisp passing, smooth skating and no-panic demeanor is already on display as he leads all rookie defensemen in assists (11) and points (13). Dahlin's average time on ice has risen to an even 19 minutes per game. Over the last nine games, he's been averaging 20:21.
The Sabres blue line has already chipped in ten goals and 41 points this season, light years ahead of last season.
Sabres Are Having Fun
They're finding ways to win games. Especially when they're not playing their best or have fallen behind. Veteran forward Jason Pominville was with the Sabres when they started the 2006-07 season with a 10-game win streak. He also was part of a 12-game win streak with the Minnesota Wild in 2016-17.
He knows how difficult it is to string together a streak like this one. "Every game is tight, every team is good, so it's not an easy thing to do," said Pominville after practice on Tuesday. "We've done a lot of good things to get there. Again, I think the depth of our team is very good and just like in the past, our goaltending is solid too and has led to us winning a lot of games."
While players are embracing their roles and holding one another accountable, they're also having fun. And why shouldn't they?
I'm sure #Sabres fans will love this. Johan Larsson's teammates really wanted him to lead the post-practice stretch. He wouldn't budge. Once again Jeff Skinner stepped up for his team @WKBW pic.twitter.com/toXkFu96kj

— Matthew Bové (@Matt_Bove) November 26, 2018
Clutch Goaltending
Carter Hutton has been phenomenal. The even-keeled goalie is riding a personal-best seven game win streak. He's playing lights out hockey, sporting an 11-6-1 record with a 2.53 goals-against average and a .919 save percentage. During the streak, Hutton has a 1.85 GAA. .934 SV%.
His backup, Linus Ullmark, has stepped up every chance he's had. He shook off a rough start against the Minnesota Wild and remain poised until the team battled back. Ullmark is undefeated this season, with a 5-0-1 record, a 2.52 GAA and a .926 SV%. During the streak, Ullmark has made 35- and 37-save wins.
Related: Sabres Fans Can Count Their Blessings
The Sabres Aren't Done Yet
This team wasn't expected to be good this year. Exciting? Hopefully. Playoff bound? Doubtful. While no one saw a stretch like this coming so quickly, the players aren't taking anything for granted. They're staying focused on every game–every period.
Coach Housley on win streak: "We're not talking about that. We're focused on the San Jose Sharks." #Sabres pic.twitter.com/pqUBQTxn3o

— Buffalo Sabres (@BuffaloSabres) November 26, 2018
The Sabres are playing the fast, up-tempo style that Head Coach Phil Housley talked about wanting to play when he was named the 00 coach of this franchise. They're slowly re-claiming their home ice, awakening a city of dormant fans and creating an electric atmosphere downtown.
Ask any of the players who were around last year and they'll tell you that their newfound success can be traced back to the off season and their commitment to a rigorous training camp. They all worked hard and showed up ready.
"I just think everyone's really stepped up this year," said Eichel. "We've committed to putting our best foot forward every day, trying to get better. It's a great feeling. Obviously, we have a lot to accomplish still."
They'll go for their tenth straight win tonight.
Jeff has been covering the NHL for over a decade for various sites. He's been with The Hockey Writers as a lead Sabres writer three years, while also writing a satire column called "Off the Crossbar."