The 2018-19 SDHL (Svenska damhockeyligan) season has been well underway, with most of the league's teams already having played roughly 20 games, give or take. Of the 10 teams, Leksands IF sits in fourth place among the standings as of Nov. 26, 2018 with a record of 14 wins and only six losses. Coincidentally, also sitting presently tied for fourth place in Leksand team scoring is forward Hanna Sköld. Playing in her sixth SDHL season, she has also represented Sweden at two different IIHF Women's U18 World Championships and the 2016 Women's Worlds. With a solid five goals and nine assists through 20 games so far, Sköld was kind enough to speak with THW in an exclusive interview.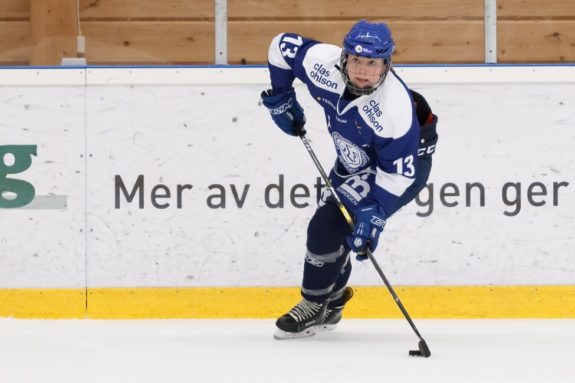 Of her six seasons played primarily with Leksand, Sköld played a lone season last year with Göteborg HC before returning to her original club this season. There is certainly a difference between the two hockey clubs, as Göteborg is very much at the bottom of 2018-19 SDHL standings having suffered 18 regulation losses in 21 games. While Sköld is enthusiastic about being back in a Leksand uniform, she recognizes that each season in the league is unique and meaningful.
"I moved to Leksand when I began high school", Sköld shared, "and I loved the city and the organization. So after one year in Göteborg I wanted to move back. I can't just pick one memory here in Leksand because I have so many. But every season with the team here is a memory you always will remember."
Growing up and Playing in Avesta
Sköld's father taught her the game of hockey and he taught it to her early. Born Jul. 4, 1997, the 21-year-old Sköld has been skating since she was a toddler. Her father instilled a love for the game in her that continues to present day. With nearly two decades having gone by, Sköld cherishes her earliest memories on the ice.
"I was around three or four years old when I started to skate, and when we were around five or six we started to use sticks and play more real hockey," Sköld smiled from recollecting. "My dad was a hockey coach and my brother played, so I wanted to do the same as my brother and that's why I started."
Prior to moving to Leksand, Sköld was born and raised in the town of Avesta. Located northwest of the Swedish capital of Stockholm, her birthplace provided her with what she needed to play hockey – even if Sköld was the only young lady on the team. One of hockey's all-time greats – former Detroit Red Wings defenseman Nicklas Lidström – also hails from Avesta. Sköld appreciates the longevity that she had with her particular youth team and how long she remained alongside of the same kids she grew up with.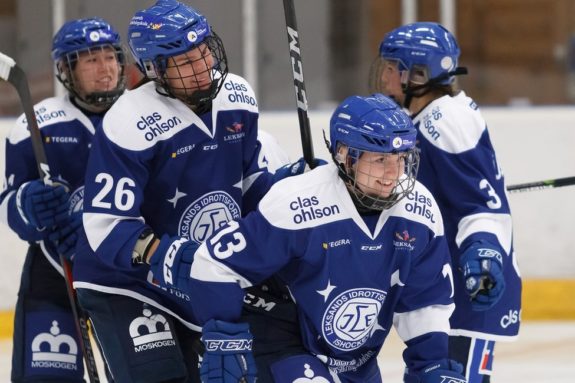 "It's a small town with good opportunities," Sköld explained. "Even though I was playing with boys (during) my childhood and was the only girl in the team, I was one of them. I was going to school with many of them, so we knew each other well and had fun together. I played with the same team from when I was five to 16 years old, and we had good training opportunities."
While there have certainly been other hockey players that she has admired over the years – including her hometown's legendary, four-time Stanley Cup-winner – Sköld's own hockey hero has remained much closer to home, or closer still – in her heart. It can be amazing the positive impact that loving parents can have upon us individually and our successes that stem from that support. Sköld is no different.
"I looked up to some of the boys from my hometown like Nicklas Lidström," she said. "But my true role model has always been my father. Even though he wasn't a hockey player during my childhood, he always pushed me and gave me – and gives me – feedback."
Successes with Leksands IF
Sköld's first season for Leksands IF was played during the 2013-14 campaign when she was all of 16 years old. Playing with and against some women who were twice her age, she still managed to put up nine points in her first year. Sköld potted five goals and assisted on four others in 25 games played that primary season. She has maintained full-time status in the league because of her finer attributes and her work ethic on the ice.
Asked what she feels are her best characteristics as a hockey player Sköld shared, "I think it's my skating and my willingness to always do my best."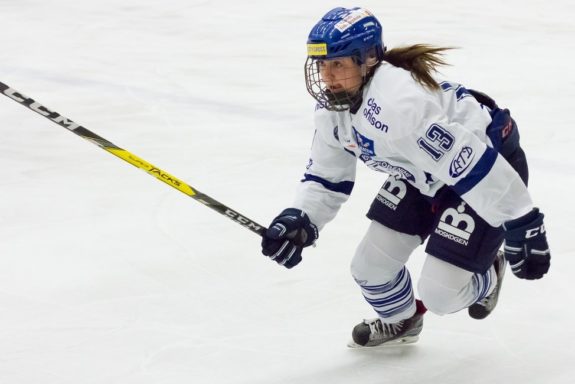 During the 2015-16 season, Sköld absolutely exploded for her finest SDHL season to date. In 36 games for Leksand that year she lit up the league with 20 goals and 12 assists for 32 points during the regular season. At nearly a point per game, what truly distinguished Sköld that season were her 20 goals. That total alone placed her at seventh overall in the league for that particular category, and placed her ahead of well-established Swedish stars like Pernilla Winberg, Erika Grahm and Fanny Rask.
Sköld has not reached the same scoring numbers in the three seasons since, but at only 21 years of age there is no reason that she will not find a sweet spot again for top-scoring numbers. Who knows – she certainly has the potential to surpass the 20-goal mark in the years ahead. Her career totals for someone so young are rather impressive. Through 166 career SDHL regular season contests, Sköld has generated 44 goals and 42 assists for 86 total points. An earnest player, she has also tacked on 96 penalty minutes.
International Success for Sweden
In addition to her SDHL successes, Sköld's country has also called upon her to lace 'em up in international play. She represented Sweden in both the 2014 and the 2015 IIHF Women's U18 World Championships. This writer was fortunate enough to have seen her play in person at the 2015 tourney in Buffalo, New York, USA. Through the two tournaments, Sköld earned a lone assist within 10 total games.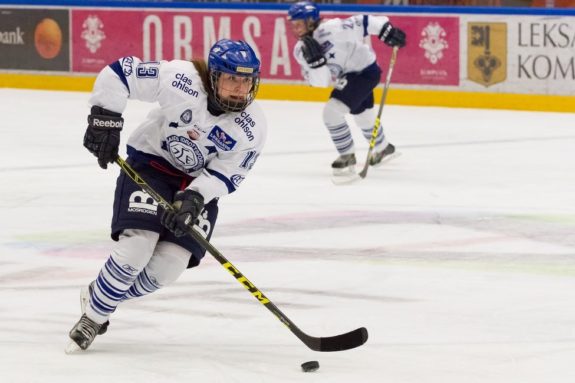 After her time at the U18 level, she was called to play for the Swedish Women's National Team at the 2016 Women's World Championship in Kamloops, British Columbia, Canada. Sköld played in all five games for that particular tournament. Suiting up alongside fellow countrywomen like Winberg, Lisa Johansson, Anna Borgqvist, and Johanna Olofsson was invaluable experience that she continues to reap benefits from.
"It means a lot to me," Sköld about the opportunity to play for Sweden in international play. "It is always an honor to represent the country and play against and with really good players. The Women's World Championship was the biggest moment in my life."
Hockey Is Teaching Sköld Life Lessons
If she desires to, Sköld could play hockey for another decade or more. She is certainly young enough and has the drive to continue playing at the highest level possible. Future strong SDHL performances on her behalf could also garner additional nods to the Swedish Women's National Team. It is no coincidence that Sköld rattled off 20 goals in 36 games in 2015-16, and then ended up being named to the Women's Worlds squad that took to the ice in Kamloops later that spring.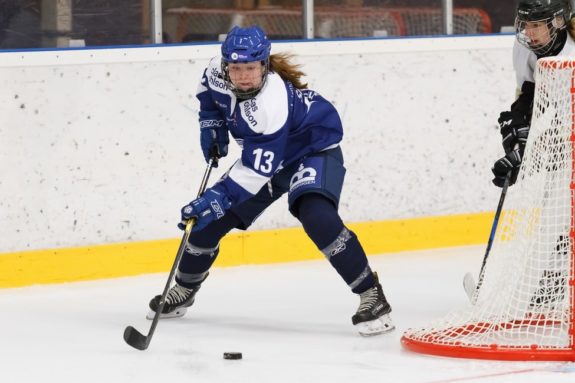 No matter which team she is playing for, Sköld always puts her best foot forward and delivers her utmost. Putting the puck into the back of the net is her job and that is indeed meaningful, but the dividends that hockey pays to her in the end are made up of something more heartfelt. Sköld also understands that if she wants something out of hockey – or out of life – then she must put the effort into it.
"I can say that when you play hockey you meet new people everywhere and get friends for life," Sköld said with some emotional emphasis. "And in hockey you must always fight to get what you want – and that's the same in life."
General Manager of the Buffalo Beauts (NWHL). Hockey history writer "The Hockey Writers". Credentialed media for the NHL Combine and 2018 IIHF World Junior Championships in Buffalo, NY, USA. Born and raised in Buffalo, NY. Lifelong hockey fan for over 40 years. Proponent of the women's game.