"Jumbo" Joe Thornton was the only player in a San Jose Sharks uniform to ever reach the 100-point mark in a season, but it wasn't Thornton's only time to put up 100 points. How much does that accomplishment mean to the San Jose organization?
Joe Thornton's 2006-07 Season
With the 40-year-old Thornton's career as a Shark winding down, let's look back on one of the highlights of the Sharks franchise. We are talking about his 2006-07 season in which he broke 100 points.
Thornton finished his first full season with the Sharks by scoring 22 goals with 92 assists for a total of 114 points. This is the only time in Sharks history that one of their players accumulated 100 points or more in a season.
In the season prior, Thornton was acquired in a mid-season trade with the Boston Bruins that sent Brad Stuart, Marco Sturm, and Wayne Primeau to Beantown. In that split season, Jumbo Joe finished with 125 points (29 goals, 96 assists) in 81 games; 92 points (20 goals, 72 assists) came in the 58 games as a Shark after the trade. Thornton was awarded the Art Ross and Hart Trophies for his effort that season.
Thornton had one other campaign over 100 points with Boston. That season was 2002-03 when at the age of 23 he racked up 101 points (36 goals, 65 assists).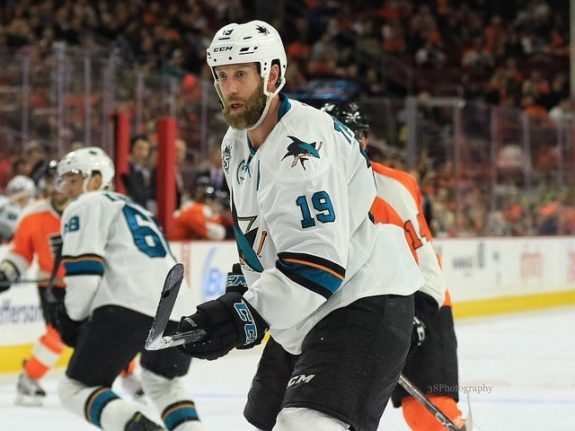 In 2006-07, the 6-foot-4, 220-pound center started the season fresh with his new team and a lot of new faces, including rookies Marc-Edouard Vlasic and Joe Pavelski. Thornton led the Sharks to a second-place finish in the Pacific Division, tied with the Dallas Stars and three points behind the Anaheim Ducks.
San Jose matched up with the Nashville Predators in the first round of the Stanley Cup Playoffs. They were able to get past the Preds, four games to one, to advance to the second round. There they fell to the Detroit Red Wings – four games to two. In the playoffs, Thornton accumulated 11 points in 11 games with a goal and 10 assists. 
At the end of the 2006-07 season, Jumbo finished fifth in the Hart Trophy voting. He was also third in All-Star voting behind Sidney Crosby of the Pittsburgh Penguins and Vincent Lecavalier of the Tampa Bay Lightning.
Thornton's Career as a Shark
Since 2006-07, Thornton's highest point total was the following year, in 2007-08. In that season, he accumulated 96 points (29 goals, 67 assists) and was second in the All-Star balloting behind Evgeni Malkin of Pittsburgh and finished sixth in the Hart Trophy.
Thornton's point totals have steadily declined in the decade-plus since he broke the 100-point barrier, eventually being moved from San Jose's top line. In 2018-19, at the age of 39, he finished with 51 points (16 goals, 35 assists). 
In the 13 complete seasons that Thornton has played for the Sharks, he has led the team in points seven times. The highest point total for a Shark since Thornton's 89-point performance (20 goals, 69 assists) in the 2009-10 season was Brent Burns with 83 points (16 goals, 67 assists) in 2018-19.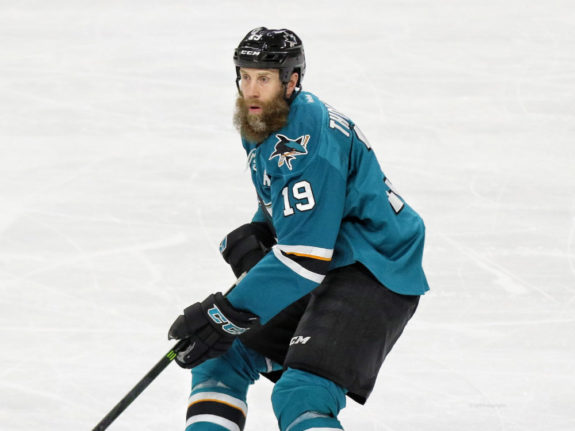 Prior to Thornton arriving in San Jose, the highest point total by a Shark during those 14 years was Owen Nolan with 84 points (44 goals, 40 assists) in 1999-2000. Therefore, not only was Thornton's 2006-07 point total the only one over 100 points in Sharks history, Jumbo Joe is the only San Jose player that has really been close to the 100-point mark.
Jumbo Joe has become such a huge part of the Sharks franchise in his 14 years with the club. However, he still has not won a Stanley Cup.
With the future Hall of Famer in the final year of his contract, there has been speculation that the Sharks might move the 22-year veteran in what is now a lost year for San Jose – despite the no-movement clause in his contract. Whether they move him or not, Thornton will always be a Shark.
J.D. has followed hockey since the 1980's, focusing his attention on the NHL, WHL, BCHL, and WSHL and is the beat writer for the San Jose Sharks. He spent four years covering high school sports for local newspapers and 25 years officiating high school sports.  He also covered local sports for two years on KITN-AM and KUGS-FM.  His work is also published at CollegeSportsMadness.com and BustingBrackets.com.