For Scott Wedgewood his first call up to the NHL came at the perfect time; because he had no time to over think things before making his debut with the New Jersey Devils. Wedgewood played (and won) in net for the Albany Devils in the AHL Saturday night on the road against the Utica Comets before he and defenseman Vojtech Mozik received word that they were headed to New Jersey to join the NHL team and play on Sunday night against the Columbus Blue Jackets.
"I've always been a workhorse. I played a junior career where – 36 shots I averaged (facing) a night. It's just one of those things where I like to work and I like to be into it (the game)," He said following the memorable night. "Tonight was a good amount early and then a steady pace throughout the game of chances. When it's like that you feel the rhythm of the game and it just comes naturally."
He told the media following his NHL debut they received word of the call up on the bus back to Albany and noted he had to take some NyQuil to get some sleep before making the morning trip south. After stopping 21 of 22 shots in Utica to improve his record to 9-2-1 with Albany, the 23-year-old netminder then stopped 27 of 28 shots at the Prudential Center the following night to help New Jersey beat Columbus for the first time in five tries this season, and six games overall.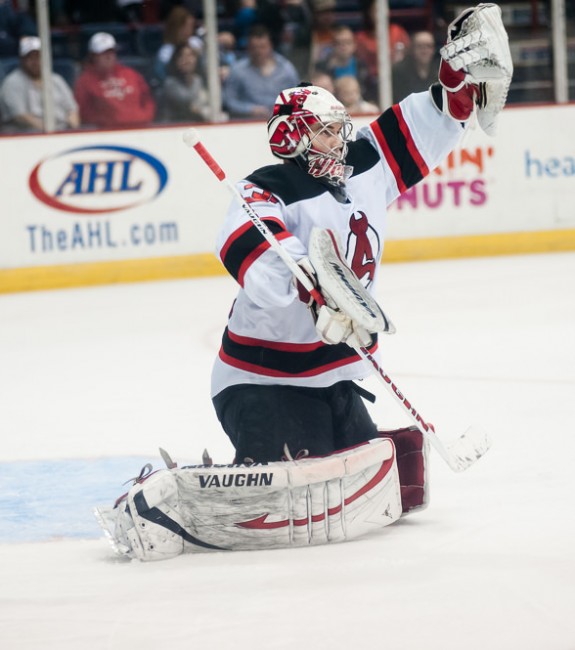 The 3rd round pick (2010) said he was unaware of the Devils' recent struggles against the Blue Jackets, "It was just a situation where it was just another hockey game. You want to win it. I want to win every one and come in here and do my part." He certainly did that, as was just as cool on the ice as he was with the media in the locker room following the win. His rebound control was excellent all game, and the lone goal he surrendered was a deflection from just outside of his crease.
From Deadwood To Wedgewood
Just a short time ago, none of this seemed possible for Wedgewood after his second injury of the season. First a high-ankle sprain in trying camp derailed the start of his season and then on January 27 he suffered a right shoulder injury; the latter was originally believed to possibly be season-ending. But with no surgery required, he worked his tail off to get back in the crease and on March 20 he made and won his NHL debut.
"I took my time with it. The trainer down there (in Albany) took his time; we went and saw the surgeon, doctors – got as much information as we could about it and then everybody said I could probably (just) rehab it to full potential over time," he told The Hockey Writers. "Once I heard that, there were no (more) questions from me, I wanted to get back in the net. Being able to rehab and play over the last week in Albany, I was happy to do that. Obviously after a frustrating year – I've never been hurt before this year, knock on wood – to get this opportunity was something that was huge."
Opportunity Knocks (on Wood)
This opportunity presented itself after Cory Schneider got hurt in Dallas on March 4 and Keith Kinkaid, who has had some fine moments, hasn't played well enough to run with the no.1 netminder job, as he was on the wrong end of a few blowouts. Wedgewood may even challenge for the backup gig behind Schneider next season, but that's a long ways off right now.
"After the last four years as a pro there have been steps that I've taken, and I think I've finally come to that maturity age where, (Johan) Hedberg last year kind of guided me through those steps, and (Scott) Clemmensen this year – just controlling my game," he explained to THW. "Everybody has always said that I have the tools and t was more just taking some things out (of my game) and adding some things for me to focus on; limiting my save selection, easing my mind a little bit. That's one thing I've focused on; trust in the things that have gotten me here."
Scott Wedgewood (@wedgewall) starts for the @NJDevils tonight. Do we get to see this awesome mask in action? pic.twitter.com/DzLbDhamZd

— Left Wing Lock (@Left_Wing_Lock) March 20, 2016
R-E-S-P-E-C-T
His teammates were grateful for his performance which restored momentarily, the Devils flickering playoff hopes. "He played great," Devante Smith-Pelly said afterwards, "when called upon he made all the right saves, all the big saves – at very key times." Another teammate, Seth Helgeson, has played alongside (or in front of) Wedgewood for the last two seasons in Albany, was pleased to see his buddy shine in the big leagues.
"I think he came up and didn't change anything in his game, he was confident in net and he played a really good game," Helgeson told THW. "It was kind of short notice for him, too; he played last night, I'm sure it was kind of a whirlwind for him and he dealt with it perfect — and it was a five o'clock game, so there was no waiting around. I'm super happy for him. It's great to see, and he got us a win."
Dan Rice is in his 9th year of reporting for THW & has covered NJ Devils home games for 15+ years at various websites. He began his journey working for legendary broadcaster/writer Stan Fischler from 2002-04 & completed an internship at the ECHL; he also has been writing features for the NWHL (nwhl.zone) website since 2016.