Semyon Varlamov, for the most part, began his career as a Colorado Avalanche netminder on shaky ground. Before his start on February 11th at St. Louis, "Varly" surrendered 5 goals or more in 6 games (7 total this season).  Many fans and analysts had no choice but to question the trade last summer that sent the 23-year-old goaltender to the Avs from the Washington Capitals. A team clearly in rebuilding mode, Colorado gave up a first round pick in the 2012 NHL entry draft for Varlamov. With his Goals against average around 3.00 and veteran Jean-Sebastien Giguere out performing him seemingly at every turn, it seemed as if the Varlamov experiment failed in Denver.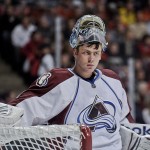 Suddenly, with his first start in February, Semyon Varlamov began to turn things around. The Blues would go on to win that game in overtime, but that would be just one of two times that he would give up more than 2 goals in a game. In fact, Since February 11th, Varlamov posted a 6-3-1 record (bringing himself to over .500 on the season), and boasting an impressive 1.5 GAA and .947 save percentage, with two shutouts to back those numbers up.
It is fair to point out the overwhelming success of the other two trades completed by Colorado this season, where the team acquired Steve Downie and Jamie Mcginn. Both players so far have made immediate impacts on the lineup, and has given the Avalanche more depth than most teams in hockey, at least until this offseason. Still, Varlamov cannot be overlooked for the impact his near perfect goaltending has had on the young roster in Denver.
Patrick Roy's retirement following the 2002-03 season, one major problem the Avalanche never really solved was who could replace arguably the greatest goalie who ever played. The Avs have gone through several starting goaltenders since then, including : David Aebischer, Jose Theodore, Peter Budaj, Craig Anderson, and Brian Elliot briefly. Although most of those tenders had success before or after their stay in Colorado (Elliot and Anderson this season), their reigns in Denver were less than spectacular in general, Anderson's first season being the exception.
This is not to exaggerate what could simply be a hot streak for Varlamov, but recent play suggests that he could stabilize such a crucial position between the pipes. Expect the numbers to even out to a regular number. However, if Varlamov can remain playing a more consistent game, he could easily give such a young roster the confidence it needs to secure one of the last two playoff spots up for grabs in the West. With a goalie this hot, some of the earlier frustrations this season seem to be lifting from players like Paul Stastny, who has picked up his production lately. When all is said and done this season, this trade could be seen as a victory for Colorado more so than Washington, who has struggled to find consistency all year.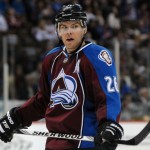 Just because it deserves another look.
Stats courtesy of NHL.com
Aspiring journalist at Oakland University. Hockey is a way of life, and I look forward to sharing it with everyone.