At just over a week in the 2020-21 NHL season, the Ottawa Senators sit seventh in the North Division, which is where most analysts predicted they would be by the end of the season. It was always going to be a tough road when over half of their games were against either the Toronto Maple Leafs, Montreal Canadiens, and Winnipeg Jets. But despite their 1-4-1 record in their first six games, there have been several positives that give the impression that there's more to this team than their low standing.
In their only win of the season, the Senators handily beat the Maple Leafs, who most expect will end up at the top of the division. Their key players played excellently, but so did their depth lines, with some offensive support coming from some unexpected places. It was as everyone hoped Ottawa would be this season – a scrappy, underrated, playoff threat.
Sadly, that feeling didn't last long. After two close losses against the Maple Leafs and Jets, the Senators slipped into the league's basement, punctuated by their most recent loss, a 7-1 dismantling by the Vancouver Canucks. It definitely is not the start to the season that everyone hoped, especially after such a positive off-season, but there's reason to believe that this won't be a regular occurrence. The top line is still buzzing, a handful of depth players are breaking out, and their top prospect, Tim Stützle, is just starting to get going. The potential is there – now they just need to play up to it.
Six Games In, But Just One Win
After beating the Maple Leafs in historic fashion and staying within one in the second game of the series, the Senators struggled against the Jets. They started strong, finishing their first contest with a tight 4-3 overtime loss, but then dropped the next two, losing by three-goal margins.
Head coach D.J. Smith blamed "young mistakes" for their losses and seeing a need to learn and grow from those kinds of games. And it's true – the Senators are one of the youngest teams in the NHL and despite an early start, are still developing chemistry with each other. After all, almost half the roster was on a different team last season.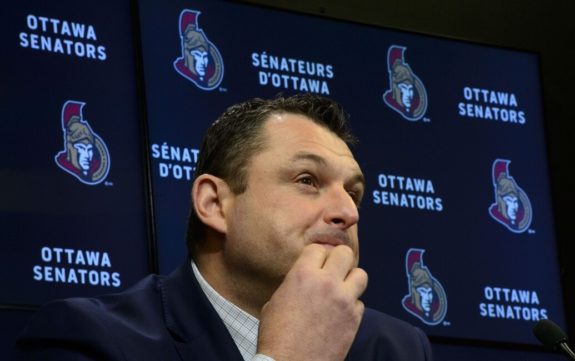 But Twitter fans have pointed out that many of the mistakes came not from their talented rookies and young guns, but their experienced veterans. The stats are not kind to them, either – Eric Gudbranson, Derek Stepan, and Cedric Paquette are at the bottom of the team in plus/minus, and Paquette and Brayden Coburn are below 30% Corsi, meaning that the opposing team was controlling the puck 70% of the time when they were on the ice.
Austin Watson and Alex Galchenyuk have also been poor possession players this season, sitting at below 40% Corsi. Brady Tkachuk and Drake Batherson, on the other hand, lead the team, sitting at above 50%.
And yet, Gudbranson, Stepan, and Coburn are among the top-12 in average time on ice per game. So maybe the problem isn't so much young player mistakes, but more so young team mistakes. Gudbranson, Coburn, Stepan, and the other veterans on this team have proven in the past to be reliable hockey players, but with everyone still trying to develop chemistry with each other, some mistakes are happening that don't happen with well-oiled teams like the Maple Leafs, whose core has played together for several seasons already.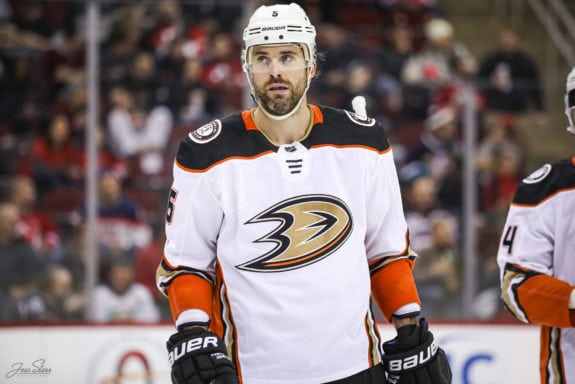 Smith has tried to shuffle the lines and see what clicks, which has made for some interesting decisions, but it's all in an effort to kick start this team. It explains why some veterans are getting more ice time over other, more talented youngsters, and why Stützle has only started in the offensive zone 30.8% of the time. Smith likely realizes that this won't be an easy fix, so he's trying some riskier ideas to see what works. And eventually, something will – if not this season, then definitely the next, when the team has a full year of playing together to draw upon.
Pleasant Surprises
It hasn't been all bad, however. There have been some legitimately surprising performances across the roster, not just from their stars. Here are two players who have caught fans' eyes early in the season.
Nick Paul
It actually might be an understatement to say that Paul has been one of the Senators' best players in 2020-21. Through five games, he currently is tied for first among forwards with four points and leads the team in faceoff win percentage with 51.9%. He also has a ridiculously high shooting percentage of 20, which is third on the Senators behind Chris Tierney and Watson. Paul also shares the lead with Thomas Chabot with six takeaways.
He's also been incredibly consistent. For the past five seasons, he has been a regular call-up but never a mainstay on the Senators' roster, topping out at 56 games and 20 points last season. But this offseason he signed his first one-way deal, a two-year extension that earned him nearly double his previous contract. Given meaningful playing time, he's shown that he is far more talented than first expected. His skill and versatility could make him a Swiss Army knife for the Senators, able to be deployed in any situation and trusted to play effectively.
Nikita Zaitsev
After several seasons of sub-par defensive play, many fans' patience was wearing thin with Zaitsev. He had failed to live up to his rookie numbers, had an awful contract, and now was seen as a liability. But then came the 2020-21 season, and all of a sudden, Zaitsev is a new player. He is one of the leaders in possession, sitting top-three in both Corsi and Fenwick for percentages. He controls and drives play, blocks shots, and even leads the team in points with five assists, which also ranks among the top-15 in points among all defensemen.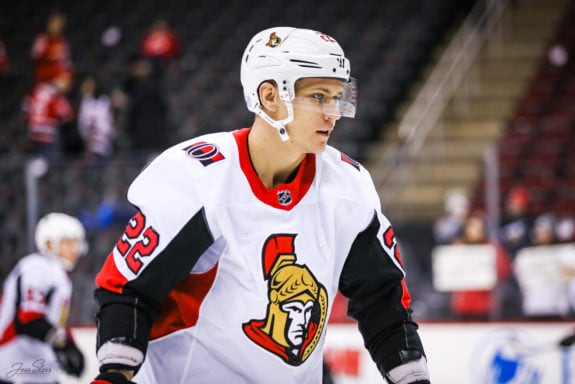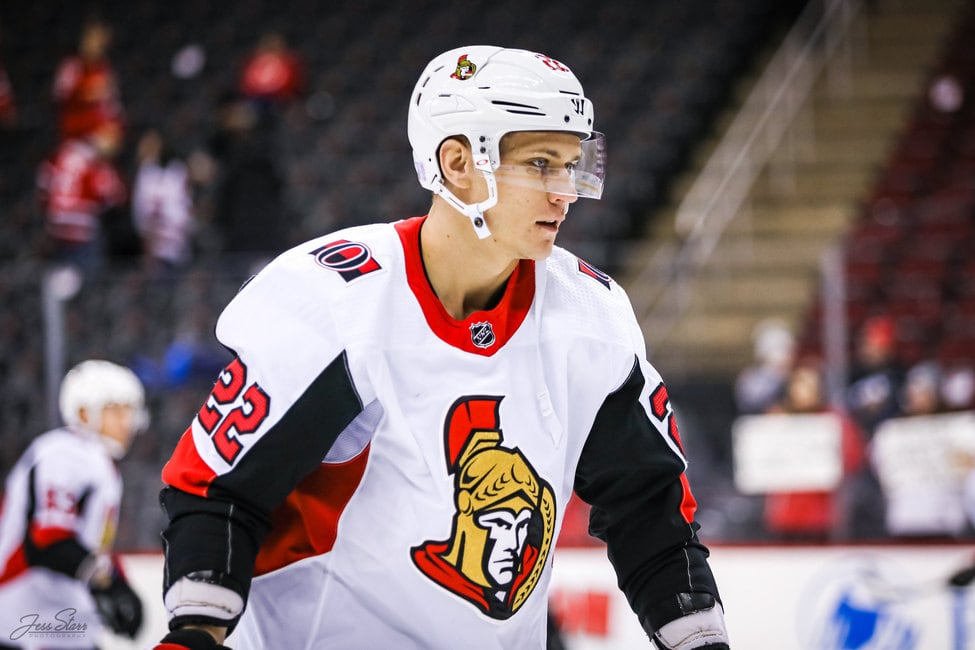 The biggest factor in his improvement seems to be familiarity. The Senators' defense got nearly a total overhaul over the offseason, with Chabot and Zaitsev the only 2019-20 returning regulars. So, when coach Smith was looking for defensemen to rely on early in the season, he likely turned to some familiar faces. With that added trust, Zaitsev is now being given far more offensive zone starts than he was in his time with the Maple Leafs, and he's proving that, at least at this point, he's capable of handling the additional responsibility.
Breakout Candidates
Drake Batherson
It was somewhat surprising to see that youngster Batherson had claimed the top right wing spot ahead of big-ticket free agent Evgenii Dadonov. While technically not a rookie anymore, Batherson has just 43 games of NHL experience compared to Dadonov's 282 appearances over seven seasons. But Smith stated prior to training camp that everyone had to earn their spot, and now we can see that Batherson proved he was capable of handling the responsibility.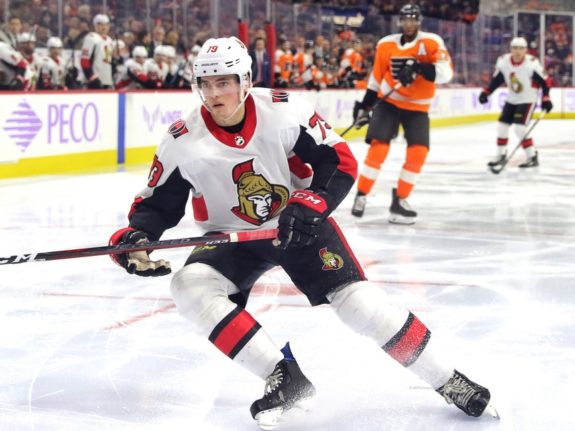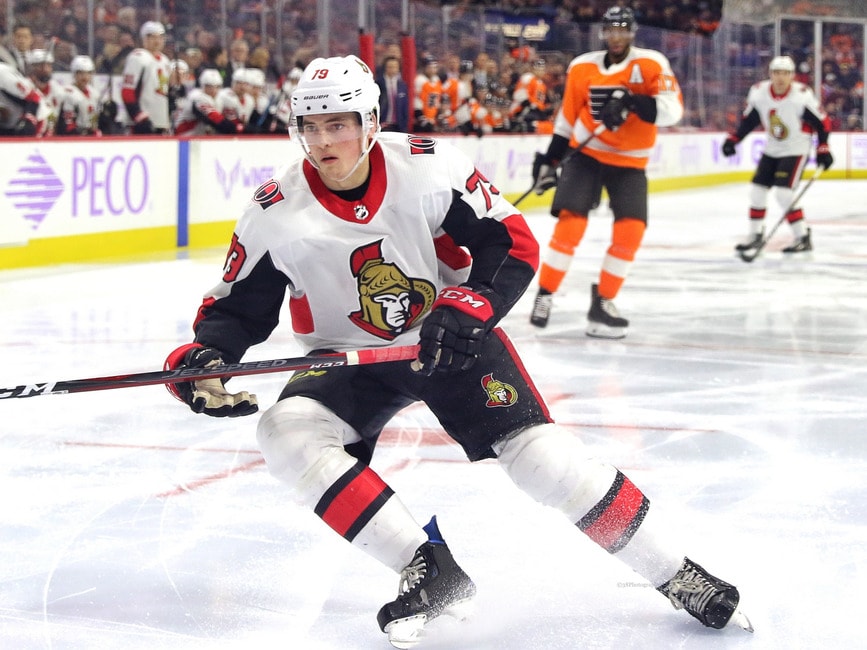 Over six games, Batherson has remained on the top unit with Tkachuk and Josh Norris and put up three assists in six games. To see he's already setting up his linemates harkens back to last season, where he was one of the best playmakers for the AHL's Belleville Senators, recording 38 assists in 44 games. While it may not be the hottest start, he'll likely remain on the first line thanks to his chemistry with Norris, who he played with last season in Belleville. With the extra ice time and plenty of offensive zone starts – he's currently fourth on the team with 59.5% – the points are sure to come.
Evgenii Dadonov
When the Senators signed Dadonov during the off-season, the expectation was that he would take over the top line goal-scoring spot. However, after training camp, he found himself on the second line behind Batherson. Paired with Stützle and Stepan, the line was thrown off when Stützle missed a couple of games with a minor injury. Now, with inconsistent linemates and a struggling team surrounding him, Dadonov has performed less than expected, scoring just one goal this season.
But here's the good news – it won't continue for too much longer. Dadonov is currently shooting at 8.3%, which is his lowest shooting percentage of his career. Normally, he is above 14%. He's taking shots, too – his 12 shots are tied for fourth-highest on the Senators, and getting plenty of even strength and powerplay ice time.
Part of his slow start is due to him getting less offensive zone starts so far this season, hovering at around 44% as compared to 60% last season with the Florida Panthers. So it's safe to say that he will get his rhythm back, and once he does, the team should improve around him.
On the Hot Seat
Colin White
2018-19 was a big season for Colin White. The former 2015 first-round draft pick piled up an impressive 14 goals and 41 points, prompting the Senators to give him a very generous raise to his entry-level deal to the tune of $4.75 million over six years. But then he stumbled in 2019-20, scoring only seven goals and 23 points in 61 games, and then during the 2020-21 training camp, it came out that he was one of the team's weakest centers.
To have your general manager call you out in such a public fashion is bad, but to then get scratched in the second game of the season after playing on the fourth line is even worse. White will now have to work twice as hard just to return to the place he was two seasons ago, which is not where the Senators hoped he would be right now. Making matters worse is his contract, as he is currently the fourth highest-paid player on the roster. If he fails to make significant improvements this season, he may become another trade deadline casualty, especially with the center depth behind him.
Derek Stepan
When Stepan was acquired in the weeks leading up to the season, fans were critical of the deal. as to why the Senators would go out and acquire yet another veteran center when they have so many talented young centers. The price tag wasn't helpful, either, as he was acquired for a second-round pick in 2021, despite the fact that his production has been regressing for the past two seasons.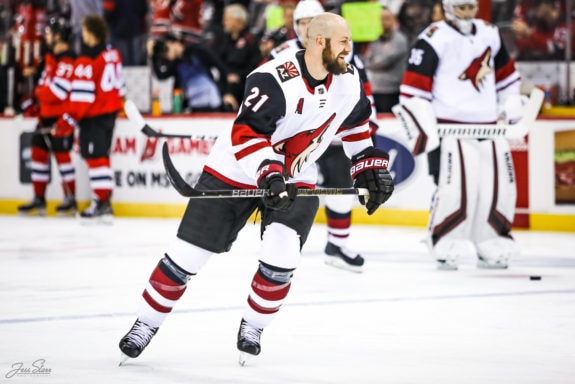 It was later revealed that he was brought in to be a mentor and leader for the team, which is an invaluable attribute to have, and he was placed on the second line alongside Stützle, which could have benefited both parties if the rookie didn't go down with an injury in his second game.
Now, Stepan has been dropped down to the fourth line with Galchenyuk and Watson, which does not bode well. He has publicly taken responsibility for some of his bad plays and mistakes that have cost the team early in the season, but if his play doesn't improve, it will be tough to justify sending away a second-round pick for him.
X-Factor
Matt Murray
The Senators have a very young core: Tkachuk, easily the current face of the franchise, is just 21; Chabot is 23, Batherson is 22, and Stützle is only 19 years old. Only three players are 30 or older, and only one of those three is signed beyond the 2020-21 season. It's fair to say, then, that both the forward and defense corps will have some growing pains this season as they continue to develop into top hockey talents. That means that the team's success hinges on its most experienced position – goaltender Murray.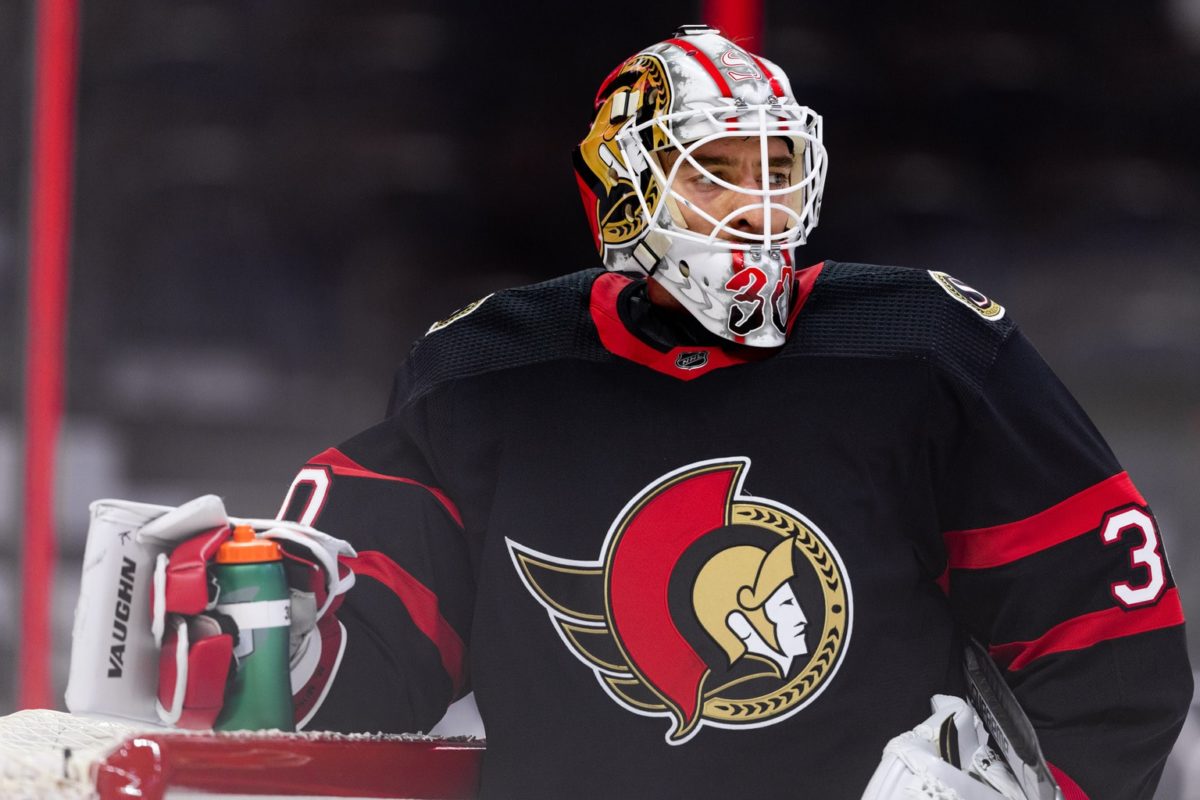 While only 26 years old, Murray has already played parts of six NHL seasons and won two Stanely Cups with the Pittsburgh Penguins. He made his name after usurping Marc-Andre Fleury for the starting job in 2016-17 but was later usurped himself by Tristan Jarry, which is how the Senators acquired him this past offseason. He had a rough 2019-20, posting a sub-0.900 save percentage for the first time in his career, but still won 20 games with the dominant Penguins. He's also struggled with injuries, which have kept him out of the lineup for significant stretches of time.
If Murray stays relatively healthy this season and gets a bit of support from the defense, there's a good chance he returns to peak form, which will mean that the Senators will win a good chunk of their games against some of the NHL's tougher competition. But, if he continues to play at his 2019-20 form, or misses a portion of the season with an injury, the Senators will have a much tougher time staying competitive. It may be unfair to say the team's success all rides on one player, but that could be the case for the Senators in 2020-21 with Murray.
Big Predictions
The Senators Miss the Playoffs
When compared to the Maple Leafs, Edmonton Oilers, Vancouver Canucks, and Winnipeg Jets, the Senators just don't have the talent to overtake those teams. Tkachuk and Chabot are future All-Stars, but they won't outscore the likes of Connor McDavid, Leon Draisaitl, Mark Scheifele, Auston Matthews, or Elias Pettersson. It's going to be a very tough division, and sadly, the Senators just don't have what it takes at the moment to rise above the last place in the North.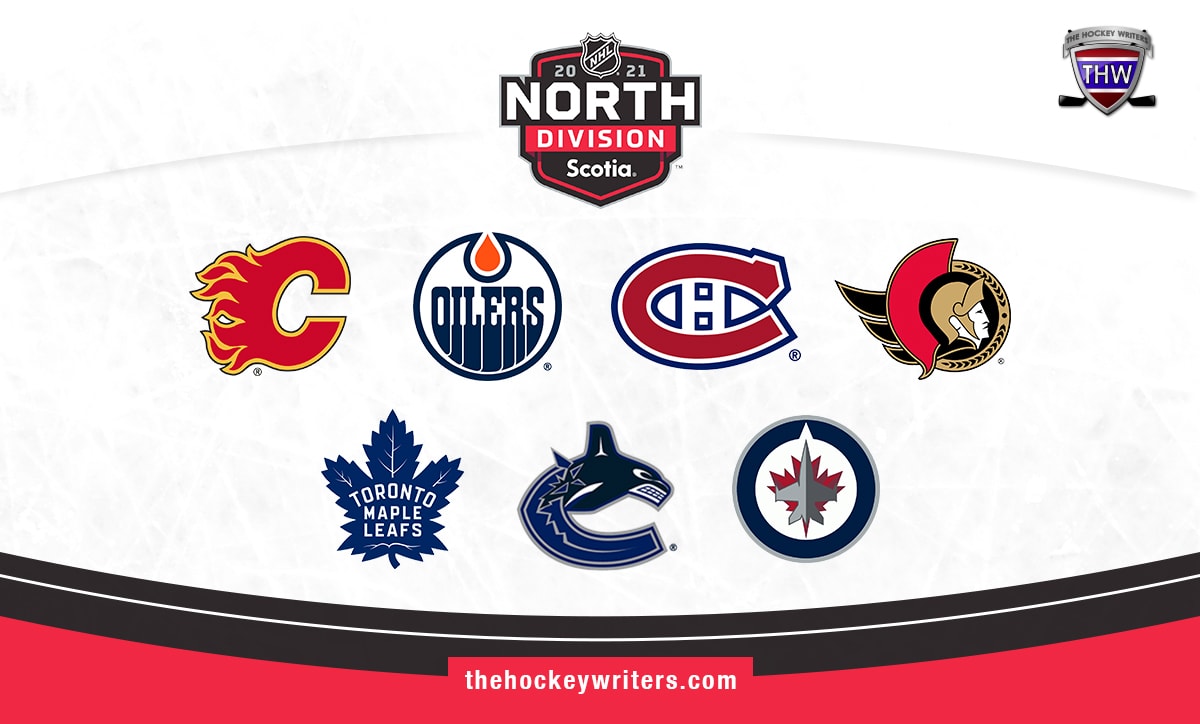 But that's not to say that the Senators won't be competitive. They have the skill to be a very tough team to play against, and when they figure out what's holding them back, they'll put the fear back into their Canadian rivals. Tkachuk is one of the most frustrating players to play against, and Gudbranson, Watson, and Coburn can be very difficult to handle when they're on top of their games.
They'll also get more familiar with their opponents as the season wears on, which will give them an edge they don't have right now. So, while they may end up in the last place, it won't be by a large margin.
Stützle is Nominated for the Calder
With Alexis Lafreniere getting off to a slow start, it may not be that much of a reach to claim that Stutzle could ascend to claim the Calder Trophy at the season's end. He has looked pretty good in his two games so far this season and given more playing time and consistent linemates, there's a real chance he could break out for 30-40 points in this season's shortened schedule.
Related: The NHL's Best Farm System Rankings
His biggest competition is currently Ty Smith, the New Jersey Devils' defenseman who's gotten off to an incredibly hot start, and Kirill Kaprizov, the Russian phenom who finally joined the Minnesota Wild this season. Nils Hoglander has also looked good in eight games with the Canucks and looks to be tough to catch at this point. So, while it's unlikely he wins the trophy, it's a good bet that he could be one of the top-three selected at the end of the 2020-21 season.
More Is Yet to Come
The Senators' first six games have been tough on fans, who were expecting to finally watch a team win this season. But even in a shortened season, there are still lots of games to play, and lots of wrinkles to iron out. Pierre Dorion made moves to make this team competitive in the near future, and Smith has shown to be a good coach for young players. Given time, things will get better.
---
---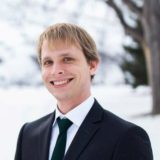 An elementary teacher by day and an avid hockey fan, Dayton joined The Hockey Writers in 2019 and currently covers the Ottawa Senators, World Juniors, and NHL Entry Draft.