The Ottawa Senators have historically had a tough time finding a starting goalie who fits. At the 2010-11 trade deadline, they brought in their starter for the next nine seasons in Craig Anderson. Now, after Anderson's departure, the proverbial torch has been passed to Matt Murray, the former Pittsburgh Penguins goaltender. The 26-year-old Murray brings welcomed stability and two Stanley Cup championships to the Senators crease. But, aside from Murray, who is the Senators' goalie of the future?
Anders Nilsson
The elder statesman, Anders Nilsson (age 30) has been with the Senators for the last two seasons and has posted a .914 save percentage (SV%) and a .908 SV%, respectively. He's a big body who moves really well down low, consistently battling to make the saves. He's had trouble finding a consistent job in the NHL, and heading into his third season with the Sens makes this his longest tenure with a team.
He has been an excellent backup or 1B-type goalie and what helped him succeed in Ottawa is his rebound control. He has a "4-foot-wide chest" and he sucks in pucks that he's able to see. His status for 2020-21 is up in the air due to post-concussion symptoms. If he is able to get healthy and return to form, his position with the team is up in the air. With the acquisition of Murray, expect to see Nilsson moved out for the right price.
Marcus Hogberg
Next up is Marcus Hogberg (age 25). The 6-foot-5, Swedish netminder played his first full season as a Senator in 2019-20. He has the ability to be a solid NHL goalie with his .904 SV% in 24 games last season on a defensively bad team. His ability to battle through screens and his foot speed has set him up for success in Ottawa.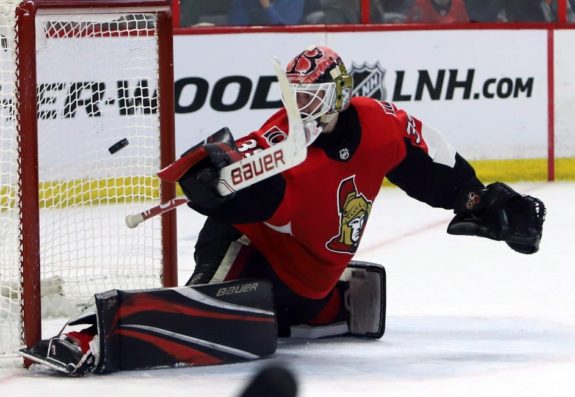 His size also gives him an edge against the opposition because he covers more space in net. Hogberg will need to improve his rebound control if he wants to challenge Murray for the starting spot. Expect him to be the backup next season and earn at least 25-30 starts if the NHL plans on playing a full season.
Joey Daccord
Joey Daccord (age 24) is next in line to be called up to the big club. His 2019-20 season was one to remember. In his first professional campaign, he posted a .915 SV% in 24 games for the Belleville Senators. Daccord played one NHL game in 2018-19 and was impressive in a 35-save loss to the Sabres. He just re-signed with the Senators for the next three years.
In his career, Daccord has been able to improve his game. At Arizona State, he consistently got better each season and earned a Hobey Baker nomination as a Junior. The best part of his games is his stick handling (which is a little different from Anderson's), and he is able to dish outlet passes to his defense with ease and improve zone exits. He also reads the play extremely well and has a high hockey IQ. Daccord has all the tools to be an NHL goaltender, and if he's able to play in the AHL next season, he'll split the starting duties with Filip Gustavsson. 
Filip Gustavsson
Speaking of Filip Gustavsson, the 22-year-old is on loan to Södertälje Sk of the HockeyAllsvenskan, and has a .937 SV% in five games.
This season, the organization would like Gustavsson to take the next step in his development since he was underwhelming in Belleville last season. Originally drafted 55th overall in 2016 by the Penguins, he was part of the Derick Brassard three-way trade in 2017-18. He gained the interest of Sens fans when he posted a .924 SV% for Sweden at the 2017-18 World Juniors.
His game is calm and collected, his movements are very smooth and he's rarely caught out of position. One drawback is his inability so far to develop consistency at the professional level. He has been very streaky in his two seasons with Belleville. If he can reach a save percentage above .900, his increased confidence might allow him to take the next step. 
Mads Sogaard
Mads Sogaard (age 19) is the next goalie in the pipeline. He must have the faith of the organization since they traded up to select the 6-foot-7 goalie in the 2019 Draft. Yes, Sogaard is the same height as former Sens goalie Ben Bishop and he has spent the last two seasons with the Medicine Hat Tigers. The 2020-21 WHL season is set to start January 8th, 2021, so that should see Sogaard picking up his starting role with the Tigers.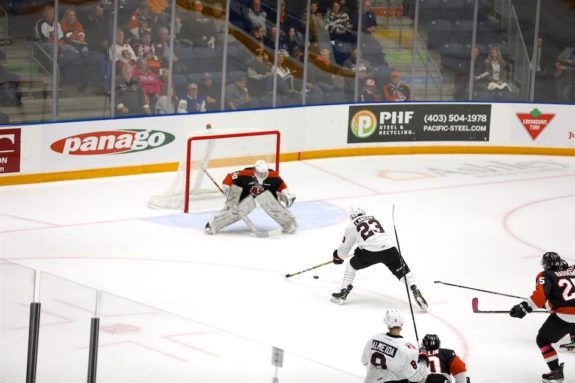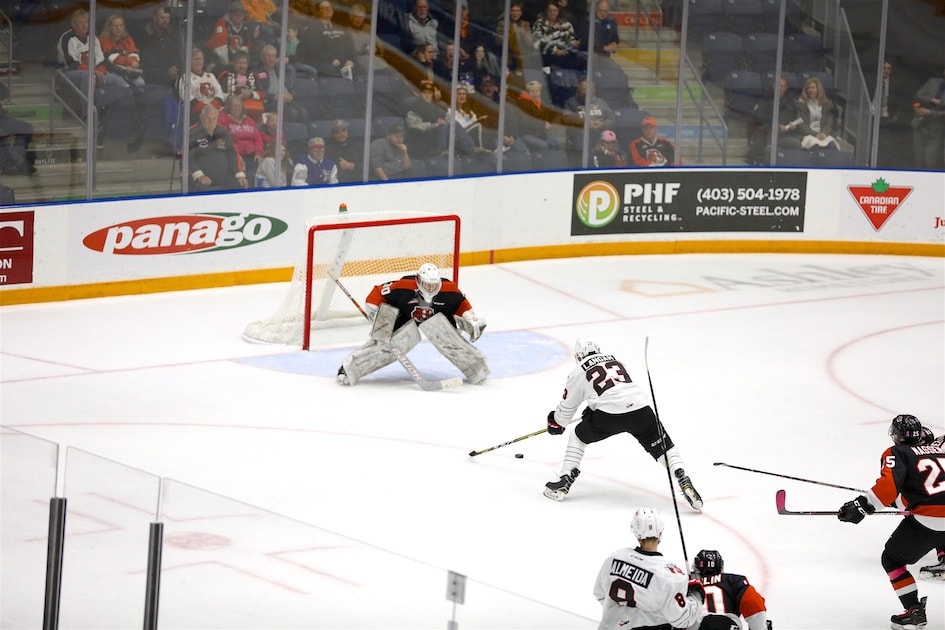 His stats dipped last season from his rookie campaign, from .921 SV% to a .908 SV%. His height provides Sogaard with incredible lower net coverage in the butterfly. He's athletically gifted and can move around the net quickly despite his height. If he can rein in his game and maintain his positioning, he could be a dangerous prospect in a few seasons.
Kevin Mandolese
Another young goalie prospect is Kevin Mandolese (age 20), who vaulted himself into a contract with Senators after his stellar play in 2019-20. After posting a .925 SV% and 26 wins, he earned Goalie of the Year honours in the QMJHL. At 6-foot-4 (have you noticed the trend?), he can cover the net well on most chances.
Related: Ottawa Senators' Daniel Alfredsson – Hall of Fame Worthy?
His game screams "solid"; he's not extremely flashy, but he battles for every puck and reads the game well. A lot of his highlights show his heroic glove saves on the goal line, which, as great as they are, also implies he was caught flat-footed or out of position. Luckily, those errors can be ironed out of his game with a good goaltending coach. If the ECHL season is to be played this year, expect to see him there.  
Leevi Meriläinen
The Senators surprised a lot of people (fans and scouts) in the 2020 Draft by taking Finnish goalie Leevi Meriläinen (age 18) in the third round. Meriläinen was expected to go undrafted, however, he benefitted from the late draft date and the leagues in Finland starting their season as scouts were able to see his blistering start for Karpat U20 taking the reins as the starter and posting a .911 SV% over seven games. Not much is known about Meriläinen except that he has plenty of time to play in Finland and develop his game then come to North America in three years or so.
Who's Most Likely to Be the Guy?
The Senators have shored up their starting goalie situation for 2020-21 and for years after that by signing Murray to a 4-year, $25 million deal. At the end of his deal, Murray will be 30 and likely still a quality netminder, but the prospects above may be ready to compete for his job.
The organization's goalie depth has been growing for sometime and as of 2020, it's arguably the best it's ever been. Who will be Ottawa's future? If he's able to rein in his movements and flop around less, Sogaard has all the makings of a monster goaltender. He's my bet to be the starter when Murray's contract is up.
---
---