After months of planning, preparation, and more than a couple of hiccups, the NHL is finally ready to start their 2020-21 season. Ten teams hit the ice on Jan. 13, with the rest falling in over the next two days. The Ottawa Senators will be in that latter group, with their first game scheduled to take place on Jan. 15 against the Toronto Maple Leafs. As one of the few teams not part of the NHL's Return to Play plan back in August, the Senators have waited longer than most, but it seems to have all been worth it.
With the hours ticking away until the puck drop, the Senators have just a few last-minute touches to put on their team before they are 100% ready, from setting their roster and taxi squad to making sure that their best prospects will have the right opportunities to keep growing and developing. Fans can hardly wait any longer – let's get to it!
Item One: Opening Night Roster and Taxi Squad Announced
Although the NHL season starts today, the Senators don't play until Friday when they face the Maple Leafs at home. But with camps closing, they chose to release their 23-man opening night roster early, and while most of it was exactly what everyone expected, there were a few notable surprises.
The first thing on many fan's minds was who would end up being the team's first-line center. There were many candidates, but it's looking like rookie Josh Norris will get a shot at the top spot with Brady Tkachuk. Joining them will be another rookie in Drake Batherson, who will take the right side. Both were electric in the AHL last season, with Norris leading all rookies in points and Batherson being named to the Second All-Star team after scoring 54 points in 44 games.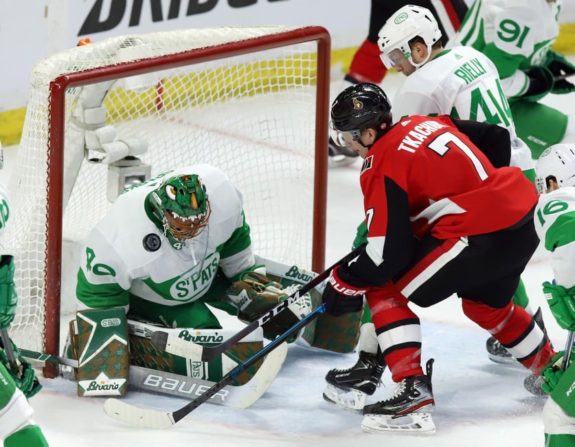 With Batherson on the top line, newcomer Evgenii Dadonov will be pushed to the second line with Derek Stepan and Tim Stuetzle. There were some questions as to where the German phenom would start – he played center in Germany but was on the left side during the World Juniors. In Ottawa, he'll start his NHL career at left wing, but with the intention of transitioning him back to center.
It's no surprise that Thomas Chabot and Erik Gudbranson are projected to be the top defense pairing, but seeing Mike Reilly with Nikita Zaitsev on the second unit over the likes of Erik Brannstrom was somewhat unexpected. Christian Wolanin also was somewhat of a wild card as he potentially could have made the opening night roster, but was struck by the injury bug last season. This season, he'll start as a scratch, but look for him to start climbing the lineup if he remains healthy. Finally, Marcus Hogberg won the backup battle and will claim the coveted spot behind Matt Murray.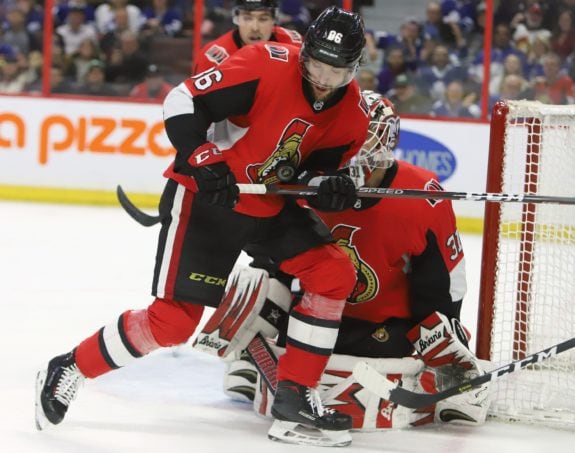 The Senators' taxi squad will consist of six players, the maximum allowed by the NHL: forwards Filip Chlapik, Matthew Peca, and Micheal Haley, defensemen Jonathan Aspirot and Artem Zub, and goalie Joey Daccord. Zub is coming over from the KHL after posting 22 points in 57 games last season. Vitaly Abramov will start the season on the injured reserve list after suffering an unspecified injury with the Liiga's Jukurit.
Item Two: Brown Demoted to AHL
Arguably the most surprising roster announcement was that Logan Brown had been sent down to the minors to start the season. Many expected him to have the upper hand over Norris in claiming the top center spot, or at the very least have a place on the taxi squad, but instead, he'll begin his 2020-21 season in Belleville.
The 2016 first-round pick has had a difficult time breaking in with the Senators; since 2017-18, he's only played 29 NHL games and scored just a single goal and eight assists. Injuries haven't helped him with his development, but it was projected that this season would finally be his chance to make the team.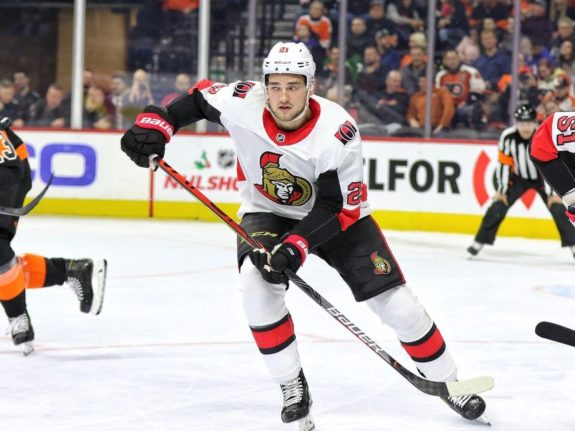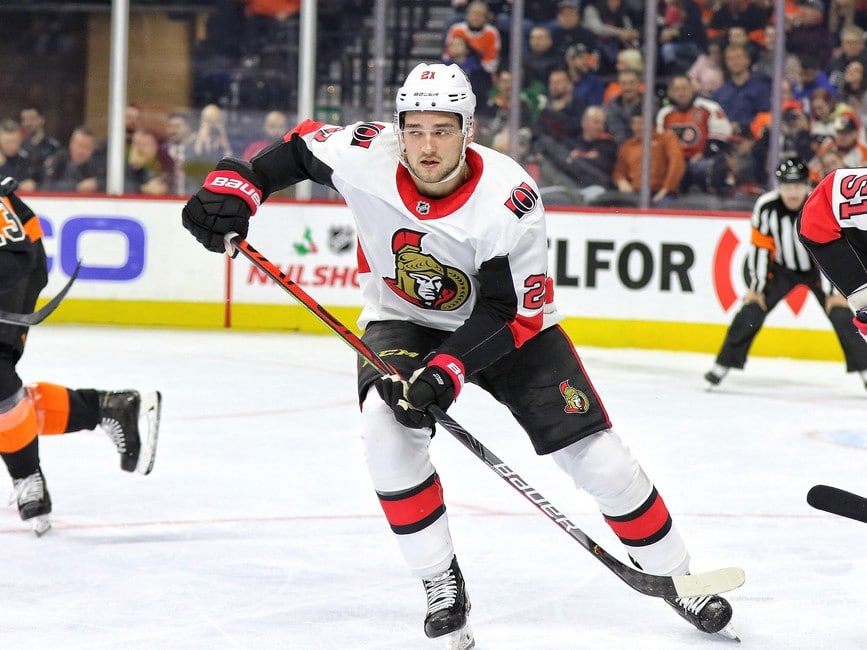 Now, some are wondering if a trade request may be on the horizon for the 22-year-old. Of the top-11 selected at the 2016 draft, only Brown and Olli Juolevi, taken sixth overall by the Vancouver Canucks, have failed to make an impact in the NHL, and several taken after him have already become NHL regulars, like Charlie McAvoy and Jake Chychrun, taken 14th and 16th. After Brown failed to make the team out of camp last season, many started to wonder if a change of scenery was necessary for his development, and some of those speculations are popping up again.
It also may be better for his development if he can prove he deserves to be on this team. Coach D.J. Smith said at the beginning of training camp that everyone needed to earn their spot on the roster, and Norris, Batherson, and Stuetzle proved they belonged, while Brown evidently did not.
A big season in the minors will undoubtedly give him a strong case for next season, while another injury-plagued outing will likely hold him back. Until anything changes, Brown will join other top prospects Brannstrom, Lassi Thomson, Alex Formenton, Ridly Greig, Egor Sokolov, and Filip Gustavsson in the AHL.
Item Three: Balcers Claimed Off Waivers
One name that is absent from all the Senators' lists is Rudolfs Balcers, as he was claimed off waivers on Jan. 12 by the San Jose Sharks. Last season, the Latvian played 15 games with the Senators, registering three points, and 33 AHL games where he was over a point-per-game. He was originally drafted by the Sharks in the fifth round of the 2015 draft and was acquired in the Erik Karlsson trade ahead of the 2018-19 season.
Related: Sharks' Claesson & Balcers Signings Add More Than Depth
Balcers was caught in an unfortunate situation coming into the 2020-21 season. He is a highly-skilled winger and proved that while playing in Norway earlier this season, where he scored 15 points in 10 games. But at camp, he was unable to establish himself over the Senators' other options at left wing.
The addition of Cedric Pacquette didn't help the situation, but even had they not traded for him, Balcers would have had a difficult time sticking on the main roster. So, Ottawa had to choose whether they wanted to potentially lose Peca, also a left wing, or Balcers on waivers. In the end, Balcers drew the short straw, and the Sharks took advantage.
Item Four: Lajoie Traded in Minor Swap with Hurricanes
The Senators also parted with another player on Tuesday, trading Max Lajoie to the Carolina Hurricanes for forward Clark Bishop. During his time with the organization, Lajoie played 62 games and scored seven goals, eight assists, and 15 points, all of which came in his 2018-19 rookie season. He spent most of his time in the AHL, where he played 107 games and scored 33 points from the blueline. Bishop also has spent most of his career in the AHL, where he's played 201 games since 2016-17, scoring 59 points. He's also appeared in 25 NHL games and scored a goal and three assists.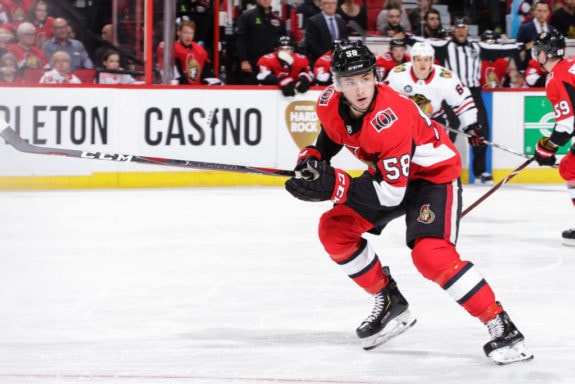 This move isn't likely to make much of a difference for either organization. Both players will start the season in the AHL and will need a whole lot of luck to get into a few NHL games. Lajoie falls behind Jake Bean and Joakim Ryan, both of whom are on the Hurricanes' taxi squad, while Bishop sits beneath Filip Chlapik, Michael Haley, and Brown on the Senators' depth chart. Bishop was likely brought in to provide a bit of stability with the Belleville Senators, as they have now lost Norris and Batherson to the NHL for the upcoming season.
Item Five: Melnyk Hopeful for Fans to Return
The NHL will be in a tough situation this season as most arenas will be unable to safely host fans, which prompted Gary Bettman to claim that the projected losses will be over $1 billion. It's also prompted some NHL teams to start trying to bring fans back to their arenas. So far, only the Arizona Coyotes, Dallas Stars, Florida Panthers, and Nashville Predators have implemented plans to have reduced capacity at games after receiving permission from their respective cities and states. No Canadian city has done the same, but that hasn't stopped Senators' owner Eugene Melnyk from trying to create his own plan.
In his plan, Melnyk hopes to have 6000 people back in the stadium for games – around one-third of the capacity of the Canadian Tire Centre. But Ontario has currently been struggling with an explosion of COVID-19 cases, and current mandates do not allow indoor public gatherings with anyone outside of one's household, with stricter measures coming in the future. That makes it incredibly unlikely the Senators would be granted any special treatment ahead of their Jan. 15 home opener.
What's Next For the Senators?
With the NHL season upon us, Senators fans are finally, truly optimistic about this team. It goes without saying that the team will likely miss the playoffs again, but that goal doesn't seem so far away anymore. There are some legitimate stars in the making in Stuetzle, Batherson, and Norris, and many fighting to take advantage of an injury or trade. For months, fans and critics have only been able to talk and guess about what their team could do this season. Now, we all finally get to find out how well this rebuild is going.
---
---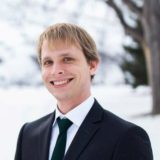 An elementary teacher by day and an avid hockey fan, Dayton joined The Hockey Writers in 2019 and currently covers the Ottawa Senators, World Juniors, and NHL Entry Draft.