Ottawa Senators general manager Pierre Dorion has been a busy man this offseason. From the two top-five picks at the 2020 NHL Entry Draft which translated into Tim Stutzle and Jake Sanderson, to his work in free agency, on the trade front, and signing some key restricted free agents, he's done a fabulous job of retooling his roster. As we look ahead to the 2020-21 NHL campaign, the Senators should be a far more competitive team than they were last season. At the pinnacle of it all is their depth at right wing – let's find out how they shape up and why that particular position is one of such formidable strength for the rebuilding Senators. 
Evgenii Dadonov
There's a new sheriff in Canada's capital city – his name is Evgenii Dadonov. Born and raised in Chelyabinsk, Russia, Dadonov is the club's marquee free-agent acquisition this offseason and a solid, under-the-radar addition from Dorion. As a player, he brings an extensive skill set to Kanata, Ontario that starts with his offensive instincts around the net. The mighty Russian is a strong skater, good in tight areas, and a real consistent presence on each and every shift. He plays a confident game, can mesh well with skilled players like he did in Sunrise alongside Aleksander Barkov and Jonathan Huberdeau, and sure knows how to score goals. 
From a statistical standpoint, Dadonov tallied three-consecutive 25-goal seasons as a member of the Florida Panthers. He also hit the 70-point plateau two seasons ago and notched 25 goals and 47 points last year in just 69 games played due to the COVID-19 pandemic which halted play in mid-March.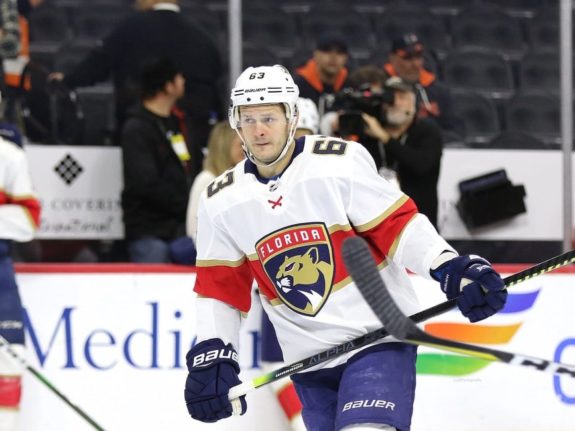 On a team with a plethora of young talent like the Senators, Dadonov is an excellent fit because he provides leadership, experience, and goal-scoring acumen at the NHL level. In addition, his $5 million cap hit fits in perfectly with the team's internal cap structure given the uncertain landscape in today's NHL. What an astute signing for Dorion and the up-and-coming Senators.
Drake Batherson
22-year-old, Fort Wayne, Indiana native Drake Batherson has been knocking on the door for a while now in the gold, red, black, and white of Ottawa. Well, hockey fans, you can stop waiting, it's Batherson time!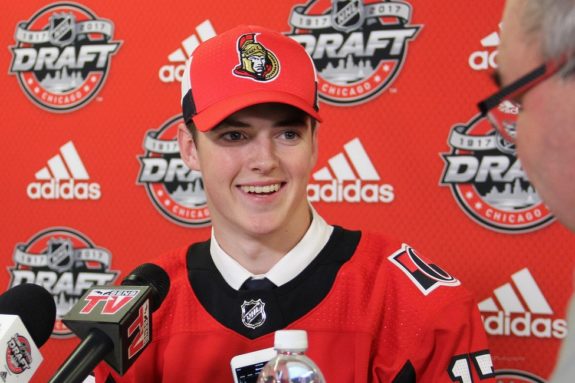 The past two seasons have seen Batherson split his time with the big club and Ottawa's American Hockey League affiliate, the Belleville Senators. At the AHL level, Batherson scored 22 goals and 62 points in 2018-19 and followed that up with 16 goals and 58 points in just 43 games last season. These are pretty impressive numbers for one of the club's most coveted youngsters, wouldn't you say?
Last season in Ottawa saw Batherson notch three goals and 10 points in just 23 games played. Quantify those numbers over a full season, and he's flirting around the 40-point plateau. Although it's unlikely we're going to see a full 82-game season in 2020-21, I think the Senators will be keen on giving him every opportunity to make his mark and become a permanent fixture at the NHL level. This kid is more than ready for prime time.
Connor Brown
Next up is the all-pro energizer bunny, "Downtown" Connor Brown. If you love players who play a strong, consistent, and responsible 200-foot game, then he's the guy for you! The prototypical middle-six forward who can play on any team, the former sixth-round draft pick has been found money and a fan-favorite amongst the Senators faithful because of his strong work ethic and reliability as an everyday NHLer. Born and raised in Toronto, Ontario, Brown has been nothing short of spectacular for the Senators since coming over in a trade from the Toronto Maple Leafs in the summer of 2019.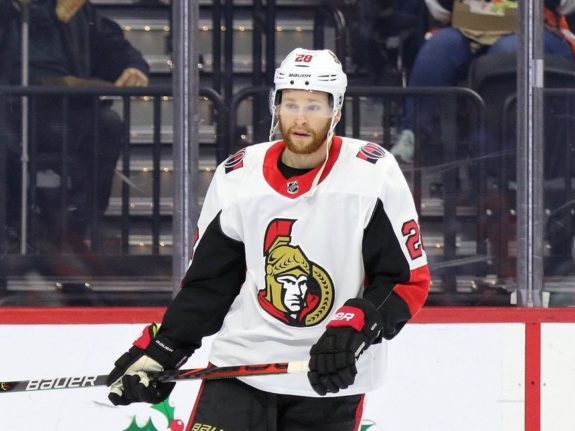 In his first season in Canada's capital city spanning just 71 games, Brown scored 16 goals and set career highs in assists (27), points (43), and ice time (20:07). His consistent play, leadership, and offensive production also helped him secure an impressive (and well-deserved) three-year, $10.8 million contract extension. On a rebuilding club like the Senators, I can't think of a better player and person than Brown to show the up-and-coming youngsters the ropes in all facets of the game at the NHL level. Dorion has had an offseason for the ages – his work on the Brown deal may be his most impressive. 
Austin Watson
One of Dorion's offseason goals was to get bigger, stronger, and to quote former NHL executive Brian Burke, more "truculent". He added that and then some in the form of Austin Watson. Coming over in a trade from the Nashville Predators last month, "Wats" will provide a much-needed physical presence amongst the Senators' forward core. He's big (6-foot-4, 205 pounds) and registered 131 hits and 48 blocked shots last season in the Music City.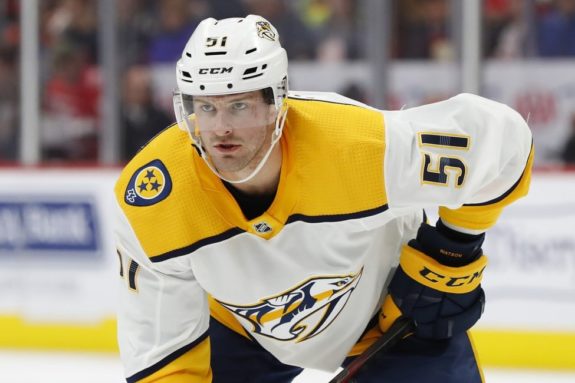 Watson also carries a favorable cap hit ($1.5 million) and is just three years removed from a 14-goal campaign. Although the Senators certainly aren't banking on him to light the lamp, Watson will provide a different look and feel to the Senators ahead of the 2020-21 campaign. This is without question a real savvy acquisition by Dorion. The Senators may not be atop the standings by the end of 2020-21, but they also won't be pushed around in any way, shape, or form either.
Rounding Out the Forward Group
In addition to Dadonov, Batherson, Brown, and Watson, there are indeed some other viable candidates that will be "in play" at right wing for Senators head coach D.J. Smith as we look towards 2020-21. One name that pops out is Filip Chlapik along with the likes of talented forward Alex Galchenyuk. It's taken a few seasons, but the Senators forward group is beginning to round into form starting at right wing. We'll just have to wait and see how it all unfolds in the months ahead now, won't we?
---
---