The New York Rangers hope that Igor Shesterkin is the heir apparent to Henrik Lundqvist, but Alexandar Georgiev will still be a key player for the Blueshirts next season. He should get plenty of playing time even though Shesterkin looks like a lock to be New York's starter. He will be relied upon heavily when he plays, given the Rangers' youth and defensive struggles.
Georgiev's Rise With the Rangers
Georgiev, who is Russian, played well in the Finnish Elite League during 2016-17 season, but went undrafted in 2017. The Rangers then signed him as a free agent and he started the 2017-18 season with the Hartford Wolf Pack. The team struggled defensively, allowing more goals than any other team in the AHL's Atlantic Division, but the young goalie was impressive. He often faced well over 30 shots per game and was up to the task, giving Hartford an opportunity to win games.
Georgiev's impressive play earned him an opportunity with the Rangers during the 2017-18 season when backup goalie Ondrej Pavelec suffered an injury. Like Hartford, the Rangers were struggling defensively when he got called up but he proved he belonged in the NHL, going 4-4-1 with a .918 save percentage in 10 games.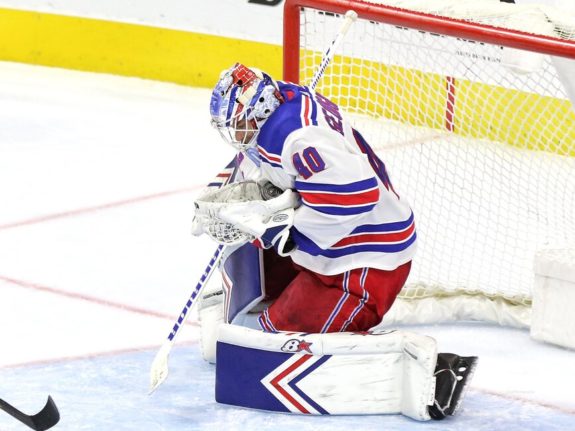 His impressive showing in 2017-18 earned Georgiev a spot on New York's roster in 2018-19 as Lundqvist's backup. He once again played well on a team that struggled defensively, finishing with a 14-13-4 record and a .914 save percentage.
He was solid again this season, finishing with a 17-14-2 record and a .910 save percentage, as he initially split playing time with Lundqvist. However, he fell under the radar as Shesterkin, who was one of the top goaltending prospects in hockey, got called up and played brilliantly.
Shesterkin's Role With the Rangers
Shesterkin was stellar in his 12 games last season, finishing with a 10-2 record and a .932 save percentage. He was also very busy in net, facing an average of 35.3 shots per game. Despite his impressive start on Broadway, there are a few causes for concern as he looks to take over for Lundqvist as the Rangers' starting goaltender.
Despite Shesterkin's great saves and consistency under pressure, 12 games is still a very small sample size. He will also have the added pressure of taking over for Lundqvist, one of the greatest goaltenders of all time and the face of the franchise during his tenure with the Rangers.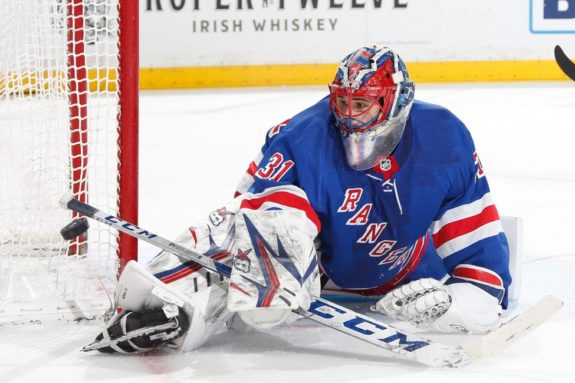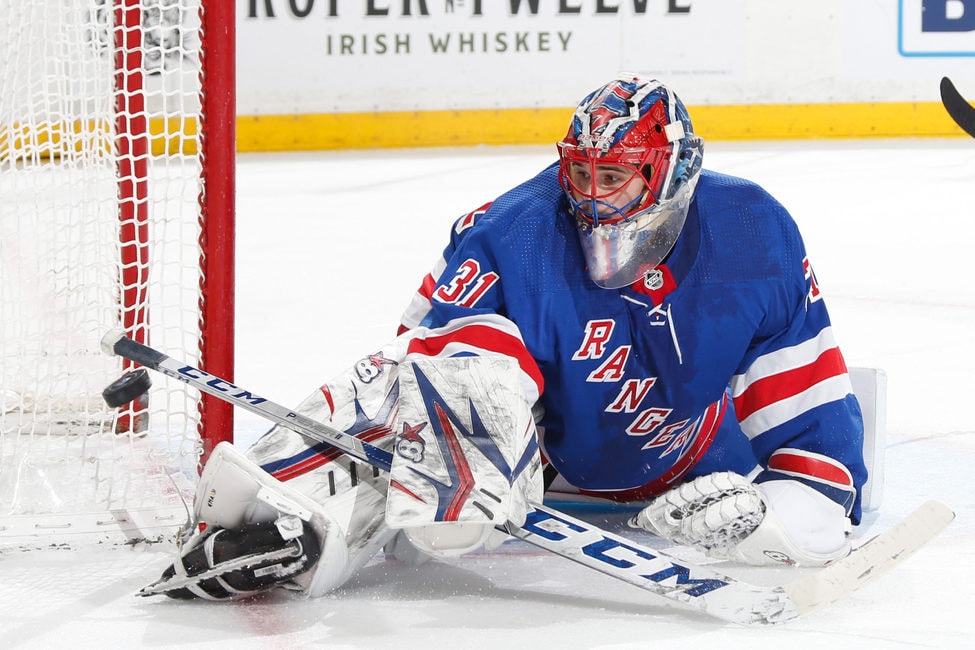 The Rangers may also be cautious with Shesterkin to keep him rested and healthy. He spent five seasons playing for St. Petersburg SKA in the KHL before coming to North America last season. He never played more than 39 games in a season and often faced less than 20 shots in games. That will certainly not be the case with New York, as he will likely face more than 30 shots per game.
In addition to adjusting to the rigors of playing in the NHL, Shesterkin missed time because of two different injuries last season. Although one of the injuries occurred in a car accident, the Rangers will still prioritize keeping him healthy throughout the season, which would mean more playing time for Georgiev.
Moving Forward
The Rangers appear to be in very good shape for goaltending next season despite buying out Lundqvist this offseason. Shesterkin has the talent to become a star but having a skilled backup with experience will be key for the Blueshirts. Georgiev should take some pressure off of Shesterkin.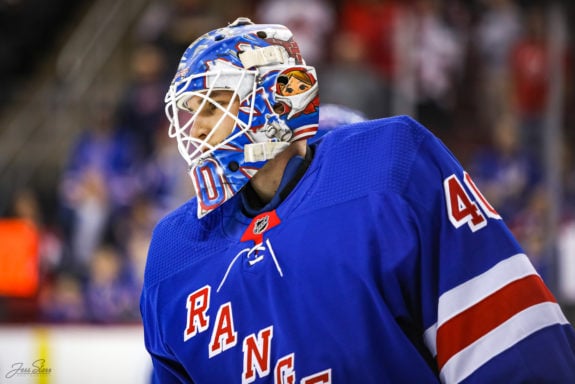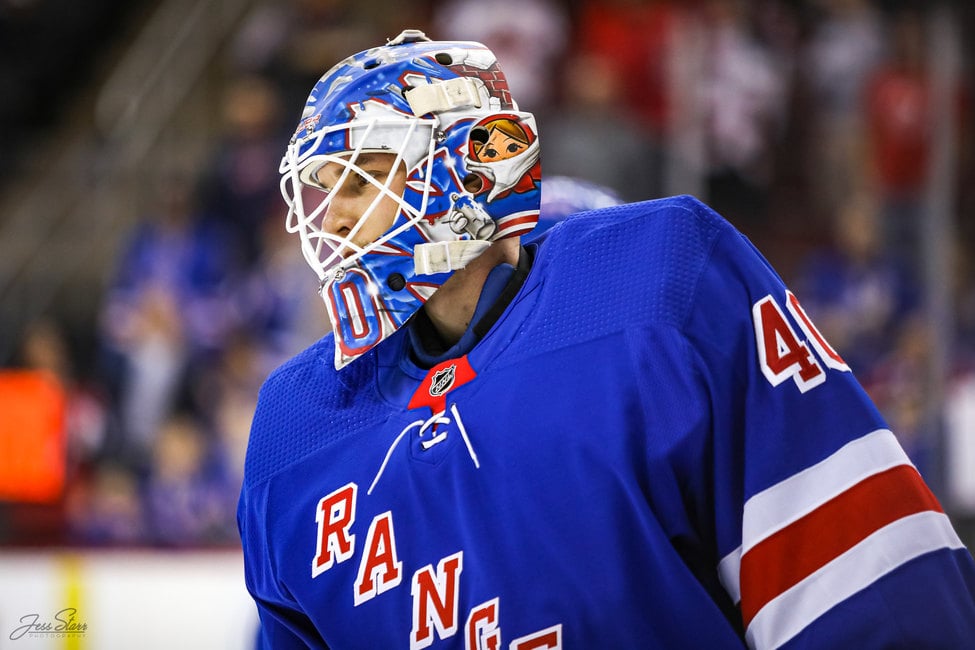 The Rangers are very thin on defense after trading away Brady Skjei at the trade deadline last season and Marc Staal in the offseason. They are a young team and defensive play is not one of their strengths so they will have to rely heavily on both of their goaltenders.
Georgiev showed he is capable of playing well enough to be the team's primary goaltender when Lundqvist was injured or slumping over the last few seasons. He is better than most other teams' backup goalies and that should be an advantage for the Rangers this season. While New York should be excited about Shesterkin, Georgiev should also get plenty of playing time this season.
Georgiev just signed a two-year $4.85 million contract with the Rangers last season. The deal allowed New York to keep the young goalie for a reasonable price. It also benefits him, as he will have two seasons to prove that he deserves to be a starting NHL goaltender. If he can continue to play well, he will be a difference-maker for the Blueshirts as they look to return to the playoffs next season.
---
---