This season marks a great opportunity for the Ottawa Senators to develop their young talent and give them a chance to get a lot of quality minutes.
But the Sens' young guns are going to have to earn their ice time.
Senators' head coach DJ Smith is caught in an interesting crossroads as the Senators prepare for the season. Does he want the best team he has out on the ice? Or does he hold back some veterans to give the Senators of the future more playing time?
Adding to the complexity of the problem is the fact that there were no preseason games for the coaches to evaluate talent this year. There are new and young faces, and the coaches have to make their evaluations on practices and scrimmages without seeing them in game situations.
As the Senators break out of training camp and prepare for their first regular-season action in 10 months, there are a few categories of players on the roster.
The franchise players that the team will build around are forwards Tim Stuetzle, Evgenii Dadonov and Brady Tkachuk, defenceman Thomas Chabot and goalie Matt Murray. There are the short-term players on one-year deals like Derek Stepan, Erik Gudbranson and Alex Galchenyuk, who will make the team competitive and bring some veteran leadership. There are also veterans like Connor Brown, Chris Tierney, Nikita Zaitsev and Mike Reilly. And then there are the Sens of the future. Centres Josh Norris and Logan Brown, wingers Drake Batherson and Alex Formenton and defenceman Erik Brannstrom have excelled in the AHL, but is there room for them in Ottawa this season?
Winning vs. Development
The blue line might present the biggest challenge for the Senators. Which seven defencemen will dress, and which defencemen are going to make the team's taxi squad? Who gets sent down to the AHL affiliate in Belleville? Smith is planning on rotating certain players in and out of the lineup throughout the season, but is that going to give some of the young, developing Senators enough ice time?
Thomas Chabot is emerging as one of the NHL's premier defencemen, and he should be paired with Gudbranson this season. Nikita Zaitsev is the third defenceman, but who does he get paired with? And beyond the top three, there is a human traffic jam for four more spots in the game-day lineup.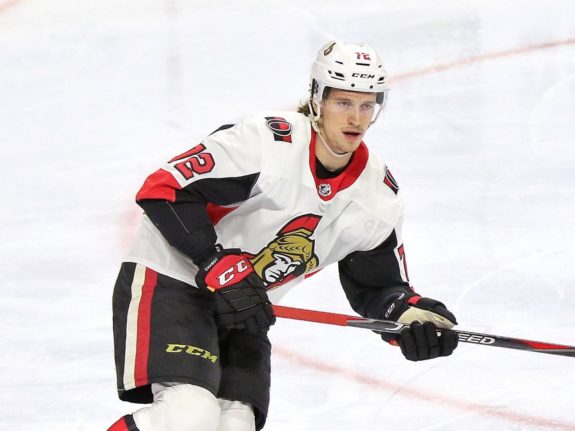 Mike Reilly, 27, was acquired from Montreal last year and is often overlooked when examining the Senators' depth, but he is an above-average offensive defenceman who will help the power play. Although the media rarely talks about him, Reilly has had a good camp and is a valuable player.
Josh Brown, a rugged 6-foot-5 defender, was acquired from the Florida Panthers. He played for Smith with the Oshawa Generals, where he won a Memorial Cup. Smith wants the Senators to be difficult to play against, and Brown is a steady defender with a physical edge. He was brought in to play, not to sit in the press box.
Coburn Brings Leadership
Braydon Cobourn, 35, is another 6-foot-5 physical defender who just won a Stanley Cup with the Tampa Bay Lightning. The Sens acquired him along with forward Cedric Paquette in a salary cap deal that sent injured goalie Anders Nilsson and injured veteran forward Marian Gaborik to the Lightning. Coburn is the only defenceman on the Sens' roster over the age of 30. His first challenge was to get to know his new teammates.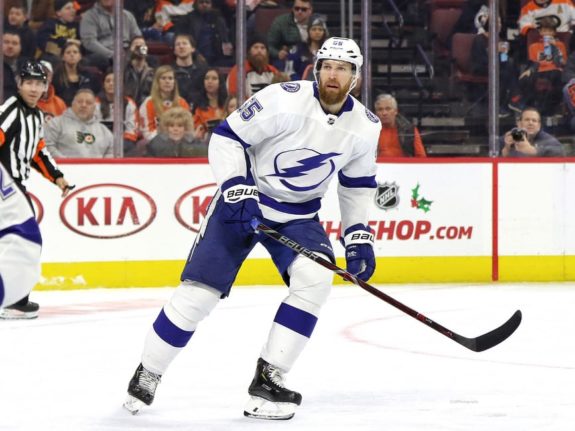 "It's a little hard to introduce yourself, I find," Coburn said in a Zoom session with the media. "I think I introduced myself to the same guy a couple of times, just with the masks — trying to figure out whose face matches up with which name."
The Sens brought in Coburn to provide leadership and veteran experience, and he is excited to be in Ottawa.
"There's a lot to like about this team," Coburn said. "There's a lot of young guys and a lot of guys who are hungry, and really want to make a name for themselves in this league. It's a competitive bunch, so it's a good group to fit into."
Which Prospects Will Play?
So if those five veterans play, there is only room for two of the young Sens. Once you get to your five-six pairing, do you dress a veteran? Or do you give that ice time to a prospect? Do you want to give your team a better chance to win now? Or do you want to give your team a better chance to win in 2021-22 or 2022-23?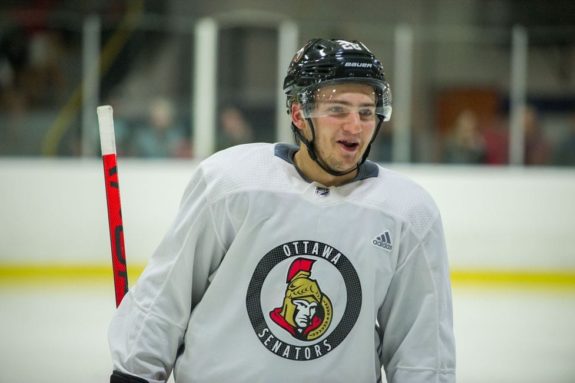 Brannstrom was the key player obtained from Vegas in the Mark Stone trade. He is not quite Erik Karlsson 2.0, but he moves the puck well and has a high ceiling. Last season, he played 31 games with Ottawa and had four assists. In Belleville, however, he had 23 points in 27 games and was dominant. He arrived in Ottawa after netting eight points in 10 games with the Langnau Tigers of the Swiss League.
What about Lassi Thomson, who excelled at last year's World Juniors for Finland? Is Christian Jaros, who played 61 games in Ottawa in 2018-19, in the plans? The same goes for Max Lajoie. And complicating things has been an impressive showing at camp by Jonathan Aspirot.
Smith likes what he has seen in camp from his young blueliners.
"Lassi started a little bit slowly as he was in quarantine but he's been going good here the last little bit," Smith said. "Aspirot, who I hadn't really seen much, has done some good things here. He's just a young kid but he certainly put himself on the radar."
Artyom Zub, 25, signed as a free agent after playing in the KHL, is also in the mix for a spot in the lineup.
"He's very good defensively, he faces the puck and boxes out," Smith said of Zub. "He's just going to have to get used to the NHL pace and it's tough without NHL exhibition games. He'll get an opportunity at some point. I think he's a safe, smart player."
Wolanin Ready to Win
The young defenceman with the best opportunity in Ottawa this year is Christian Wolanin. The 25-year-old son of former NHLer Craig Wolanin played just three games sandwiched between an injury and the abrupt end to the season in March. He belongs in the NHL, but where will he fit in?
"I think he's a unique puck mover," Smith said of Wolanin. "I think he can make plays and join the rush. He's really good on the power play. Like most young D, he's going to have to learn to defend at the National (Hockey) League level – box out, face the puck, all those things that younger defencemen sometimes have trouble with. Unfortunately, he only played three games, but we have a good one in him. He's going to be able to help us break out much better this year."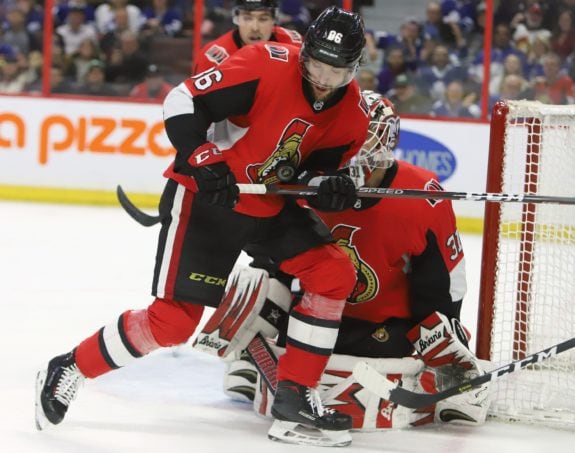 Wolanin is on a one-way deal, meaning he would have to clear waivers if the Sens were to send him to their AHL affiliate in Belleville. Despite that, he's taking nothing for granted.
"I was raised with my dad telling me that the NHL is a tryout every single year," Wolanin said. "It doesn't matter who you are, it doesn't matter what position you're in. It's a league where you've got to earn your spot every night. That's the mentality you have to have. For me, personally, I just know that deep down and within myself that I belong in the NHL and I just have to prove that to the coaching staff."
Wolanin has spent a lot of time playing with Brown.
"It's good to have a big righty that can shut it down defensively," Wolanin said. "We kind of joked on the first day that on the back end, I'd be asking a lot of questions and that I'd need his chatter and talk as much as possible. When we get to the offensive end, I'll do the talking, and we can balance each other out."
An injury kept Wolanin out of the lineup for most of the 2019-20 season, but he had a strong campaign in 2018-19. He had 31 points in 40 games in Belleville and earned a 30-game call-up to Ottawa, where he had 12 points. He is particularly strong on the power play, which is an area in which the Senators have badly needed help.
"The power play and having the puck on my stick is something that everyone knows is my strong side," Wolanin said. "The key word is opportunity. Nothing is given in this league. Everything's got to be earned, and I know I have to earn the opportunity. I'm confident in myself that once I am given the opportunity to run the power play that I can help and contribute."
Although there are few expectations with the young and rebuilding team, Wolanin said the Senators are ready to be competitive.
"I'm sick of the 'next year is our year' kind of attitude," he said. "You only have so long as a player and your window is only so open. So I'm ready to play right now, and I'm ready to start winning right now."
While the Senators have high-end prospects in camp, two of their most coveted young defencemen are still in college. Jake Sanderson, drafted fifth overall in 2020, and Jacob Bernard-Docker, a first-round pick in 2018, are both playing at the University of North Dakota. Sanderson was impressive at the recent World Junior Championships, winning a gold medal with Team USA.
With injuries and COVID-19, there is a chance that the Senators' young defencemen will get plenty of ice time this season. And regardless of what happens in the standings in 2020-21, the Senators have the most promising young blue line since the days when Chris Phillips and Wade Redden joined the team in the late 1990s.
---
---