The Ottawa Senators head coach D.J. Smith and general manager Pierre Dorion had discussions in June about naming a team captain for next season. However, plans were put to a halt for another year. The Senators have had a vacancy in regards to a captain since Erik Karlsson was traded before the 2018-19 campaign. The team will name their next captain sooner rather than later and there's no rush to get it announced. In fact, Ottawa could benefit from a vacant captaincy as THW writer David Crosby suggested a few weeks back.
However, when the organization does decide to name a captain, they will be faced with two great choices. Brady Tkachuk and Thomas Chabot were first-round draft picks taken by Ottawa and are the runaway leaders for the next captain. But, who should it be?
Brady Tkachuk
It wasn't too long ago that the Senators had a big question mark in front of them at the 2018 Draft. They were required to send either the fourth-overall pick in the 2018 Draft or their 2019 first-rounder, no matter where they were on the draft board, to the Colorado Avalanche as part of the Matt Duchene trade that was completed in November of 2017. Needless to say, Ottawa made a fantastic decision to keep the pick and draft Tkachuk at number four.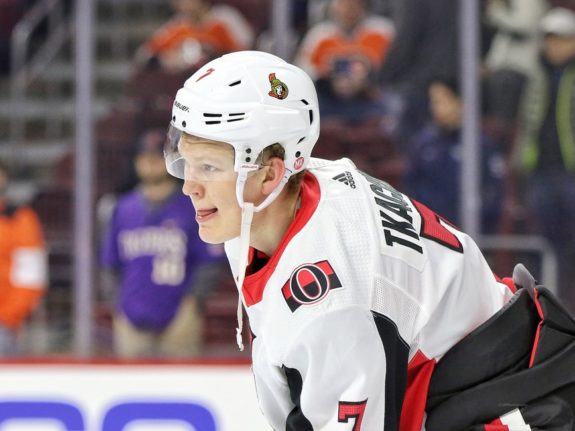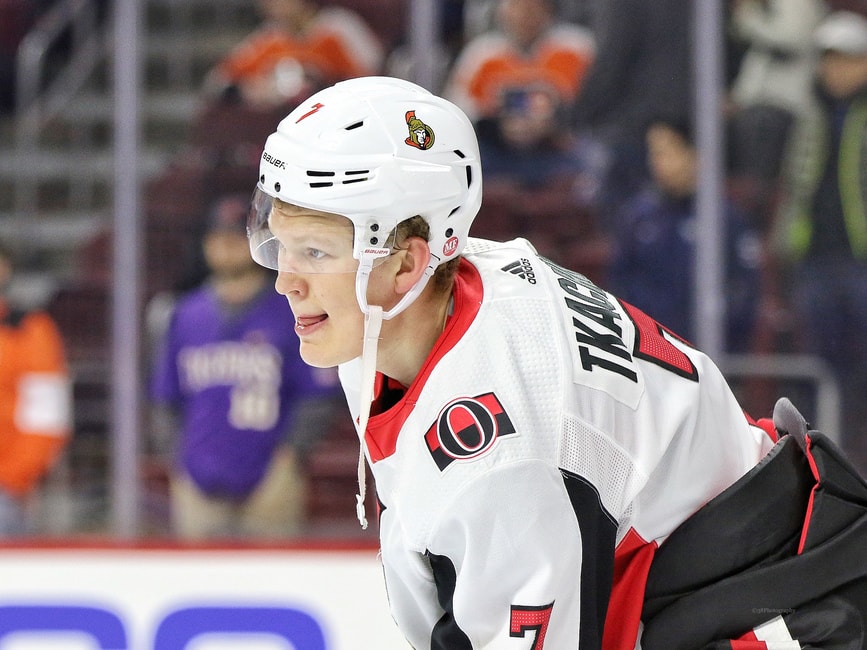 In just 142 games played so far in his young career, Tkachuk has totalled 43 goals and 46 assists for 89 points. It's also hard to not notice the 181 penalty minutes as well. Since entering the league two seasons ago, Tkachuk predominantly played with Mark Stone before he was traded to the Vegas Golden Knights. During 2018-19, Tkachuk's first in the NHL, Stone was arguably turning into one of the most dynamic wingers in the game and the rookie Tkachuk was there every step of the way. Once Stone was traded, Tkachuk continued at his pace and carried that into last season.
Tkachuk's numbers in his rookie season compared to his sophomore season were virtually identical. He had one less goal in the same amount of games played (71) last season, but it's important to point out that he kept scoring on one of the worst teams after he lost a high-calibre player as his wing partner in Stone. It's only been two seasons, but Tkachuk has already proved he can hang with the best of them in the NHL.
The name Tkachuk is one that resonates in the hockey world. The leader of the pack, Keith Tkachuk, played 1,201 NHL games and eclipsed a total of 1,065 points while also logging 2,219 minutes in penalties. The oldest son, Matthew, who was taken sixth overall by the Calgary Flames back in 2016, has played 293 games with a total of 235 points and 302 minutes in penalties. Without ever having to watch a minute of these guys play, it's safe to say their numbers speak for themselves.
Just like his brother Matthew, Brady isn't afraid to get in your face and create some energy. He recorded 303 hits, which was good enough for second in the NHL and also led the Senators in blocked shots (43). He leads by example and that's the number one identifier in choosing a captain.
He led the Sens in goals, points and penalty minutes while also earning a spot in the All-Star Game last season. Another big identifier is his involvement in the community. A nominee of the King Clancy Award, a captain doesn't just perform and lead by example on the ice, but off the ice as well. He's is known as one of the bigger fan favourites and no one has ever had anything bad to say about him. It has become apparent through his play, heart, leadership, name recognition, and fandom that Tkachuk is the lead dog in the race for captaincy.
Thomas Chabot
While Tkachuk might be the top choice for a majority of Senators fans to dawn the next "C," defenceman Thomas Chabot is right up his tail. The first thing that comes to mind when comparing these two players for captaincy is commitment. Now, I fully believe and expect Tkachuk to sign a long-term deal before he becomes a restricted free agent. However, Chabot has already done that, and it happened fairly quickly. He signed an eight-year deal worth $64 million on Sept. 19, 2019. That's roughly two weeks before last season began.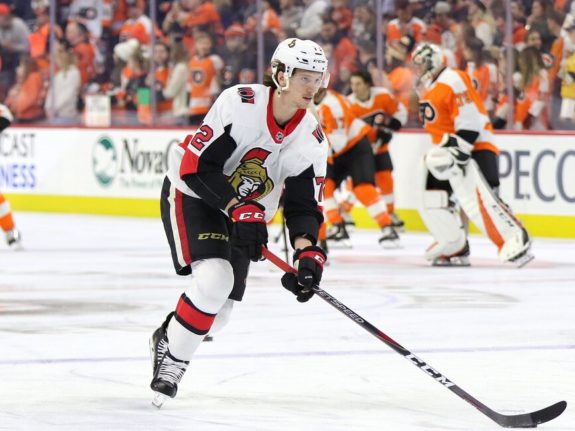 Signing a massive ticket like that doesn't automatically qualify you as a team leader, but it becomes clearer how the team views him. Chabot is a centrepiece for the franchise moving forward and they will be building their defensive corps around him for, at minimum, the next eight years. After being selected 18th overall in the 2015 Draft by Ottawa, he has played 205 NHL games, tallied 90 assists with 29 goals for 119 points. It's not every day that you see a defenceman put up those kinds of numbers on an entry-level deal. Chabot also led the NHL in ice-time averaging 26:00 minutes per game.
After analyzing the numbers such as points, ice time, and looking at the position he plays, it's hard not to think of Karlsson, the last Senators captain, who put up similar numbers while he was in Ottawa. Chabot's demeanour on and off the ice is also similar. While Tkachuk plays with more grit and jam, Chabot is a patient. It's not often we see too many team captains as hot-headed, loud players, so Chabot fits a prototypical mould. I'm not suggesting Tkachuk is one of those loud players, but in comparison to Chabot, he is.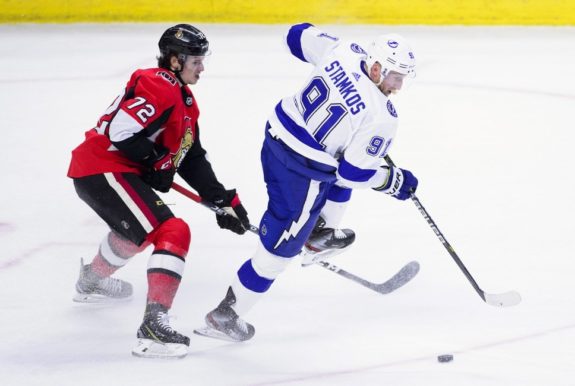 As a top defenceman in the NHL, you're expected to go up against the best players night in and night out. At such a young age, Chabot has already proven he can play against anyone and effectively. Another factor that hasn't been an issue for Ottawa in the past, but could now be taken advantage of, is the bilingual community.
Chabot was born in Quebec and can speak French. Ottawa hasn't gone down the path of the Montreal Canadiens where they require a French speaking coach or captain, but this doesn't hurt Chabot's case. If Ottawa decided they wanted to reach a larger audience, then this would be the place to start.
Who Should It Be?
The Senators have two great choices for their next captain. If they go with either Tkachuk or Chabot, they will be in very good hands. Regardless, both of these players will permanently have a letter on their jersey and continue to perform at an elite level for the organization. The letter on the jersey is nothing more than a symbol for people to recognize as opposed to what actually goes on behind the scenes in the locker room.
If I had a choice for the next captain, I would go with Chabot. My opinion is based on nothing more than optics. Chabot carries himself like a true number one leader, and he already established commitment to the team for the next eight years solidifies my choice. In any case, Ottawa has a bright future ahead of them no matter who dawns the "C."
---
---