Seth Griffith is closing in on his last chance to make a way for himself in the National Hockey League. Although the 5-foot-9 winger was a fifth-round pick of the 2012 Draft (No. 131), he was second in the AHL in scoring in the 2015-16 season. His small size had always been a source of skepticism for fans and scouts, but his skill at the Junior and AHL levels had been a ray of hope.
Now it's four months into the 2016-17 season and Griffith has undergone a whirlwind of ups and downs. From the fan's point of view, it looks like Griffith can't make the transition from amateur to pro.
2016-17 Season Timeline: Seth Griffith
Looking at the timeline of events that took place this season, we see that Griffith has been through a lot.
Oct. 11, 2016
After 34 NHL games played over two seasons with the Boston Bruins, they put Griffith on waivers.
The Toronto Maple Leafs claimed Griffith off waivers.
Oct. 27, 2016
Mike Babcock on Griffith at the Maple Leafs morning skate ahead of his first game as a Leaf, against the Florida Panthers (Babcock addresses Griffith question at 0:24 into the video).
He's a real good player in the American League, a real good player in Junior. Our people like him. Obviously, I know Claude Julien (head coach of the Boston Bruins) real well and I talked to him about it and I talked to him about what he had to say. Lots of guys in our league make good on their second and third chances, more so than on their first cause the league's that tough and they learn a lot to when they go to a new spot, they're more willing to do some things without the puck that usually endears them with the coach better and so that's his opportunity. – Mike Babcock
Nov. 11, 2016
Nov. 12, 2016 
Nov. 27, 2016 
The Panthers fired head coach Gerard Gallant and assistant coach Mike Kelly on Nov. 27, 2016, and Griffith's fate was up in the air once again. Tom Rowe, the Florida Panther's general manager took over head coaching responsibilities and will continue to do so for the remainder of the 2016-17 season.
Jan. 19, 2017
The Florida Panthers put Seth Griffith on waivers.
Jan. 20, 2017 
The Toronto Maple Leafs reclaimed Seth Griffith off waivers.
Jan. 21, 2017
Griffith interviewed by Leafs TV after his first game with the Toronto Marlies.
Having played five games with the Marlies since his return to Toronto, Griffith is back in the swing of things and has seven points.
Structural Integrity & the Leafs' System
So why is it that Griffith can play so well in every league leading into the NHL, sometimes even dominating that league, but fails to bring that level of competition to the NHL?
Perhaps the answer to this question has more to do with structure than it does with skill. Maybe Griffith's role in Toronto and in Florida had a bigger influence on his production than what is seen with a glance.
Parity in the NHL is so high these days that NHL teams must rely on more than just skilled players if they want to win Stanley Cups. That much is common knowledge. Teams today need structure. Babcock's system is in full effect this season. Now that the Leafs have individual shooting talent and a goalie who can stop pucks, we're starting to witness real change on a daily basis.
Historically, winger's have been responsible for the opposing defensemen in their defensive zone. However, the role of wingers has changed along with the changing roles of defensemen. Now, they're providing a layer in front of the net when the defense in the corners is compromised. Winger's are sometimes responsible for stopping the opposition from cutting to the middle at the top of the circle when opposing players circle in. In this day and age, teams want winger's leaning in on opposing forwards. They want them triangulating in the offensive zone. They want them influencing the play.
Putting on a show is also part of the Leafs' repertoire of system techniques. Doing things that fans like to watch in the offensive zone is encouraged if they're playing well. This gives them opportunities to show off their talent and skills.
Rookies Play Big Role in Structural Integrity
An upside of having so many rookies on your roster is that they've not been trained to follow a different style of hockey, nor have they been fitted to someone else's system. Meaning, some other NHL team hasn't ingrained their structure. Babcock gets to teach them his ways from scratch.
While researching a comparison analysis of Timothy Liljegren and Drew Doughty, I learned that Doughty had so much talent at the Junior Hockey level, he didn't need structure to stand out. When he came to the Los Angeles Kings, though, the Kings provided him with structure and that empowered him. Unlike Griffith, Doughty was selected in the first round of the draft. First-rounders have already done a ton of leg work to earn a premium role in their new team's system. Although it's never a guarantee, it certainly helps.
Griffith's Coaches
Griffith only played in five games under the tutelage of head coach Gallant. Five games really aren't enough to form any concrete conclusions regarding the impact that coaching direction between Gallant and Rowe had on him. However, if we look at Griffith's time on ice (TOI), the number of shifts, shots on goal (SOG) and points registered during his time with the Florida Panthers, we'll see that changes occurred.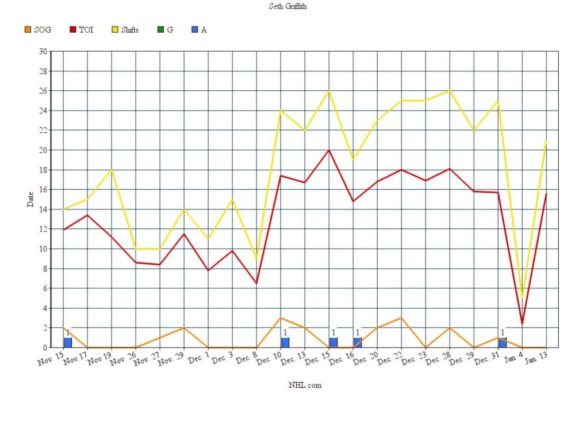 Beginning Dec. 10, 2016, two weeks after Gallant's departure, Griffith's ice time sky-rocketed. That's also when he started getting more shots on goal. Although he wasn't able to turn these opportunities into actual goals, he started to get assists more regularly.
Structure plays a big role when it comes to players reaching their full potential in the NHL. For many, it is the deciding factor between good and great. For Griffith, it may be the do all or end all. In Babcock's interview with Leafs TV at the end of October, he said guys are more willing to do things without the puck on their second and third chances.
Having started this season with the Boston Bruins (1), then going to the Toronto Maple Leafs (2), then to the Florida Panthers (3) and now to the Toronto Marlies (4), playing for the Leafs again will provide chances for Griffith. He's been around the block and has probably learned a lot about various systems. Learning along the way is what Babcock thinks will give Griffith his opportunity – perhaps his last opportunity. It seems that Griffith will have to be more willing to do things without the puck and to me, it sounds like structure will be his saving grace.