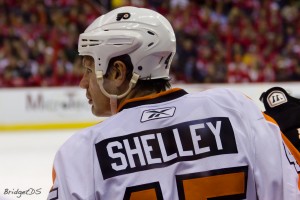 It seems odd that, as administrations at every level of the game are trying to make it safer, it is the so-called policemen who are constantly to blame for dirty hits. Such was the case again when Philadelphia's Jody Shelley drove Toronto's Darryl Boyce into the boards from behind on Wednesday. Several seconds after Boyce, who suffered a major facial injury last season, passed the puck up the boards after chasing down a dump-in, Shelley decided to finish a hit he never even had time to start. Boyce broke his nose on the play.
Kudos to newly-appointed NHL disciplinarian Brandan Shanahan for giving Shelley 10 games, including five in the regular season. This is now the sixth time he has been suspended, the other five were for a total of 10 games. And it's not surprising either for a player like him. In 596 games he has a 0.089 points-per-game average, 2.47 PIM per game and a career plus-minus rating of minus-29. He doesn't take faceoffs or play on special teams, so why is he playing in the NHL? Furthermore, how is he managing to get paid over $1 million a year to do it?
The video below was released on NHL.com with Shanahan explaining his decision. In it he explains how several key issues came into place including that fact Boyce did not turn from a hit, Shelley had ample time to avoid the hit and that fact he was suspended twice last season. He also cited the new boarding rule for which Shelley was in clear violation of. Rule 41.1 states "The onus is on the player applying the check to ensure his opponent is not in a defenseless position and if so, must avoid or minimize contact." [Editor's Note: I Love Shanny's 'all business' demeanor in the video – the most progress we've seen in the area of discipline in a long time]

This act, along with the five game suspension to Pierre-Luc Letourneau-Leblond, may be the start of a true shift in the game. If suspensions are no longer dealt out by the Wheel of Discipline, the players are going to have to take their own safety seriously. Perhaps a fine to the team of a repeat offender will really make teams think twice about employing single-dimension players in the first place. Then, without a fear of having one's head smashed into the boards at a moment's notice, we may see the skilled players own they game like they haven't since Wayne Gretzky and Mario Lemieux were leaving everyone else in their wake trying to see who could put up the most insane point totals.
Going back to the video itself, this is exactly the type of clarity the NHL needs. With Shanahan direct and to the point, it is easy to understand exactly why he handed out the punishment he did. In a world of instant media and constant communication, it is good to see the NHL using new technology to their advantage. Taking advantage of mediums such as Twitter to announce and explain the suspensions is a huge step for a league that always seems to be playing catch up to the other sports.
There is still work to be done though. As long as enforcers like Shelley are allowed to protect their teammates by leaving no one standing to hit them in the first place, the NHL will be seen in a much darker light than it should. But if repeat offenders are looked at and given heftier suspensions each time, they will have a harder time landing a team and the NHL could finally be on their way to pushing a long-time nuisance out the door.