The Canucks are looking for Mikael Samuelsson to fill a variety of very important roles with the team in 2011-12, especially early on in the season.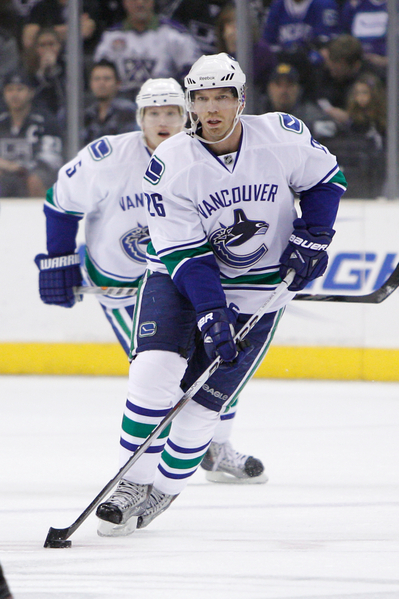 There has been no shortage of stories to follow this summer pertaining to the Vancouver Canucks – Ryan Kesler's progression from July hip surgery, Christian Ehrhoff's change of address, Cody Hodgson's newfound love for kale and quinoa, and Keith Ballard attempting to re-establish himself, among others. However, no player may have as much of an impact on Vancouver's chance at a return to the Stanley Cup Final in 2011-12 than the 35-year-old Mikael Samuelsson.
Although he is past his prime (age isn't just a number in professional sports, unfortunately), Samuelsson isn't a typical 35-year-old NHL forward. He didn't establish himself as a regular in the league until he was 29 back in 2005-06 with the Red Wings. He had a few brief NHL stints between 2000 and 2004 split between San Jose, Pittsburgh, New York, and Florida, but he never played close to a full 82 game season in any of those seasons (less games means less wear and tear on the body). In 2004, he returned to Sweden to play hockey there for a few years. The Swedish Elite League plays fewer games than the NHL, and is less physically demanding as well (both on the ice – style of play and off the ice – less travel). Samuelsson doesn't have the same mileage logged as many of his contemporaries do. He is also regarded as one of the fitter players on the Canucks, and being fit and healthy goes a long way in the prevention of and rehabilitation from injuries.
He looked out of sorts for much of last season, and it was revealed in the playoffs that he was playing with a few injuries, the most significant being a sports hernia that had affected his skating and general lower body movements for much of the regular season. The time off also gave Samuelsson time to fully rest a muscular issue in one of his legs that had been lingering for a few years. He still managed 50 points, but he wasn't nearly as effective as a goal scorer compared to one season previous. The Canucks missed his presence in the locker room and on the ice in the Final against Boston, as he's made two Cup Final appearances and never pulls any punches with criticizing his own play or the play of his teammates.
Looking forward to this season, Samuelsson becomes an integral part of Vancouver's attack. For the first few months of the season, he will be the glue guy holding the patchwork second line together, as Kesler and Mason Raymond rehab from significant injuries. Samuelsson played nearly one-third of his shifts with Kesler and Raymond last season, and even more the season before. This season, he's likely to see the bulk of his even strength shifts with a mixed bag, featuring Chris Higgins, Marco Sturm, Cody Hodgson, Jordan Schroeder, and Manny Malhotra.
The second line right winger role won't be the most important one Samuelsson fills on the 2011-12 Canucks, though. With the aforementioned departure of Ehrhoff and his 50 points, the league's most deadly power play from last season has a significant hole to fill (no matter what Henrik Sedin says, the team will miss Ehrhoff). Samuelsson filled in on the top unit last season when Alex Edler went down with a back injury, and he managed to help the unit increase its effectiveness. Having a forward on the point usually invites short-handed opportunities against, but with Samuelsson the reward appears to be worth the risk.
As a player, Samuelsson brings an element the Canucks (and many other teams) lack – a shoot-first mentality. Many Detroit fans were glad to see Samuelsson leave back in 2008, citing his poor shot selection as the primary reason (30 goals on 506 shots in his final two seasons there speak to this). However, since coming to the Canucks, Samuelsson has scored 48 goals on 434 shots (a respectable 11.1 shooting percentage). He sees the ice very well and he also gets his shot with regularity (two reasons why he works so well on the power play).
Samuelsson putting his accurate and sneaky point shot on display against Carey Price:
Samuelsson's third role with the team will be the back-up to Alex Burrows on the right wing with Daniel and Henrik. He doesn't bring Burrows' speed, tenacity, jam, or puck retrieval skills, but he shoots right handed and thinks the game well, which opens up a lot of space for two of the league's best offensive talents. Projecting a career season from a 35-year-old coming off of a serious injury may not seem to be a bright idea, but it is hard to ignore the opportunities ahead of Samuelsson for 2011-12. Oh, and he's playing for a new contract.
Jeff can be found on Twitter @AngusCertified.