Inexplicably Scratched
Tyler Kennedy is an incredibly talented hockey player. Yet the San Jose Sharks and their head coach Todd McLellan inexplicably scratched him for the entire playoffs last year in favor of Mike Brown, yeah, that Mike Brown.
In his first game this season back from injury, Kennedy arguably possessed the puck longer than Brown has his entire career. He picked up a brilliant assist on the James Sheppard goal, having the patience, vision, and ears to hear Tomas Hertl yelling for the puck. He had three Canucks thinking he was going to dump the puck into the corner but he held up to spot a streaking Hertl down the middle.
Kennedy brought energy on the forecheck all night long, creating tons of offensive zone time with a strong cycle game below the goal-line. He also finished the night with five shots on goal.
There is no question Kennedy didn't have the first year he wanted to have with the Sharks last season. His 17 points in 67 games were 8-15 points short of expectations. His minus-10 rating hurt him significantly, but it's not as if Brown was any better in either of these areas. Known for fighting, Brown was also a minus-10 last season with just five points in 48 games. He is a player who has no discernible offensive skill, nor is he a good defender. The Sharks thinking they needed him over Kennedy to match LA's toughness is a prime example of San Jose's extremely outdated old school way of thinking. Kennedy has been a significant contributor to a Stanley Cup winning team, and he was scratched in favor of Brown who has never been a significant contributor to any club. Sure, Brown got under the skin of a sloppy Kings team early on in the series, but once LA got their heads on straight, the fourth line fighter once again became irrelevant.
Tremendous Skill
While with Pittsburgh, Kennedy once scored over 20 goals in a season. Brown has 17 goals total in his seven year career. Kennedy has 80 career goals and 186 points in 440 games for a very respectable .42 points per game. Brown on the other hand has an embarrassingly low 31 points in 339 games for a .09 points per game. Brown would have to more than quadruple his career offensive output to match Kennedy's. Hockey is a game of scoring more goals than the other team, not out-hitting them. For a team like San Jose that couldn't buy a goal in Game 6 and 7 of that Kings series, scratching a tremendous offensive threat from the bottom six, a guy with a big-time reputation for raising his game in the playoffs, makes no sense at all, none.
Kennedy was brought in from Pittsburgh for a highly valued second round draft choice. He comes in with a pedigree of producing in key moments. Having played with elite centers in Sidney Crosby and Jordan Staal should not count against him. The Sharks have Joe Thornton, Logan Couture, and Joe Pavelski, they have talented centers who can get the most out of Kennedy. It's not Kennedy's fault that the Sharks prefer to overload their top-six lines and not spread out the talent to maximize the production of their role playing forwards.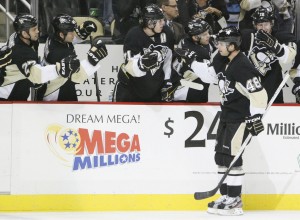 Playing with Tomas Hertl and James Sheppard, Kennedy looked fantastic in his first game of the season. He brought speed, creativity, and some nastiness (despite being only 5'8") that the Sharks have been missing with Raffi Torres on the mend. This is an example of what Kennedy can bring this season on a much more regular basis than a year ago. There are a couple of key reasons why this year is bound to be different.
West Coast Adjustment
First and foremost last year was not only Kennedy's first with the Sharks, it was his first away from Pittsburgh, where he had played his entire professional (not just NHL) career. He was drafted and developed in Pittsburgh where again, he scored nine points in 24 games during the 2008-09 Stanley Cup winning season. (That's more points in a single playoff than Brown has ever had during a regular season.) Via the trade, Kennedy had to make a huge career change going from the Pittsburgh to San Jose. Forget playing professional sports for a second, that is a huge move for anyone just as a person. Throw on top of that the expectations of continuing to play solid NHL hockey in a brand new environment, new system, new teammates, new everything?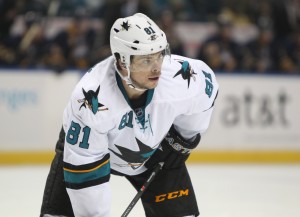 All of that new stuff would be hard enough for any player regardless of anything else. However, in this case you still have to consider the ridiculous amount of added travel changing from Pittsburgh to San Jose. Last season the schedule makers screwed the Sharks with over 57 thousand miles of travel, five thousand more than any other team. Compare that to the Penguins, who only had to travel 37 thousand miles. That is a 54% increase in travel going from playing for the Penguins to playing for the Sharks. That is downright difficult, particularly when your job is to be at your physical peak as much as possible. In a recent conversation I had with Sharks television commentator and former NHLer Jamie Baker, "Bakes" acknowledged the brutal middle of the night hours the Sharks were getting into their hotels on the most recent road trip. He plainly stated that guys were tired. That's west coast travel for you.
Bounce Back
With all of that playing against him, Kennedy actually played well to start the year last season as the right wing on the Patrick Marleau, Logan Couture line. He did struggle most of the season after that but with how often McLellan likes to jumble lines in the middle of games, one would think the Sharks would prefer fourth line players that have the skill to jump up to other lines. That is another valuable asset with Kennedy is that he can play on any of the four lines and not look out of place.
Given that Kennedy is in a contract year and has had time to get acclimated to his new surroundings, it would surprise me if he doesn't finish with over 25 points and a much improved plus/minus rating. Even if he doesn't get to play with one of the top three centers, his current linemates in Hertl and Sheppard are no slouches offensively. Defensively that trio leaves a bit to be desired, but that's a discussion for another day. As for Kennedy, chances are he delivers a much stronger season in year two with the Sharks.