The San Jose Sharks enter the 2020-21 season with high expectations and very little cap space. After a disappointing 2019-20 campaign, they will be looking to rebound with a stronger 2020-21 season. In order to achieve the goal of a long and fruitful Stanley Cup playoff run, they will need to extract as much value from the money they are spending. In this article, I'll look at which player contracts should provide the best value.
The actual dollar amount isn't a direct indication of the best contract. It really comes down to how much value is provided for the dollar amount. Evolving Hockey uses a lot of metrics to calculate value for each player. In fact, they calculate the actual amount each player is worth based on their goals above replacement, wins above replacement, total offense, total defense, penalties taken and drawn, amongst a few others. In the end, they use this to also calculate how many standing points above replacement (SPAR) a particular player yields.
Annual Cap Hit
Evolving Hockey Value
Value –
Cap Hit
SPAR
Ryan Donato
$1,900,000
$3,166,667
$1,266,667
1.7
Timo Meier
$6,000,000
$6,433,333
$433,333
3.2
Mario Ferraro
$925,000
-$900,000
$25,000
-0.1
Erik Karlsson
$11,500,000
$8,800,000
-$2,700,000
3.4
Evander Kane
$7,000,000
$4,266,667
-$2,733,333
2.2
Kevin LaBanc
$4,725,000
$1,400,000
-$3,325,000
0.9
Radim Simek
$2,500,000
-$1,100,000
-$3,600,000
0.1
Logan Couture
$8,000,000
$3,266,667
-$4,733,333
1.8
Marc-Eduoard Vlasic
$7,000,000
-$900,000
-$7,900,000
0.3
Brent Burns
$8,000,000
$3,700,000
-4,300,000
1.7
Cap hit per CapFriendly, value is the average from Evolving Hockey for the past three seasons, except for Simek and Ferraro who only had two and one respectively. SPAR = Standing Points Above Replacement and was a three-season average, except for Simek and Ferraro.
Based on this table, it is clear the top-three value contracts are Ryan Donato, Timo Meier, and Mario Ferraro. I did exclude the skaters who I expect to play very few minutes and I did not include the goalies as I think it is clear neither can be considered a value at this point based on the past three seasons of work. It certainly is possible that Devan Dubnyk ends up being a value contract if he can regain his form from a few seasons ago, and since his cap hit to the Sharks is much lower, he doesn't have as far to go to provide value as Martin Jones.
Ryan Donato
Donato has yet to play a game with the Sharks after being traded to them on the eve of the 2020 NHL Draft. It remains to be seen where he will fit in, but the Sharks may have found a diamond in the rough. At worst, Donato will add depth to the middle six, but he could contribute even more than that. He really hasn't gotten great ice time in his brief NHL career, even though his underlying rate statistics indicate he should receive more.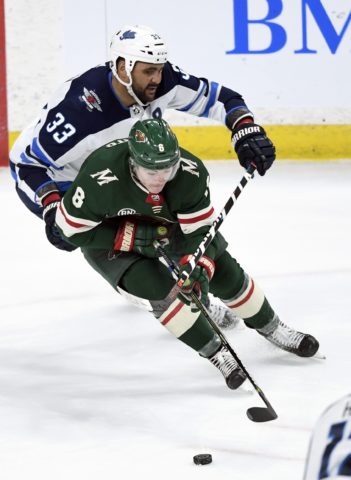 If Donato can play the right side, he will have a much easier climb to the top of the depth chart. If he sticks on the left side, he will be behind Evander Kane and possibly Logan Couture or Tomas Hertl depending on if those two play center or left wing. Timo Meier plays either wing, so he may not be competition. It is also possible that Donato could add depth down the middle. Wherever he slots in, his very reasonable contract will not be terribly difficult to outperform. Especially considering he should get more ice time and has already done so based on Evolving Hockey's calculations.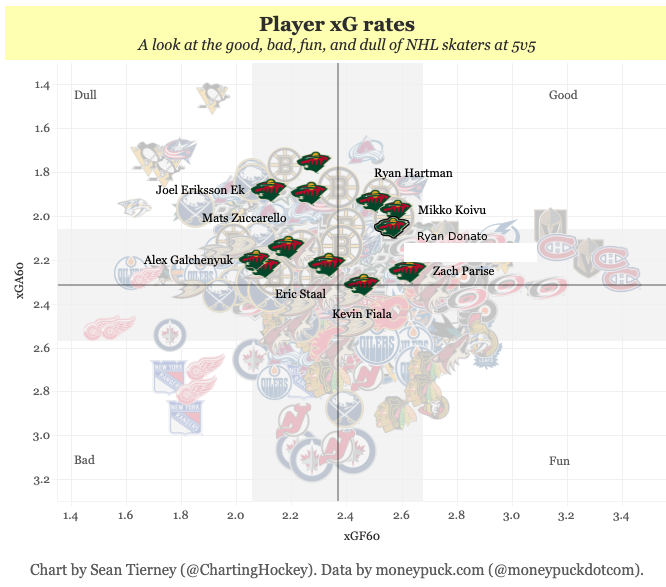 Despite limited ice time for the Wild in 2019-20, Donato was one of their best offensive forwards without being a defensive liability. He was actually better than Kevin Fiala, though Fiala's second half was certainly better. Minnesota was 12th in the NHL in goals for per game in 2019-20, while the Sharks were 27th. Donato should be able to help bring the Sharks closer to the middle of the pack.
Donato will be a restricted free agent after the 2020-21 season and what he does this year will certainly impact the size of his next contract. If things go well, he may be persuaded to sign a long-term deal with the Sharks at a reasonable cap hit. It is also possible that he does so well, he will want more than the organization can offer and he will only be a Shark for one season.
Timo Meier
Meier is one of the few highly drafted young studs on the team. He is looking more and more like he will be a star in the league and at his current cap hit, he's a tremendous value. Meier has a lot of skills at his disposal — he has a good shot, he's fast, and can be physical, too. He's finally starting to earn more ice time thanks to improvements in his two-way game. He was top five on the Sharks in 2019-20 in both Corsi percent and expected goals percent.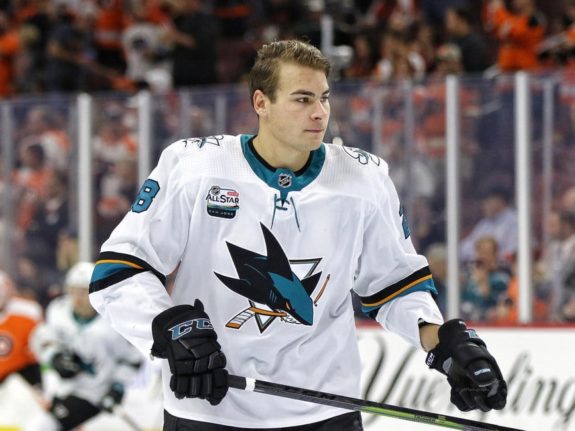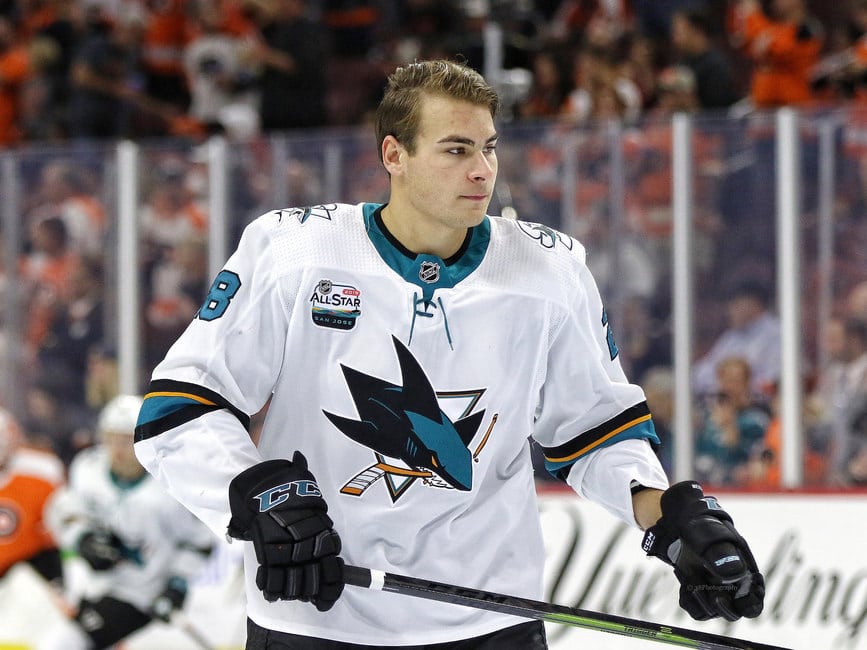 Per Evolving Hockey, since Meier entered the NHL in the 2016-17 season, he has the highest combined expected goals for per 60 minutes of any Sharks forward during that time at .206. That is almost double the next closest of Joe Pavelski at .130 and followed close behind by Tomas Hertl at .123. Meier didn't get enough ice time to make those rates translate in his first two seasons, but since getting 12:28 time on ice as a rookie, that has increased from 14:52 in 2017-18, to 16:58 in 2018-19 to 17:17 in 2019-20. I imagine there will be another step forward both in ice time and production by Meier in 2020-21.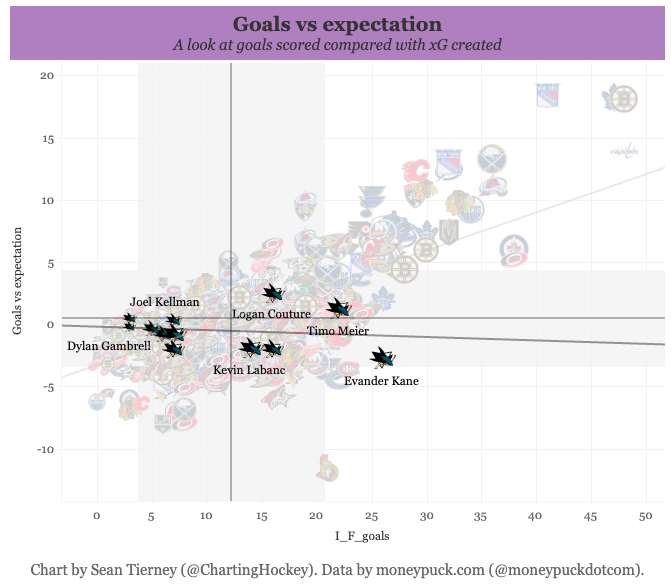 The Sharks have Meier locked into his current contract for two more seasons after 2020-21. By the time he is set to sign his next contract, he will be a restricted free agent and his production will likely indicate a sizable raise. Forwards who can outperform their expected goals are not terribly common. Of course, we don't know exactly how high, but I imagine it will be in the $8-10 million range depending on the term.
Mario Ferraro
Ferraro was one of the few bright spots for the Sharks in 2019-20. The young, left-handed defender looks like he will be a lock on the left side for years to come. The fact that he is still on his entry-level deal for two more seasons is great value for the cap-strapped Sharks. Until he signs his next contract, I could see Ferraro being the most valuable from a per-dollar perspective.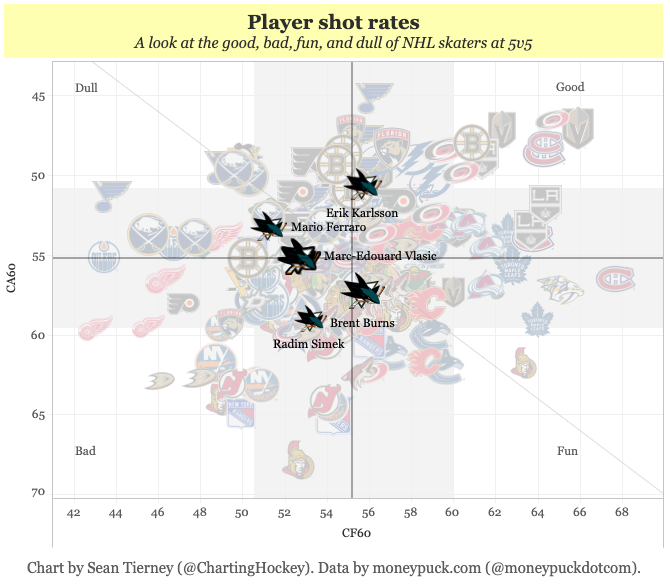 Ferraro was better than all but Erik Karlsson of the regular Sharks defenders at limiting opponent shot attempts toward the net. This is a truly impressive feat, especially considering he jumped straight from his second season in the NCAA for UMass (Amherst) to the NHL. Ferraro is an excellent skater who plays well positionally, I'm sure he will get better at other details of the game that will enable him to improve even more. I don't think he will ever find another gear offensively. He certainly can contribute, but it is not his best attribute and the Sharks don't need him to do that.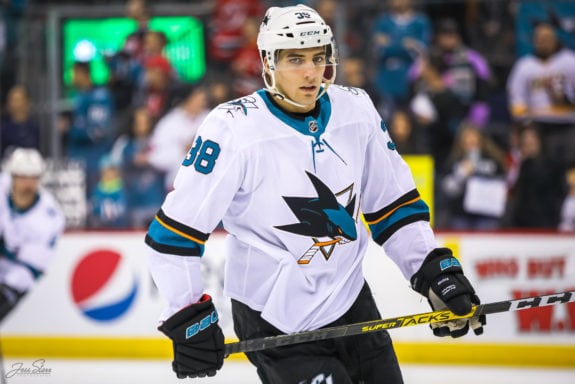 If he hasn't already, Ferraro will pass Vlasic on the depth chart soon and he's already passed Simek. The left side of the Sharks' defense is nowhere near as robust as the right side, so I could see Ferraro being a top-four option for years to come. When Artemi Kniazev makes the NHL, he could battle Ferraro for the top option on the left side, but those two will make a formidable top two on the left side.
Ferraro will be a restricted free agent in the 2022-23 season. At that point, hopefully the Sharks will lock him up to a long-term deal. While left-handed defenders are as hard to come by as right-handed defenders, those who can both move the puck and shut down opponent's top offensive forwards certainly are. He might be the next Vlasic, though maybe not quite as good as Vlasic was in his peak.
Is it Enough?
The Sharks will have to squeeze every bit of value out of their players in order to make the playoffs in 2020-21. If these three can outperform their contract value as I expect them to, they have a good chance. Hopefully the players with really large contracts can come close to their cap hit value, if they do that, they will probably make the playoffs. Making a deep run with so many upside down contracts seems implausible, but perhaps Karlsson Burns, Couture, and Jones can return to their glory days for one magical season. I'm not counting on it.
Insights provided by InStat
---
---