The San Jose Sharks have a lot of massive contracts and aging veterans, many of which seemed immovable even a year ago. However, with the recent trade of Erik Karlsson to the Pittsburgh Penguins, it seems more possible than ever that Mike Grier and the rest of management decide to make another major move by trading away one of the cornerstone pieces of the team's core. Entering the 2023-24 season, they'd be wise to entertain any offer that comes their way with one notable exception, the youth should be their only untouchable moving forward. 
Players Who Could Be on the Market
Many of the Sharks' top players have been with the organization for over a decade at this point, which will make it hard for fans to accept seeing them get traded. It's obvious how popular a player like Tomas Hertl is at the SAP Center, and he's the only player with a moveable contract that has a no-movement clause in his deal. When healthy, he's a 60-70 point player every season which is certainly valuable to every team.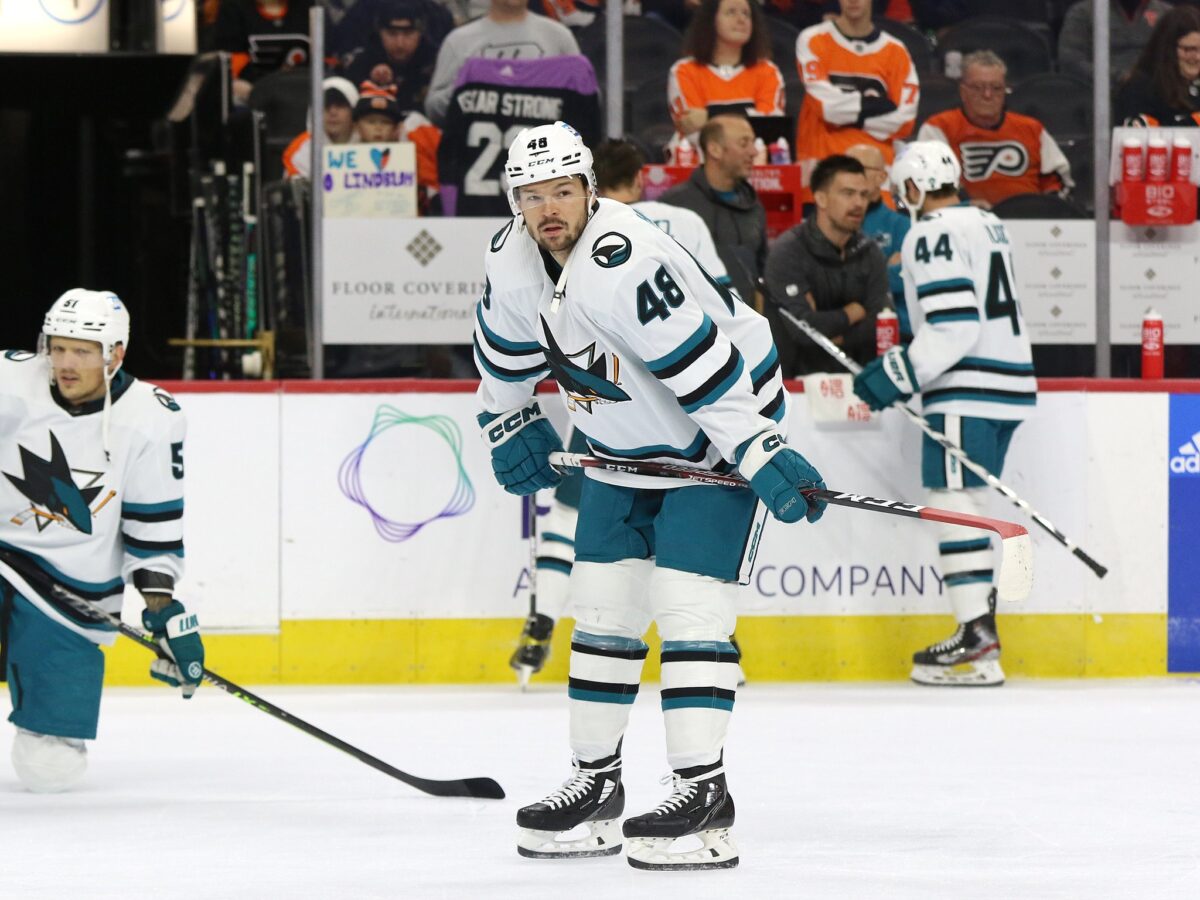 However, with Karlsson's trade request and subsequent trade, it seems as if the Sharks have finally been pushed into a full rebuild rather than the retool they seemed to be attempting. As a result, it's beneficial to maximize asset management and build for the future. At 29 years old, Hertl is by far the team's most valuable trade chip if they decide to go that route. The fact that he's signed through the 2029-30 season at a reasonably team-friendly cap hit, he could benefit any contending team as their second-line center. The only question would be whether or not he's interested in a trade, and it's a decision that's entirely up to him at this point. 
Logan Couture is a great hockey player even though he's already 34 years old. It hasn't slowed down his production and if anything, he's been experiencing a resurgence in recent seasons. The only downside for opposing general managers would be his contract, which carries an average annual value of $8 million for the next four seasons. He also has a modified no-trade clause which allows him to give a list of three teams that he'd be willing to go to, which would put the Sharks in quite a bind if they wanted to get fair market value for him. They would have the exact same issue with Marc-Edouard Vlasic, especially considering his cap hit compared to his production in the past few seasons. 
---
Latest News & Highlights
---
Finally, there are a lot of players who are likely to be flipped at the deadline unless the team decides to give them contract extensions. This includes forwards such as Mike Hoffman, Kevin Labanc, and Alexander Barabanov. Of all the pending unrestricted free agents, Barabanov will undoubtedly be the most likely to earn a new contract from the Sharks as his production and age will justify it despite the rebuild status of the team.
Building Through the Youth is Key to Success
The Sharks have been similar to the Philadelphia Flyers in the sense that they've always tried to avoid a rebuild. It's understandable for a team like the Sharks who are in an unconventional market but need to turn a profit. With so much to do in the Bay Area, it's easy for fans to find something else to do if their team isn't doing well. As a result, staying competitive has always been their goal and unfortunately, it never led them to the goal of winning a Stanley Cup. Now, they've essentially been forced into a rebuild and it gives them an opportunity to build a new core that can potentially lead them to the promised land. Players like Patrick Marleau, Joe Thornton, and Joe Pavelski were unable to do it, but maybe the combination of Will Smith, Filip Bystedt, and William Eklund could.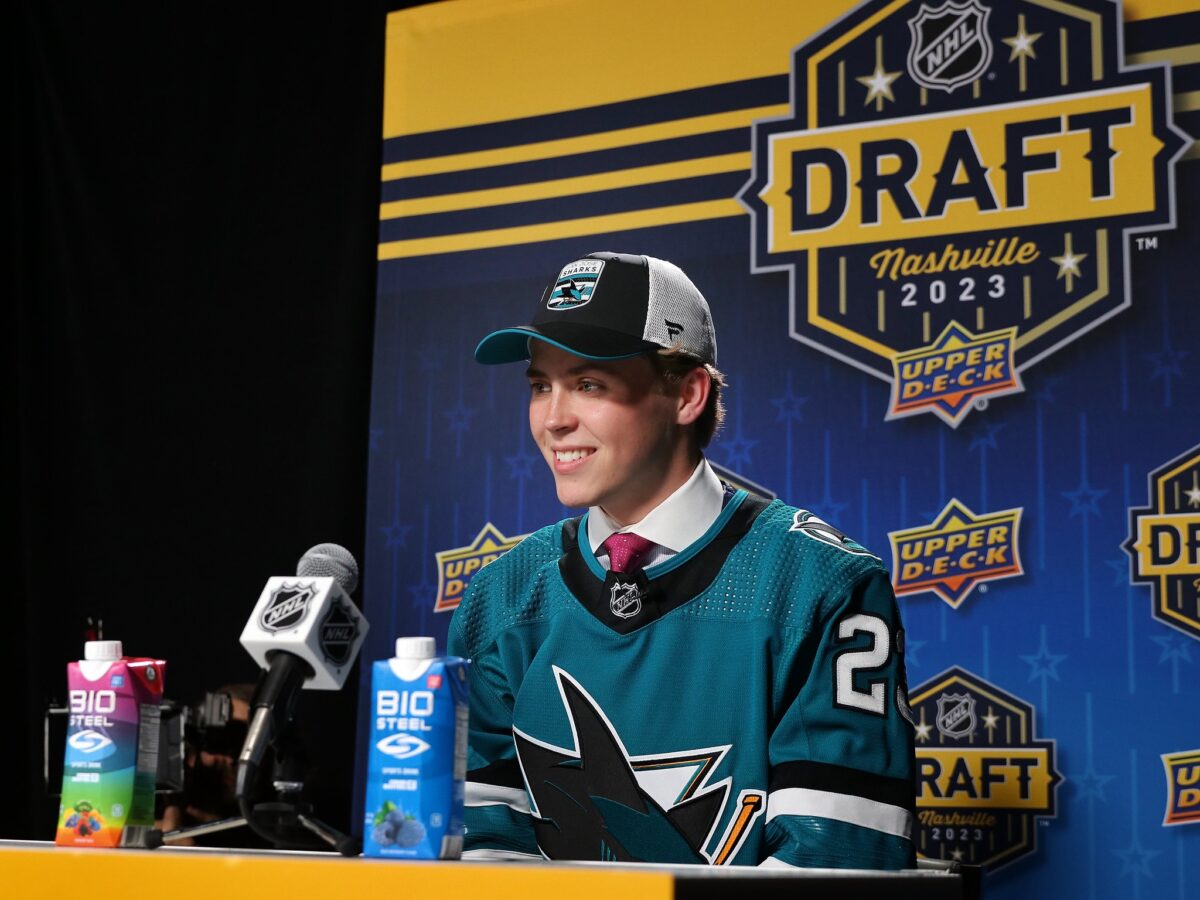 Grier has done a phenomenal job of acquiring assets in difficult situations. Given the circumstances of Karlsson's departure, it was very difficult to get maximum value for him. He had a massive contract, trade protection, and an injury history that would be enough to make any team nervous about how reliable he'd be on their blue line. A top-ten protected pick may not seem like much on paper, however, if the Penguins were to miss the playoffs both of the next two seasons, the Sharks could end up with two high picks in the 2025 Draft. The veterans included in the deal have the potential to be flipped and give the organization even more assets. The Timo Meier trade was much more fruitful, not only did the Sharks get a first-round pick which turned out to be Quentin Musty but they also received Fabian Zetterlund, Shakir Mukhamudullin, and a couple of other pieces. 
The Sharks have also added some great pieces with their own draft picks. The aforementioned Smith, Bystedt, and Eklund are the biggest names, however, there are some others who can become great NHL players in the near future as well. Players like Ethan Cardwell, Daniil Gushchin, and even the undrafted Valtteri Pulli seem like they have the potential to crack the NHL roster at some point. Their prospect pool will only continue to grow as they spend the next couple of years in the lottery until they eventually start making their way up the standings as these prospects continue to develop. However, if management were to start trading some of these assets in an opportunity to get better sooner, that's the type of decision that could massively backfire and keep them out of contention even longer. 
Related: 3 Sharks Veterans With the Most to Gain From Training Camp
If the Sharks want to be as competitive as possible in the long run, they'll need to stay the course, build through the draft, and try not to take shortcuts. The Pacific Division as a whole is insanely strong, and that's unlikely to change within a couple of years. Sometimes shortcuts work, a great example of that is the reigning Stanley Cup champion Vegas Golden Knights. However a majority of the time, it results in a team being in much worse shape than they started in. The Arizona Coyotes were a major example of this when they traded for Taylor Hall and it failed dramatically. As it currently stands, Grier has done a tremendous job building the organization for the future and if he continues down his current road, it will lead to long-term success.