Not Waiting Around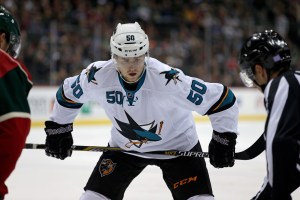 Yesterday's column took a look at five San Jose Sharks players under 23 who are prime to take big strides in their games next season. Well, certainly three of those five, and you could argue four of the five, aren't waiting until next season to raise their games. On Thursday night in San Jose, the Sharks shutout the Central division leading Nashville Predators 2-0 with youngsters Tomas Hertl, Chris Tierney, and Matt Nieto all making key contributions. Not to mention 19-year-old defenseman Mirco Mueller didn't do anything noticeably wrong defensively. Antti Niemi was the star of the night with 34 saves and the shutout, arguably playing his best hockey since his Vezina nominated 2013 campaign. However, it is the young guys that deserve some attention as well.
Tierney assisted on both goals, winning a face-off that led to Hertl's power-play goal and then battling through a hard check to assist on the empty netter. San Jose's unofficial captain Joe Pavelski was quick to praise the 20-year-old rookie afterward.
"He's playing good, he's making really strong plays for us." commented Pavelski. "It's exciting to see, it's added that depth to our lineup."
Credit the Woo
Lower line scoring depth has always been a problem for the Sharks, but Tierney now has nine points in his last 14 games from the bottom six. Head coach Todd McLellan noted his development in the AHL with Worcester for his surge in production.
"In my opinion it's 30 games in the American league" responded McLellan when asked what the difference has been lately for Tierney. "Strength, confidence, feeling good about his game, playing in those situations. He came in and started as a fourth line player and has worked his way up to the third line. He's a different player now than he was the first 10 games of the season."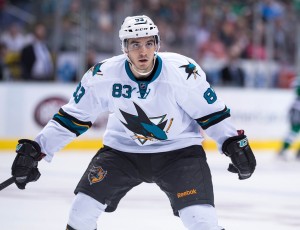 Similar to Tierney, Nieto has picked up the production lately offensively but it took huge you know whats to do what he did late in the third. He blocked a full force Shea Weber slap shot, the hardest shot in the league, with his leg.
"That takes a lot of courage because that guy as we know can fire that puck." added McLellan. "It takes doing that a full year but it is really going to take it right now to get where we want to go. Give Matt credit for sacrificing for his teammates."
His teammates sure appreciated that sacrifice.
"Weber's got that shot and for him to sit down there like that and take it, that's exciting" noted Pavelski. "That's something you definitely build up [energy] off something like that because it's not easy."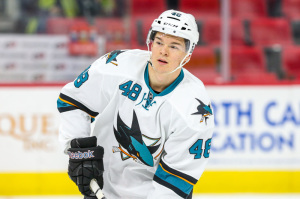 Again, similar to Tierney, Hertl has been better lately with eight points in his last 15 games. It has been a trying year for Hertl who still doesn't seem right after the knee injury last season. However, the 21-year-old seems to be finding a way to make it work on the score-sheet in recent weeks. The Czech native was unsurprisingly all smiles with the media during post game interviews.
"I am so happy" chimed Hertl more than once after the game. Hertl's English is actually much improved though, as he also added that he has "good chemistry now with Tommy and Tierns, we feel really good the last couple of games."
The Sharks are still in a dog fight to climb back into the playoff picture but with the win are now just three points out of both the final division seed and the final wild card spot. With these young players finding their stride here late and Niemi playing his best hockey of the year, the Sharks are giving themselves a chance.  I asked Niemi afterwards if he feels these last seven or eight games are the best he's played all year.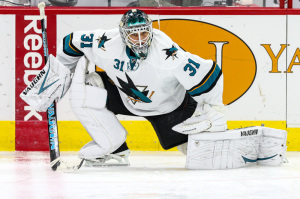 "Yeah" agreed the Finnish netminder. "Even when we lost a couple of those first whatever, seven or eight, I felt really good so I think I've had a pretty good stretch."
Niemi keeping up his current play is without a doubt the biggest key for the Sharks to keep their decade long playoff streak alive.
Andrew has been credentialed to cover the Sharks since 2010 and the 49ers since 2012. He graduated with his BA in Broadcast Electronic Communication Arts in 2013 from San Francisco State University.