One man's trash is another man's treasure.
Following the New York Rangers' quick ouster in the divisional round of the Eastern Conference playoffs, fiery head coach John Tortorella was quickly shown the door. Nothing generates confidence in a guy whose just been fired, but the Dallas Stars might be wise to pounce on Tortorella.
Presumably, the Rangers fired "Torts" due to the team's poor performance against the Boston Bruins. As preseason favorites to compete for the Cup, the team struggled in dispatching the Washington Capitals in the first round and just looked outclassed in every sense by the now Cup finalist Bruins.
Another reason may be the biting, sarcastic bent Tortorella is known for chafed on players and management alike. Dealing with New York media must be difficult for even the most stoic managers/coaches, but it declined to a point where every Torts post-game press conference was chippier than the actual game.
Torts' demanding style and tendency to ride star players into the ground are well documented. Add to that his penchant for using quotes in the media to either stir his players' emotions or divert attention to himself and you've obviously got a powder keg of a head coach.
That attitude scares management. Just like the corporate environment, the brash, outspoken employee who resists toeing the company line generally doesn't last long. But could the Stars benefit from that type of leader?
If you ask me, that's a resounding YES.
First, deposed head coach Glen Gulutzan displayed no anger, no ire and no red-faced screaming, urging and cajoling Tortorella employs. Many nights behind the bench, Gulutzan appeared confused and in over his head. One could opine that method of "leadership" lost him the locker room.
This season, many of the Stars played sloppy and unmotivated. A professional athlete is responsible for his own effort and performance, but the reason you have a coach is so that when the player sags in terms of effort or production, there's someone ready to jump on his backside.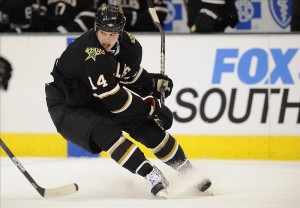 Tortorella could be the man for that jump. Someone needs to mold Jamie Benn into a true leader of captain's pedigree. Someone needs to light a fire under guys like Loui Eriksson and Alex Goligoski who have a bounty of potential and skill but didn't produce this season. Someone needs to ride the entire defensive corps and bench guys who aren't performing to their level or constantly putting goalie Kari Lehtonen in an impossible spot.
The organization has made steps to change its culture and success with the hiring of general manager Jim Nill and the unveiling of new uniforms and logo. It's time to take another one—and that should be the hiring of John Tortorella.