Shawn Horcoff has been a loyal player for the Edmonton Oilers for 12 seasons. He has been through the good and the bad, more of the latter, and has done so with professionalism and class.
He has been the team's captain for the past three seasons and has been a valuable leader on a very young Oilers team.
It would appear however, that his time as an Oiler is nearing an end. With new GM Craig MacTavish's comments regarding the fact that the team may be better parting ways with both Horcoff and Ales Hemsky, the writing would seem to be on the wall.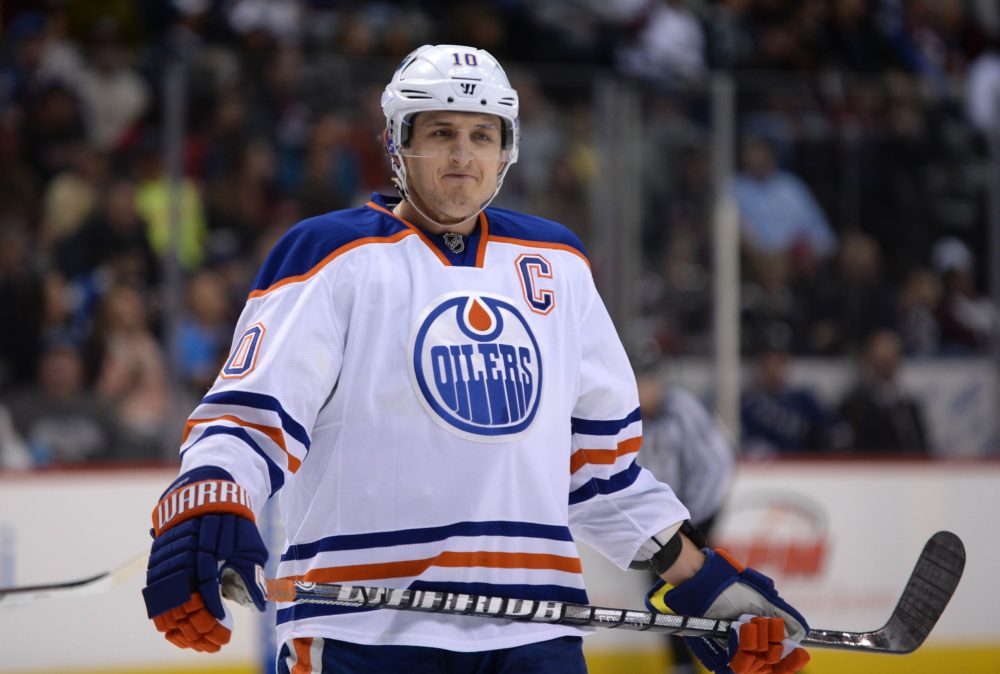 Horcoff is a player who has drawn much criticsm from Oiler fans over the last few seasons, as much for the size of his contract as for his play, although they seem to go hand in hand in drawing the ire of the fans.
He has been a productive player for the team over the years, but has been miscast in the No.1 centre role for the organization. He had a career year in 2005-06 where he had 73 points in 79 games and was a key factor in getting the Oilers to the Stanley Cup final that year. Aside from that season he never went over 53 points in any of his other years.
In 2009 Horcoff was rewarded with a 6 year, $33 million dollar contract which pays him 5.5 million per season. Unfortunately for him, since signing that deal, the biggest year he had was a 36 point effort the following season.
Comparables to Horcoff in terms of salary cap hit include, John Tavares ($5.5), Phil Kessel ($5.5), Shane Doan ($5.3) and Jeff Carter ($5.27). Some good company, but for the wrong reason in this case. He hasn't exactly proven to be in their category when it comes to production.
Granted Horcoff is not the frontline centre that the Oilers were hoping he would be, and his stats definitely do not reflect the salary he is making. However that doesn't mean that Horcoff hasn't been an important part of the team as a whole and isn't still able to contribute.
Out of place as the No.1 centre, Horcoff is a solid No.3 on a good team. Someone who can kill penalties, win faceoffs and contribute some secondary scoring. He also is a character presence and a valuable veteran leader on a young Oiler team.
So the question becomes, what do the Edmonton Oilers do with Shawn Horcoff?
BUY HIM OUT
The easy answer is to use one of the compliance buyouts on him. On the surface a 3rd line centre who averages about 30 points a year who is making $5.5 million a season just doesn't make sense.
The Oilers could part ways with him and allow him to catch on with another team and save themselves the cap space.
TRADE HIM
Perhaps not an option that is entirely viable. As mentioned, with the production level where it is, there would be very few teams interested in taking on that kind of contract.
If they were to find a suitor, it may involve the Oilers taking on some of the salary. Depending what the number is and what they could get back, it may be a good option.
The fact is, if they could get anything back it's probably a good deal. He could be a fit with a team around the cap floor in need of a veteran centre, but those teams would be few.
KEEP HIM
The Edmonton Oilers struggled last season at the centre position. With everyone healthy, it broke down like this: 1. Ryan Nugent-Hopkins 2. Sam Gagner 3. Shawn Horcoff 4. Eric Belanger.
Rarely were all four healthy and in the lineup at the same time, and even if they were the production at either end of the ice from the group was disappointing. RNH had a significantly down year, partially as a result of playing with an injured shoulder and while Sam Gagner had a breakout year, he is not a No.1 centre in the league.
Belanger was extremely ineffective in most areas last season for the squad, providing almost no offence and battling injuries throughout the year.
Which leaves Horcoff. While he has not put up numbers that will impress anyone, he is still a valuable member when healthy. He can win faceoffs, kill penalties and be effective against the other team's top line.
More to the point, with as many question marks at the position as they have already, is this the time they want to be getting rid of a veteran centre like Horcoff.
He is also the team captain and a valuable veteran presence in the dressing room. It's clear the Oilers want a changing of the guard and to hand the team over to Jordan Eberle and Taylor Hall. Are either of them ready for the role of captain and leading their team back to the playoffs? At some point certainly, but is it this year?
VERDICT
MacTavish will clearly dangle him on the market and see if anyone bites. When that doesn't happen, the most likely scenario is that he is bought out. His contract is simply too high for the production he brings.
More importantly, they want a culture change in Edmonton and players from the previous Oiler era such as Horcoff, Ryan Smyth and Ales Hemsky will likely not be with the team going forward in order to forge a new identity.
If that is the case, MacTavish will need to offset the loss of those players by adding new veteran players, hopefully more productive ones, as the Oilers will be void of much veteran presence at that point.
MacTavish has a history and a sense of loyalty to those players, especially Horcoff. After all, he was the coach for eight season and was at the helm when the Oilers went to game 7 in 2006 with them at the forefront.
Times are changing in Edmonton however, starting with the hiring of Dallas Eakins, and it appears that it will be out with the old and in with the new in an attempt to bring in a new era of Oilers hockey.
___________________________________________
Follow Carl on twitter @maloney3383 and Google+ for more articles.