In the past few seasons, Trevor Daley has been one of the more intriguing defensemen in the entire NHL. He has insane speed, solid offensive instincts and has a large impact on a team's power play. So why has he been traded twice in the past year?
His offensive play just isn't enough to bail out his poor performance in the defensive zone.
Daley played ten seasons in Dallas before being traded in the offseason along with Ryan Garbutt for Patrick Sharp and Stephen Johns. Daley has had one season where he finished above 50% in terms of CorsiFor% in the past six seasons. As his offense has grown, his defensive play has suffered.
So far, it seems as though Pittsburgh fans are pleased with Daley for a couple of reasons. One, he was the puck-moving defensemen that they so desperately needed. And two, it helped get rid of Rob Scuderi. To the Penguins, Daley seems like a Norris candidate compared to what they had in Scuderi.
Will that last?
Dialing it Back
So far in his short career with Pittsburgh, the Penguins are doing with Trevor Daley what the Dallas Stars could not for the last couple of seasons. Dial back his minutes and limit the negative impact he can have in the defensive zone. In his final season in Dallas, Daley averaged almost 23 minutes of ice-time per game. So far in Pittsburgh he has averaged under 19 minutes a game. That is around the minutes Daley should be playing.
Dallas was simply asking entirely too much of Daley and it showed on the ice. There were major defensive lapses and he always seemed to be stuck in his own end of the ice. He was often paired with former-Penguin Alex Goligoski as the Stars asked them to be the "shut-down" pair.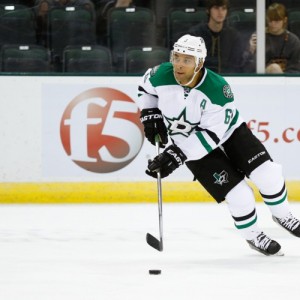 The Stars would then give up more goals than almost every other team in the NHL. Daley is simply not a shut-down defenseman.
Possession Numbers Still Ominous
On the surface, it looks like Daley is posting some good possession numbers so far in Pittsburgh. His even-strength CorsiFor% is 52.28, his ScoringChancesFor% is 53.63 and his HighDangerScoringChancesFor% is 55.61. What's not to love?
The issue here is that the Penguins are so absurdly good in all of those metrics that Daley's numbers are actually lower than the average Penguin since he arrived.
For example, Daley's CorsiFor% is sitting at 52.28. While he's off the ice, however, the Penguins are at a CorsiFor% of 55.49. Same goes for ScoringChancesFor% with Daley sitting at 53.63 and the rest of the team is at 58.08 with Daley off of the ice. Much like he did in Dallas, Daley still finds a way to drag down his teammates' possession numbers while he is out there with him. It's not as extreme as it was when Daley was a Star but it is still noticeable in Pittsburgh.
Accept Daley for What He Is
If the Penguins can properly use Daley, which I think they have for the most part, he will be an effective weapon for them in the playoffs. He can still skate faster than a lot of defensemen in the game today and those wheels allow him to make up for some defensive lapses. His offense and puck-moving abilities are perfectly suited for a team like Pittsburgh. He has nine even-strength points in 35 games so far with the Penguins and should continue to chip in offense as long as they manage his minutes.
The best thing the Penguins can do with Daley is shelter him to an extent and keep his ice-time below the 20 minute mark. If they can do that, they should be happy with Daley on their blue-line. If he starts racking up a ton of ice-time, however, Pittsburgh could be in for a rude-awakening.