We've seen some star-studded lineups when it comes to NHL alumni games in the past. This season, the Red Wings and Avalanche hosted an alumni game for the ages ahead of their Stadium Series matchup in Colorado. Their lineups were filled with big names like Steve Yzerman, Brendan Shanahan, Joe Sakic and Peter Forsberg among others.
[ALSO: Winnipeg Jets to Host Oilers in Heritage Classic]
On Sunday, the NHL announced that the Winnipeg Jets would host the 2017 Heritage Classic at Investors Group Field when they'll take on the Edmonton Oilers on October 23. But it the game beforehand – on October 22 – that could draw some intrigue from fans of both franchises. After all, when you have names like Dale Hawerchuk and Wayne Gretzky captaining the alumni teams, it makes for a big headline.
UPDATE: Wayne Gretzky, Dale Hawerchuk to captain the alumni game at #HeritageClassic in Winnipeg #TSNHockey pic.twitter.com/QACKmF4X5Q

— SportsCentre (@SportsCentre) March 6, 2016
So without any direction, THW thought it would be fun to predict which players could make the cut for these storied franchises. While not every star will show up, it should be interesting to see which of these teams can draw the biggest names from their past. Without further adieu, here's a look at the lineups we came up with.
Predicting the Edmonton Oilers' Alumni Roster
With reports already surfacing that Gretzky will captain the Oilers alumni team, it's hard to find a star with a bigger aura around him in the hockey world. That being said, having a guy like that commit to this game could bring out the bigger names. Positionally, here's how the Oilers might stack up next October.
At centre, names like Mark Messier, Doug Weight and Craig MacTavish might show up. Messier should almost be a given while a guy like MacTavish might not be fully reconciled with the franchise following his termination as part of their management team.
On the wing, there's Glenn Anderson, Ryan Smyth, Jari Kurri, Esa Tikkanen, Fernando Pisani, Ethan Moreau, Georges Laraque and Todd Marchant. Sure, these selections might not be star-studded, but remember some of the third and fourth liners from teams make for good entertainment at these alumni events. My guess is that Smyth and Pisani would enjoy sporting the Oilers blue, orange and white again as a reminder of some of their best years in the NHL.
Patrolling the blueline, are guys like Kevin Lowe, Jason Smith, Paul Coffey, Steve Staios, Marty McSorley and Steve Smith. Most of these defensemen has long Oiler careers. In fact, Coffey had 669 points (209g-460a) in 532 games with Edmonton while Jason Smith was more of a physical defensive-minded leader.
Finally in net, why not go with some of the greatest to ever sport the Oilers colours? Bill Ranford played 449 regular season games over 10 seasons with Edmonton where he held a 167-193-54 record sporting a questionable .887 save percentage and a 3.51 goals against. The did, however, win the Stanley Cup in 1989-90 with Ranford playing 22 games and recording 16 wins.
Alongside him is Grant Fuhr. Fuhr played 423 games with the Oilers over a 10 year span. He also had a sub-.900 save percentage and a 3.69 goals against. And yet, he led the Oilers to four Stanley Cups in 1984, 1985, 1987 and 1988. Not bad for a goaltender with a career .900 save percentage.
So how does that Oilers' alumni roster look?
Glenn Anderson – Wayne Gretzky – Ryan Smyth
Jari Kurri – Mark Messier – Esa Tikkanen
Fernando Pisani – Doug Weight – Ethan Moreau
Georges Laraque – Craig MacTavish – Todd Marchant
Kevin Lowe – Jason Smith
Paul Coffey – Steve Staios
Marty McSorley – Steve Smith
Bill Ranford
Grant Fuhr
Predicting the Winnipeg Jets' Alumni Roster
The Jets' history is not as deep – thanks to the franchise being moved to Phoenix in 1996. However, even with the shortened historical list of players, there's some interesting picks to don the Jets' colours for the alumni game next fall.
Up the middle, the Jets have their captain Dale Hawerchuk along with Ron Wilson, Keith Tkachuk and Ed Olczyk. Tkachuk was part of the franchise when it moved to Phoenix, but still managed 289 points (144g-145a) in just 308 games in Winnipeg.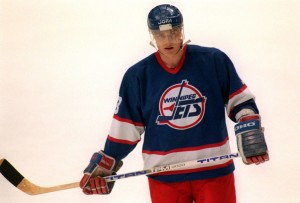 On the wing, we predict seeing names like Thomas Steen, Paul MacLean, Teemu Selanne, Kris King, Nelson Emerson, Laurie Boschman, Jim Nill and Scott Arniel. Sure, maybe it's a leap to hope for this kind of attendance from the former Jets, but how special would it be for them to put those blue, red and white Jets jersey back over their heads and play for the team that meant so much to Winnipeg?
On the back end, guys like Teppo Numminen, Dave Ellett, Dave Babych, Phil Housley, Stephane Quintal and Randy Carlyle could make this game a special event for the hometown crowd. While Housley only played three seasons in Winnipeg, he notched 259 points (64g-195a) in just 232 regular season games in front of the Winnipeg Whiteout.
Finally, in net, the Jets could recall Bob Essensa (who also played for Edmonton) and Nikolai Khabibulin. Essensa played 281 games with the Jets over six seasons winning 116 games and sporting a sub-.900 save percentage. While it wasn't ideal, he's definitely a guy that the Jets could bring back to backstop their alumni squad when they take to the ice in October.
Thomas Steen – Dale Hawerchuk – Paul MacLean
Teemu Selanne – Keith Tkachuk – Kris King
Nelson Emerson – Ron Wilson – Laurie Boschman
Jim Nill – Ed Olczyk – Scott Arniel
Teppo Numminen – Dave Ellett
Dave Babych – Phil Housley
Stephane Quintal – Randy Carlyle
Bob Essensa
Nikolai Khabibulin
Do you feel like someone was overlooked or could make an appearance at the alumni game? Please leave your suggestions below in the comment section.
For more, you can follow Andrew on Twitter at @AndrewGForbes.