While the Red Wings continue to surge in the NHL standings, riding their 2nd 5 game win streak of the season into the 4th place spot in the West, their AHL affiliate Grand Rapids Griffins find themselves on the opposite end of the spectrum, just 1 point out of last place. But things aren't all doom and gloom for the struggling Griffs', thanks to the work of a 27 year-old forward looking for another shot at the NHL.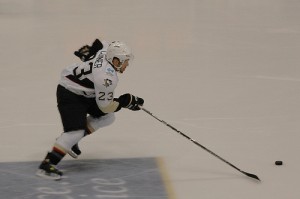 Prior to his professional hockey career, the undrafted Conner spent his college years at Michigan Tech, where he accumulated 129 points in 151 games over 4 seasons, enough to draw the attention of the Iowa Stars and their NHL counterpart, Dallas. He would spend the next 3 seasons splitting time between both Stars teams before signing with the Pittsburgh Penguins in 2009. After 2 seasons of bouncing between the Penguin's NHL roster and their AHL affiliate of the same name in Wilkes-Barre/Scranton, Conner signed a 1 year contract with the Red Wings during the 2011 offseason in hopes of reigniting his chances at playing in the NHL.
You may be wondering why the perpetual volleyball that is Chris Conner has been bounced around so much for the last several years, and the answer to that is quite simple; Chris Conner has excelled in the AHL, but failed to produce during his NHL career. Conner has proven he is capable of near point-per-game numbers everywhere but the NHL.
During his 2 year stint with the Penguins, Conner managed 65 points in 70 games while in the AHL, compared to 19 points in 68 games while playing on the NHL roster, a staggering difference. While there's no doubt that ice-time differences between the 2 leagues likely had a hand in this reduction in point production, it certainly can't all be attributed to that.
The main culprit? It's the NHL. With such a drastic increase in speed and skill both on your own and opposing teams, the jump from AHL to NHL can be understandably disorienting for players, and while some grow accustomed to such a shift, others never quite find their footing as they watch their careers slide back into the league below.
With that information in mind, it's no small feat that Conner has risen to 4th in AHL scoring despite the woeful struggles of his team. The question is, can he translate it to the NHL this time, and will he even get the chance? A look back to last season indicates that the Red Wings organization doesn't necessarily put much stock in point totals, opting to use the services of Jan Mursak and Tomas Tatar over that of Ilari Filppula, Griffin's leading scorer and AHL All-Star in 2010-11. There's no question Conner can perform at the AHL level, but with so many surrounding his NHL capabilities, the Red Wings have opted not to use his services so far (just like they did with Filppula last season), most recently recalling Fabian Brunnstrom on Monday to fill a roster gap left by an injured Patrick Eaves who will miss 6-8 weeks after jaw surgery.
Brunnstrom isn't the only competition Conner faces either. With an impressive preseason, Gustav Nyquist firmly placed himself high on the depth charts and continues to hold himself there with impressive AHL play. Jan Mursak, nearing return from an injury of his own, spent 19 games with the 'Wings last season, and after impressing the coaching staff with his Darren Helm-like speed, is almost assuredly above Conner on the recall list. Last but not least is Tomas Tatar, who spent a brief stint with the Red Wings last season as well, and should be considered equally stiff competition for any available roster spots.
So should you be excited about Chris Conner's excellent AHL play? Maybe, but don't forget his past performance differences between the AHL and NHL levels. Will Conner get a chance at playing with the Red Wings soon? It's not incredibly likely, but 2 months of absence from Patrick Eaves is plenty of time for anything to happen. More injuries, sub-par play from roster-regulars and position competitors, or any number of other scenarios could see Chris Conner in a Red Wings uniform this season. If he does receive that chance, Conner will need to give everything he has in order to prove himself worthy of staying there, but what better motivator is there than the waning light of your life-long dreams coupled with playing for the team you grew up watching? Can Chris Conner Prove he's more than just an AHL player? Only time will tell.