Stellicktricity:  Stories, Highlights, and Other Hockey Juice from a Life Plugged into the Game
by Gord Stellick
Check out the THW Book Room for many more hockey book reviews.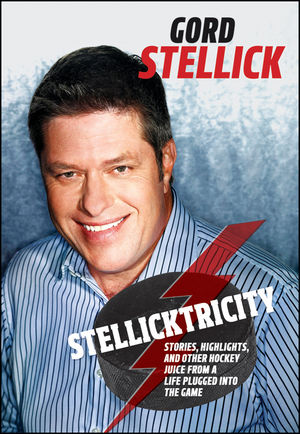 While I am admittedly not the greatest fan of "hey, let's throw a bunch of random stories, flashbacks and insider information together" approach to writing a sports novel, Stellicktricity did draw me in and kept my curiosity level at a constant 8-9/10 throughout.
I do not mind the flashback concept in both fiction and non-fiction books, but I prefer some sort of continuum in terms of storyline. To that end, I would have preferred more along the lines of an autobiography for Gord Stellick. In the end, the approach taken by Stellick in this book is not unlike the growing trend of story and experience collecting and I think he successfully completes what he set out to do – reminisce about the great game of hockey from his vantage point.
Given the time Gord Stellick has punched in sports broadcasting it might be easy to forget his many years with the Toronto Maple Leafs and later the New York Rangers.
As the Stellicktricity book jacket proudly states, he is in fact the NHL's youngest ever General Manager. He set the mark when taking over the often inglorious post as GM of the Toronto Maple leafs at the ripe old age of 30. He also holds another dubious distinction that I'd rather let him tell you when you read his book.
Gord Stellick has lived a hockey life many a hockey fan and hockey writer would be envious of. How many of us have dreamed of breaking in with a NHL franchise in pretty much any capacity with hopes and aspirations to ascent to a position where integral hockey club decisions are made – General Manager.
Gord Stellick achieved just this.
The Doors' 'Break on Through to the Other Side' Moment
Stellick had a friend while in high school who lived across the street from the then publicity director of the Leafs – Stan Obodiac. Gord's friend Ken McMurtie had been hired as a press box assistant and later needed an additional person. Stan asked Ken if he had any interested friends. Eureka!
Every Step You Take: The Road to the Top
An urgent need for someone in public relations and administration to write, tabulate and publish press notes and statistics led to a relationship with then GM Jim Gregory aamongst others. Appreciating his commerce and economics studies, he quickly landed a part-time position in the Leafs front office. From there Stellick obtained an assistant GM position and then eventually the coveted GM role in 1988.
Of course, after a stint with the New York Rangers, Stellick landed on his feet and carved a nice niche for himself in hockey broadcasting in radio and television.
With this unique and envious perspective, Gord has accumulated some brilliant hockey lore that deserves sharing.
Spoiler Alert
The following are some teasers of the stories and facts that resonated with me. Please skip to the break, if you'd prefer discovering them for the first time when you read the book yourself. If you can't wait to read the book feel free to contact me to discuss and clarify any of the points below.
 What would be the legacy of the Toronto Maple Leafs for the last generation had they had called the name of now hockey legend Joe Sakic instead of Luke Richardson at 7th overall in 1987? Chief Scout Floyd Smith had lobbied to do just that. Leafs Nation can thank none other than Head Coach John Brophy for insisting the Leafs nab physical blueliner Luke Richardson. Luke did have a solid career, but Leafs fans can only dream of the accolades Sakic would have brought to Hogtown.
Stellick takes an in-depth look at one of the more infamous trades in Leafs history while he was at the helm – Russ Courtnall for John Kordic.
Stellick eloquently explains his involvement as the Leafs proceeded to amazingly draft three prospects from the Belleville Bulls of the OHL in the first round in 1989. Unfortunately, Toronto missed out on another OHLer in Adam Foote who was the first pick of the second round by theColorado Avalanche at 22nd.
In 1988, Stellick and the Leafs did manage to get a steal in the 2nd round. Tie Domi wasn't even ranked in the first 3 rounds by NHL Central Scouting Bureau. Read Stellicktricity to find out why the Leafs were not wrong to select him when they did and which team would have gobbledhim up if the Leafs hadn't.
Tom Kurvers was a very solid offensive defenceman. Tom Kurvers is not Scott Niedermayer. Found out why these statements actually do makesense and are perpetually linked.
I always relate the NHL draft to hockey's version of Christmas. On page 105-106 of the book, Stellick nicely sums up why the draft created some of his most special memories in hockey.
The Leafs 1967 squad is remembered for the obvious last Cup win in team's history. But…what dubious distinction does that same 1987 team also have?
Another what if scenario: what if Lanny MacDonald would have been traded back to the Leafs by the Colorado Rockies instead of going to the Calgary Flames where he went out in a blaze of glory after eight great seasons? Stellick elaborates on just this hypothetical flashback scenario.
***
From Wiley, the publisher:
From the youngest general manager in NHL history to veteran on-air hockey analyst—Gord Stellick has seen it all, and now tells it all
Few have been given the opportunity to be on both sides of the hockey rink—managing the Leafs and the Rangers and then regaling his legion of TV and radio fans with the colourful insider knowledge he's amassed—about blockbuster trades, NHL stars, and the talent that got away. But Gord Stellick has. In an almost forty-year career, he's one of the best known hockey personalities around. And Stellicktricity captures the man, his career as the ultimate hockey insider, and insights and anecdotes on the game he loves so much.

Not only is the book crammed with details on hockey greats like Gretzky, Orr, Sakic, and Crosby, his NHL bosses (like Harold Ballard and Punch Imlach), but it also contains an inimitable look at Stellick's colleagues in the media. Destined to become a favourite of hockey fans everywhere, Stellicktricity not only covers every corner of the game of hockey but offers the author's unique view of other sports across North America.

Stellick is ubiquitous as a host, colour commentator, and analyst on hockey broadcasts and shows of all kinds in TV and radio
The book is loaded with Leafs content and brimming with anecdotes about legendary players, hockey management, and NHL characters (like Bob Goodenow and Wendel Clark)

By turns serious and funny, every page of Stellicktricity crackles with the wit and wisdom of a born raconteur—and the hard-headed, real world insights of a man who's lived and breathed the game of hockey for the better part of his life.
***
Stellicktricty is overall a great read packed with plenty of tidbits of information, much of which cannot be found anywhere else. I'd strongly consider it for your next hockey read or definitely as a gift for any hockey fan.
Find Stellick on Twitter and his Stellicktricity column on CBC Sports.
***
Christopher Ralph is THW's prospect and draft analyst and occasional book reviewer.
Follow ChrisRalphTHW on Twitter as he infiltrates, dissects and analyzes all happenings of hockey prospects and the NHL entry draft.