During the summer of 2011, Chris Osgood decided that 17 years of service as a NHL goalie merited him the ability to retire from playing a sport that he had excelled in for so long. By the end of his career, Osgood managed to attain 401 regular season victories, 74 postseason wins, three Stanley Cup championships, and a plethora of other successes with a multitude of teams. While Osgood started and finished his career with powerhouse Detroit Red Wing teams, his stints with the New York Islanders and St. Louis Blues proved that his work ethic propelled him into the upper echelon of NHL goalies.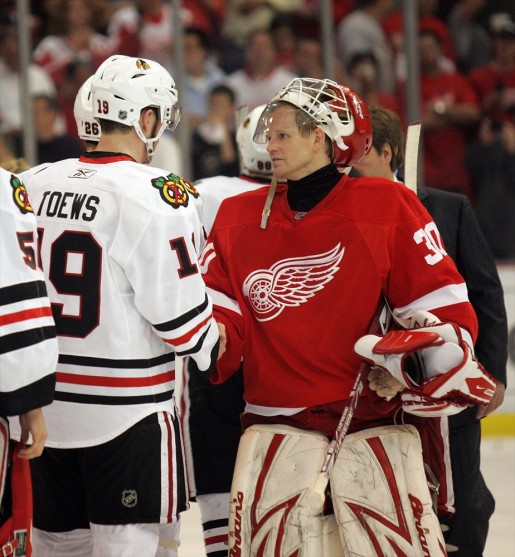 Chris Osgood's NHL career started in 1993-1994 when the Detroit Red Wings recalled him from the AHL in order to bring stability to the team's goaltending situation. Even though Osgood experienced the playoffs in his first professional season, his miscue in game 7 of the Western Conference quarterfinals forced Detroit upper management to trade for a veteran backstop by the name of Mike Vernon. Vernon managed to deliver a Stanley Cup to Detroit in 1997, but Osgood's accomplishments, which included sharing the William M. Jennings trophy, a selection to the NHL All-Star team, and finishing as a runner up in Vezina trophy voting, convinced management that he was capable of handling the primary goaltending duties for the 1997-1998 Detroit Red Wings.
While the Detroit Red Wings repeated as Stanley Cup champions in 1998, the team was heralded for its offensive prowess and Osgood's strong play flew well below the radar. Osgood's 2.21 goals against average and .918 save percentage in the 1998 playoffs were seen by some as a product of Detroit's strong play at both ends of the ice, but his career playoff numbers (74 wins, 2.09 GAA, .916 Save Percentage) indicated that Osgood was as clutch a post-season goaltender as there ever was. The Detroit Red Wings found it hard to remain the Stanley Cup champions year after year, but Osgood was particularly important in forging team chemistry throughout his first stint in Detroit. In a memorable April 1, 1998 meeting with the Colorado Avalanche, Ozzie demonstrated that he could have been a great fit for a Mixed Martial Arts middleweight division as he fought legendary goalie Patrick Roy in defense of his teammates. Even though Osgood literally took it on the chin against Roy, he demonstrated that he was a team player, an individual that would not allow his team's crest to be disrespected.
However, some of the most defining moments of Osgood's career occurred when the Red Wings were unable to trade Osgood during the summer of 2001 and wound up losing the netminder through waivers. Being claimed by the downtrodden New York Islanders in 2001 was hardly Osgood's best route towards returning to the Cup Finals, but his competitive nature earned him 32 victories and a playoff berth, something the Islander's franchise and its fan base had not experienced for seven years. Osgood's work ethic in New York allowed the goalie to become an instantaneous fan favorite as the chants of "Ozzie, Ozzie!" made their way from the Joe Louis Arena to the Nassau Coliseum. Even though Osgood's stay in Long Island was fairly brief, he brought a winning attitude to the Islanders until a mid-season trade in 2002-2003 sent him to the St. Louis Blues.
Once again, Osgood found himself in the Western Conference, but with the St. Louis Blues. Even though the Blues were a mainstay in the Western Conference playoff picture from 1980-2004, Chris Osgood was not able to hoist the Stanley Cup in St. Louis. Despite posting strong statistics in his first full season in St. Louis (2.24 GAA, .910 Save Percentage), Osgood became a free agent and eventually signed with the Detroit Red Wings for the 2005-2006 season. While injuries hampered Osgood upon his return to Detroit, the 2007-2008 season provided some redemption for a goalie who was obviously homesick.
Poor play and injuries on Dominik Hasek's behalf paved the way for Osgood's resurgence in Detroit as he played himself into a spot on the 2008 NHL All-Star team. Home cooking was just what the doctor ordered as Ozzie's strong regular season play once again translated into immense playoff success. Osgood replaced an aging and ineffective Dominik Hasek in the Conference quarterfinals and eventually defeated the Pittsburgh Penguins en route to winning his third career Stanley Cup. His strong postseason play was rewarded in the form of a three year contract from Detroit, but Osgood suddenly lost his wings during the regular season and his abilities were once again called into question. However, the goalie returned to his usual playoff form during the 2009 postseason and guided the Red Wings to a rematch of the previous year's Stanley Cup Final. Although the Red Wings were dethroned by the Penguins in seven games, Osgood once again demonstrated why he was such a reliable option between the pipes.
After an uneventful 2010 season, Osgood announced his retirement in the summer of 2011 and ended any speculation that the Peace River, Alberta native would return for another NHL season. While the "Wizard of Oz" never attained the prominence of other wizards by the name of Merlin, Osgood's postseason play, especially in the latter part of his career, remains a thing of magic. Even though some detractors downplay Osgood's chances to be inducted into the hockey hall of fame, most believe that the former goalie is a shoe-in for such an honor as he possesses better career statistics than legends such as Billy Smith and Grant Fuhr.
Many will argue that Osgood's success in the NHL was a product of playing behind stellar Red Wing teams, but his body of work speaks for itself, and the chants of "Ozzie, Ozzie!" simply do not permeate the walls of three different arenas in support of a mediocre netminder. While Osgood might not be a first ballot hall of fame inductee, he has stopped the puck, his critics, and the Wicked Witches of the East (Washington & Pittsburgh) throughout his memorable career. Playing behind great teams can be an added benefit for some players, but what set Chris Osgood apart from the rest was his ability to master the art of goaltending and being a professional and a teammate, regardless of the role that he was asked to play.
Chris Osgood was one of a few players that successfully transcended their game into the post-lockout era. Even though his game never featured much flash or pizazz, Osgood did whatever he could do to make a save. When he wasn't making a save, he took it upon himself to impart his wizardry and hockey knowledge on younger goalies such as Jimmy Howard. Ozzie continues to work within the Red Wings organization and he will undoubtedly receive hall of fame ballots in the future, but will his body of work be judged in a harsher light than that of recent hall of fame inductee Eddie Belfour? It certainly shouldn't be since Osgood has, on 475 separate occasions, shown the hockey world why he is worthy of hockey immortality.