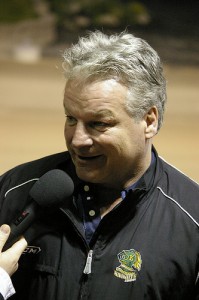 It happened swiftly yet with little surprise: the Washington Capitals fired Bruce Boudreau Monday morning and brought in former Capital and OHL London Knight's coach Dale Hunter.
The Capitals have lost 10 out of their last 15 games and have sunk to a -3 goal differential, including losing 5-1 to the battered Buffalo Sabres Saturday night. With all due respect, if this were the Columbus Blue Jackets, the immediate concern of being outplayed by certain players wouldn't be so high. But with the talent core Washington has, the lack of response from the team after demoralizing losses shows a deeper problem.
"Accountability" was the word of the day coming into this season. Boudreau had tried to push that on his team through benchings, healthy scratches, unusual line shifting and expecting the Caps to adhere to a more defensive system. The consensus agreed with these moves by Boudreau — expect many believed this mindset came too late to be effective. The results in the last month and a half have shown that to be the case.
"This wasn't a slump.  You can ride out slumps.  This was simply a case of the players were no longer responding to Bruce." general manager George McPhee said in a morning presser."When you see that as much as you don't want to make a change you have to make a change. We have too many players that could be playing better."
With Boudreau gone, the Caps bring in Hunter to try to repair the damage. McPhee stated this was a move long in the works, as he said he has talked with Hunter for 12 years.
"Hopefully the same things he brought as a player," McPhee said about what he expects from Hunter as a coach. "Obviously Dale was an intelligent player, he had talent… and he was tough. And he was downright mean sometimes."
"Downright mean" is right, as Hunter is the only player to have at least 1,000 points and 3,000 penalty minutes (a fun fact I can memorize). Regardless of what is thought of Hunter as a player, though — dirty or talented — Hunter did whatever it took to win, and that's the mentality the Caps hope to have spread during his time as Washington's head coach.
Hunter has coached for 11 years in the OHL. Much like Boudreau when he came in 2007, Hunter has not had any NHL coaching experience. However, McPhee is confident in Hunter's abilities to work with the Capitals and get them to win in the NHL, responding to concerns as "coaching's coaching."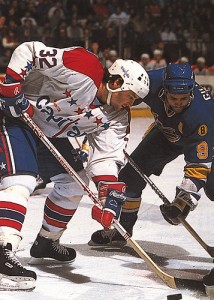 "No one's been better at that level, in that Ontario Hockey League that's been around forever," said of Hunter's coaching experience. "He has the best winning percentage of all time. The man's [Dale Hunter] played in this league for 19 years, he's played for a lot of coaches. Dale really understands this game."
Hunter played in the NHL for 19 seasons, 12 of them with the Washington Capitals. Once the team captain, and on the 1998 Capitals team that made the Stanley Cup finals, Hunter brings a bit of tradition to the team, and a winning tradition. Hunter's hockey immortality in D.C. should motivate the players to play with the same intensity he did. One of the main players he could get through to is Alex Ovechkin.
McPhee said they will not remove the "C" from Ovechkin, despite outside suggestions saying to do so. Having been the captain at one point for the same team, Hunter will be able to relate to Ovechkin, and flesh out the best for the Russian superstar as a captain, having known what it will take
Tuesday the Capitals will play a team who also changed coaches this year and responded, the St. Louis Blues, who are 7-1-2 in their last 10 games and will be entering Washington riding a three-game winning streak.
Angie represented The Hockey Writers at the 2011 NHL Winter Classic and is credentialed for Washington Capitals home games. She is a NHL Contributor for SB Nation's "NHL Scores & More" and covers high school hockey for The Washington Post. Angie attended American University where she studied broadcast journalism.