You've just arrived in Belleville, Ontario, a city known as "a jumping off point for day trips to Prince Edward County, Sandbanks Provincial Park, and points north such as Stirling, Madoc and Tweed." Like a lot of other local tourists, you're staying the night in Belleville so that you can be well rested for a busy day of visiting the area's main attractions tomorrow. You settle into your comfy hotel room, turn on the television, and a hockey game on an Olympic-sized ice surface is staring you in the face. This must be a team from Belleville, you think to yourself. Who else could they be?
Sure enough, you were correct. You are indeed watching the Belleville Bulls of the Ontario Hockey League as they play at the Yardmen Arena, home to the largest ice surface in the league. After watching the game for a few minutes, you begin to wonder just exactly who those two guys with Subban on the back of their jerseys are. I know I've heard that name somewhere before, you're thinking. Soon enough one of the commentators answers all you're questions, and yes, they are the brothers of current Montreal Canadiens (and former Bulls) star defenseman P.K. Subban. Eventually, you realize that you're not just in a place called Belleville anymore. You're in Subban Land.
Jordan Subban
The youngest of the three Subban brothers, Jordan is the one that has had to endure all the expectations and pressure of living up to his oldest brother. Both players are defensemen, and both bring speed and an exciting style every time they play the game. On the comparison of the two, The Hockey News' Ken Campbell wrote:
It's a little unfair, really. But you watch the shirt-flapping speed, the sense of authority when he carries the puck, the passion that comes through on each and every shift and you can't help but compare defenseman Jordan Subban to his older brother.
That's all true, but Jordan is a lot better than P.K. was at the same age. Jordan was selected fifth overall in last seasons OHL Priority selection, whereas P.K. was a sixth rounder for the Bulls. However the youngest Subban brother has said that the pressure hasn't really bothered him, and that he doesn't think about it much. Some scouts are suggesting that Jordan could potentially be the biggest NHL star of the three brothers someday.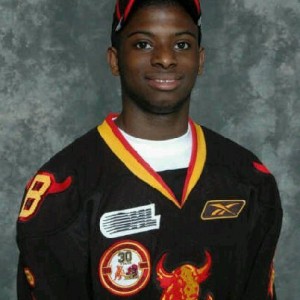 In 68 games with the Toronto Marlboros last season, Subban scored 21 times and added 43 assists, while helping lead the Marlboros to an OHL Cup championship. Through 21 games with Belleville this season, he has a solid 7 points. Jordan is an offensive defenseman that's great on the powerplay, but he's also reliable in his own zone. Subban's shown that he can handle the rough stuff too, as he fought Trevor Murphy of the Peterborough Petes just a few weeks ago. He's still adjusting to the major junior game, but he is quickly realizing what type of moves work in Minor Midget AAA, and which ones don't work at this level.

"When P.K. was that age, you had no idea what he was going to do," one OHL scout said. "He didn't play for as good a team and he was always running around his own zone trying to do everything. Jordan is a little more offense-minded than P.K. was as well."
Make sure to keep an eye on Jordan throughout his next couple seasons in Subban Land. There's a lot of people expecting him to outshine his brothers, and he's already being projected as a future first-rounder in the 2013 NHL Draft. Having a mentor like P.K. will continue to help Jordan develop his game, so expect him to handle all the pressure well.
Malcolm Subban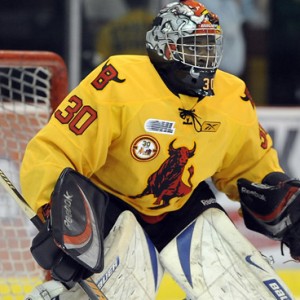 Malcolm Subban is the middle brother of the Subban family. (Yes, Malcolm's in the middle). The major difference between Malcolm and the rest of his brothers is…? Malcolm's not a defenseman, he's a goaltender, and a good one too. NHL Central scouting ranked him as the top draft eligible goalie from the OHL this season in their 2012 Preliminary Draft Rankings, and he was invited to the NHL Research & Development Camp in Toronto this past summer. Malcolm was selected 218th overall in the 2009 OHL draft, but he'll go a lot higher than that next June.
So far this season with the Bulls, Subban's posted  a 2.16 GAA and a .928 save percentage in his ten games played. Based on statistics alone, Malcolm's currently the second best netminder in the league. Off the ice, it becomes obvious that he's not as vocal as his two brothers. Malcolm's a much quieter character who seems to be calmer and more laid back. So it seems fitting that he chose to be a tailor of the tangled twine.
"We were all defensemen," said Subban. "I just had a passion for goalie growing up watching all the Don Cherry tapes. My dad was my coach and when I was 12 he finally let me become a goaltender and it took off from there."
Since he clearly plays a very different game than his brothers, it's easy to think that Malcolm's the least athletic of the three. TSN hockey Analyst Craig Button has said that Subban has great athleticism and is very competitive. Malcolm's a big, butterfly style netminder with great reflexes who's been compared to Henrik Lundqvist of the New York Rangers.
He had a solid performance for Canada at the 2011 World Under-18 Championship in Germany, and though he's a longshot to make the team, Subban would love to be invited to Canada's selection camp in December for the 2012 World Junior Hockey Championship's. He could easily be a first round pick in the upcoming draft, and is projected to be a future starter in the pros. If he keeps playing like he his right now, Subban definitely has a shot at being the top goalie taken in the draft.
Update:  Subban impressing at the 2013 WJHC in UFA, Russia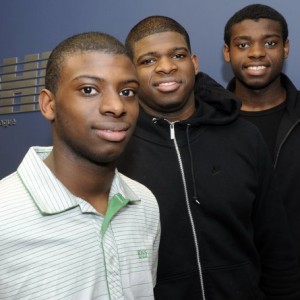 Just in case you thought those were all of the Subban's trying to making a name for themselves in hockey, there is actually one more. He doesn't play in Belleville, but he's still worth mentioning.
Marselis Subban
Marselis Subban is a cousin of Jordan, Malcolm, and Pernell Karl. He's the same age as Jordan, and was drafted by the London Knights in last year's OHL Priority Selection. Though Marselis isn't likely to go through Subban Land as his cousins have/currently are, he is expected to hit the ice in a Knights jersey in the near future. Marselis isn't likely to outshine his cousins anytime soon, but as you can see in the quote below from an interview with The Fourth Period's Brian Huddle, he still has his own personal goals.
"Jordan's a great hockey player, Malcolm's a good goalie and P.K. is P.K," the five-foot-eleven defenseman said. "But I'm Marselis. I'm not trying to be any one of them, they're their own players, even though there will always be comparisons between all four of us; what we do and our success. But I have my own goals and they have their own, so I'm just going to play my game and stick to that."
Currently, he's playing with the Junior B Cambridge Winterhawks, as unlike his cousins who were raised in Toronto, Marselis grew up in Cambridge, Ontario.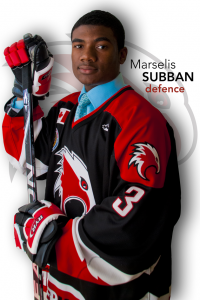 Marselis considers himself a two-way defenseman that likes to push the offense, but he is starting to learn that he's a defenseman first. An injured hand is thought to be the reason why he's only played a handful of games for the Winterhawks this season, but it should be noted that Cambridge is pretty full on the back-end.
He's been a scratch in both of the two Winterhawks games I've seen this season, though he was a stand out player in AAA over the last few years. So it's unlikely that you'll see him in the OHL this season, however with London being the number one major junior team in Canada right now, it would be hard for yet another rookie to step into their lineup anyway.
The Subban brothers may be the next generation of Staal's or Sutter's, and they should be the flashiest one yet. P.K.'s obviously already established himself as a household name, and although the other Subban's aren't quite there yet, it'll come in time. So next time you're in Belleville, stop into Yardmen Arena and catch some Bulls action. There's never a dull moment in Subban Land.