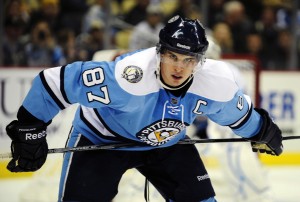 PITTSBURGH — The Pittsburgh Penguins announced this weekend that Sidney Crosby will return to the lineup Monday night at home against the New York Islanders.
Crosby has not played for the Penguins since suffering a concussion on January 5 against the Tampa Bay Lightning.  At the time, Crosby was running away with the NHL's scoring lead after tallying 66 points in his first 41 games.
Crosby missed the last half of the 2011 season in addition to the Penguins first round playoff series, which they lost in seven games to Tampa Bay.  Crosby has missed all 20 games this season but the Penguins have still managed to battle their way to the top of the Eastern Conference standings.
Nearly eleven months later, he's ready to return to the ice and pick up where he left off.
Penguins head coach Dan Bylsma spoke with reporters on Sunday about Crosby's return.  Here are a few notes from his comments:
Sidney Crosby will play on a line with familiar faces in Chris Kunitz and Pascal Dupuis.  The trio has spent a lot of time together in recent seasons and the move makes sense as the team looks to ease Crosby back into the mix.  Much of the focus now turns to what happens when Crosby absorbs his first big hit.  Playing with unfamiliar linemates would only give Crosby even more think about.
Evgeni Malkin will continue to play with James Neal but Bylsma said he'll move Jordan Staal around the lineup and possibly onto a line with Malkin.
Bylsma was asked if Crosby plans to wear a special helmet, to which he responded, "Sidney will continue to wear the equipment he's been wearing in practice since training camp started. I don't know specifically any modifications to that particular helmet."
Bylsma on Crosby's expected ice time: "Sidney's adrenaline is going to be going so high tomorrow that he's going to be tired out a little bit quicker than he normally would.  He thinks maybe he's only going to be able to play 12 minutes tomorrow and I laugh because when Sidney Crosby gets to 12 minutes he's certainly going to want the 13th minute."
NBC's Versus network has decided to carry the Penguins-Islanders game instead of the previously scheduled Boston-Montreal matchup.  Coverage in the US starts at 7pm ET.
UPDATE: Jim Hughson and Craig Simpson will have the call on CBC across Canada. (Thanks to Ryan Pike for the tip)