The Nashville Predators lost an overtime game on Saturday night to the Columbus Blue Jackets.  Losing to the NHL's punching bag on home ice is a bad night for any team, but it's a symptom of an even larger problem in Nashville.  I recently wrote an article and referenced the play of the Predators in the third period as of late.  They did not disappoint against Columbus.  They did allow a power play goal in the third period, but kept Columbus off the board otherwise.  The issue for Nashville continues to be their inability to get two points in their overtime games.
The Predators are 1-4 in overtime games this year.  These types of statistics can be deceptive as games that go to shootouts are a bit of a crap shoot.  The problem for Nashville is, they are only 0-1 in shootouts.  They have dropped the other 3 games during the overtime period.  Even more alarming than three overtime loses is that 2 of them have been at home to Montreal and now Columbus.
Every point matters in the National Hockey League.  The final standings every year are separated by a minimal amount of points and as few as a point or two can mean the difference between an eighth seed and a sixth seed.  Looking back since the 2008-2009 NHL season, the Eastern Conference had a difference from 4th place to 8th place of 6 points.  In the 2009-2010 NHL season, in the Eastern Conference, the difference between the 5th seed and an 8th seed was also 6 points.  An even better illustration is that the difference between 4th place and 8th place in the Western Conference last year was 2 points!  Those are the same 2 points that Nashville has already given away already this year in those home games to Montreal and Columbus.
The season is just reaching the quarter mark of the schedule, but these slips will cost a team for the rest of the year.  Life will not be easy for Nashville during their remaining schedule. A steady dose of Chicago, Detroit and St. Louis will stay daunting for any team, which is all the more reason that Nashville cannot let points continue to slip away in overtime.  Seven years and forty nine million dollars for Pekka Rinneis going to have to cover over time saves as well as regulation.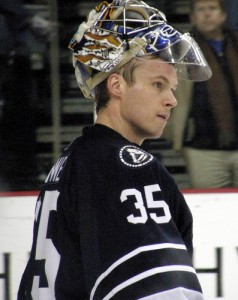 The Predators need to get over their mental overtime hurdle.  They are costing themselves valuable points.  The historical data consistently shows that these lost points will cost them dearly in seeding come April.  The two points they have already let pass them by could end up being the difference between hosting a first round against Dallas, or being a lower seed traveling to Chicago or San Jose.
Every team has games that get away.  It happens over the course of an 82 game season.  Nashville, however, has used up most of their season mulligans within the first quarter of the season.  They are going to have to figure out how to start getting out of overtime with 2 points or they will see much of this seasons promise fade away.
Mike Finazzo has written for 411mania.com and writes for Freethesporstman.com under a pen name of R.C. Sutton. Mike currently covers the Central Hockey League for ArmChairReport.com. He also has 20 years experience with watching the NHL. Mike's primary role with the Hockey Writers is as a Nashville Predators correspondent..