It seems like recent history has had the Sharks facing a Cup or bust mentality every October (or January in the case of 2013).  The Sharks headlines list below does not make any mention of Cup or bust.  This is not because the Sharks are not contenders for the Stanley Cup, it is because the future has been set in San Jose.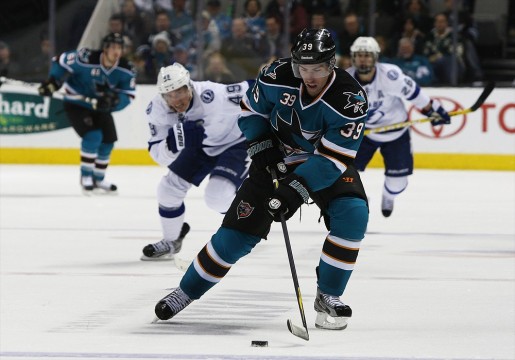 The front office in San Jose has been masterful in keeping the Sharks competitive while maintaining a future.  Joe Thornton has led this team for years and has deftly molded talent on the ice for his coaches.  The Logan Couture's and Joe Pavelski's of the NHL would not become the stars they are without veterans guiding them into the league.  This year, Sharks headlines that make the sporting news will finally turn away from that boom or bust idea.
6 Sharks Headlines
Logan Couture Scores 40th Goal of Season
Everybody and their mother said that 2013 was Logan's coming out party.  Sure, he led the team in goals, plus/minus, power play goals, shooting percentage, shootout goals, and game-winning goals.  And sure, he was second in assists and points behind his captain.  But this season will see Couture become larger than all of that.

This Sharks headline is easily the one fans can be the most confident about.  Couture has shown durability and avoided serious injuries so far in his career.  He is still very young as he won't turn 25 until late March.  But most of all, he has proven to be the Shark most capable of scoring at even strength.  Playing against other top six forwards and top defensive pairs, he led the team in goals during even strength situations with 14.
Antti Niemi Vezina Finalist Again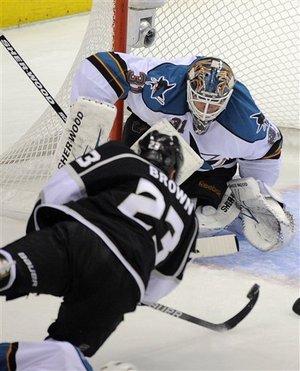 Antti Niemi has many adjectives you could place on his résumé.  Stalwart, agile, durable, calm, collected.  The list goes on.  Many contenders are held back by struggles in net.  While the the Cup winners and finalists of the last three Stanley Cups have boasted stable goaltending.  Names like Luongo, Thomas, Brodeur, Quick, Crawford, and Rask dominated opponents' offenses to lead them into glory.  Two of three Finals MVPs were goalies and the third very well could have been had the Bruins upset the Hawks in 2013.  Antti Niemi makes Sharks headlines because he will bore you with consistency.  Nemo will perform even better this season as the long campaign will see his backup (most likely Alex Stalock) share more of the load than last season's sprint.  With the defense returning intact, expect Niemi's numbers to be similar, if not better this year.
Brent Burns Struggles Up Front
If there was any evidence that Brent Burns's honeymoon period with the top six forwards was over, it was the 2013 playoffs.  In eleven games, he was held to a meager four points.  Even when the Sharks walked all over the Canucks in the first round, he only managed a -1 rating.  The Chewbacca look-a-like was basically neutralized by the LA Kings as they held him to one point in their seven game series.  Burns caught the league by surprise in 2013, but will have no such luxury this year.  He will be playing against the best in the league as he has been paired on the top line with Couture and Marleau.  The other two on that line are proven shooters and can handle themselves up front, but Burns will be another story.
Torres' Return Invigorates Stagnant Sharks
Yes, I said it.  Raffi Torres is going to play the role that Brent Burns did in 2013.  Whether or not his injury keeps him sidelined for four months or six weeks, the Sharks will suffer without him.  They lack physicality.  They lack grit.  They lack the reckless abandon to make game-changing hits.  Really, writers can just use the Sharks headlines from last season and change the name from Brent to Raffi.

Joe Pavelski is a key contributor to the Sharks offense.  But, down on the third line, he will be without exceedingly talented support.  Likely to be paired with Kennedy, he will be facing lines that are meant to be physical and sway momentum.  Without his big bruiser, Pavelski will be facing hard hitters without a real one of his own.  Suffice it to say, when Torres comes back, the offense will enjoy a boom.
Thornton, Marleau, and Boyle to Return in 2014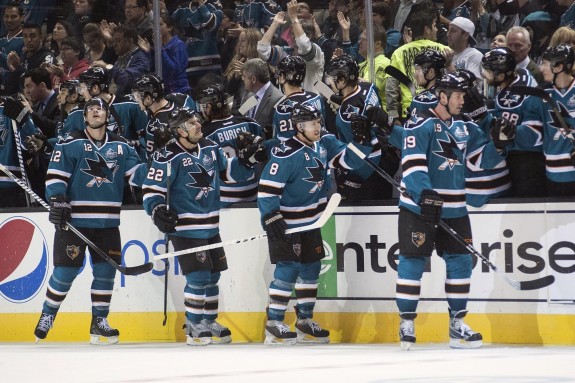 Quote me and Logan Couture on this one.  This is still Joe Thornton's team.  He is still the captain and still their most important player.  He led the team in scoring, mainly through the power of playmaking assists, and was easily the Sharks best faceoff weapon.  His 58.5% win percentage at the dot made him second best in the entire league among regular centers.  As for the other two, Boyle is still the veteran on the blue line and remains to be the only blue liner capable of pulling big offensive numbers.  Marleau demonstrated that when he's hot, this team is hot.  While the Sharks headlines will not read huge numbers for the trio, they will each return for more time in teal.
Sharks Sweep Season Series From Canucks… Again
I am not being bold here.  The Sharks headlines for the season will include this one.  There is something about San Jose's team that perplexes Roberto Luongo.  It cost Alain Vigneault his job last season.  In this year's preseason, it has looked no different than before.  Tuesday night saw a nineteen year old (albeit a talented one) find the back of the net twice.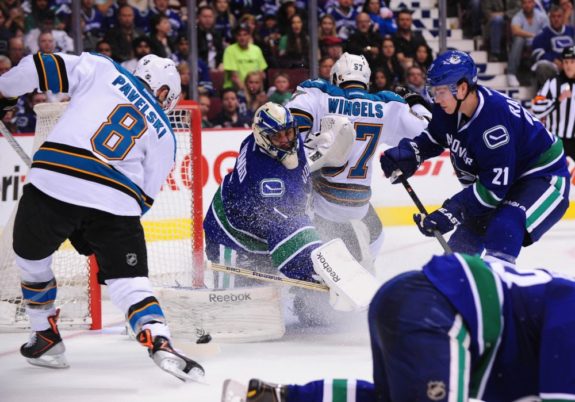 Whatever voodoo that Todd McLellan has woven over his northern rival has worked.  The normally high-powered offense evaporates when the Sharks come into town.  The stalwart goaltending falls apart.  And the normally composed and professional leadership falls into grade-school name-calling.  The Sharks just match up better.  Maybe Tortorella's defensive style will make the scores closer.  Maybe the Canucks will take the Sharks to overtime a few times.  But the way things are shaping up, this is one rivalry that Sharks fans should look forward to.