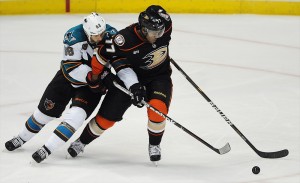 The St. Johns Ice Caps handed the Norfolk Admirals their first loss of the season tonight defeating the Anaheim Ducks affiliate 3-2.  During the first period, St. Johns launched a total of 16 shot towards Admirals rookie goaltender, Frederik Andersen.  In the attacking zone, the Admirals managed to only get off 5 shots towards Colgate alumnus Mark Dekanich.  Special teams were called upon to work early in the contest.  Both clubs had special teams working for 10 minutes total during the opening frame.   St. Johns and Norfolk returned to the dressing room scoreless.
Midway through the second period, the tide changed for St. Johns when Ben Maxwell rattled the crossbar during an attack in the Admirals defending zone.  Luckily, Andersen and his troops regained control and successfully cleared the puck.  The Ice Caps broke the stalemate when a Norfolk defenseman lost control of the puck in front of the crease.  Zack Redmond cashed in on the loose puck and put it past Andersen for a 1-0 lead at the 11:33 mark of the middle stanza.
Later in the 2nd period Jason Jaffray gave the Ice Caps a two goal advantage on a power play when he caught his own rebound and sent his second shot past Norfolk's rookie netminder.  This was his first goal in his second game back from a neck injury which he suffered in Norfolk last spring.
Norfolk cut into the lead when Admirals' defenseman Hampus Lindholm fired a blue line bomb towards Dekanich.  Patrick Maroon caught the Lindholm rebound and passed to Admirals' forward Devante Smith-Pelly who put the backhand shot past Mark Dekanich with just seconds left in the middle frame. Norfolk put 9 shots on net and St. Johns shot 14 times on Norfolk's net.
In the 3rd stanza, Eric O'Dell again raised the lead by two when he circled around the cage and caught a loose puck through heavy traffic that beat Andersen at the 8:27 mark of the final frame.  Sami Vatanen scored the last goal of the night when Smith-Pelly won the faceoff in the attacking zone which caught the blade of Vatanen who launched a screaming slapshot past Dekanich on the power play.  The tide turned in the Admirals favor who outshot the Ice Caps 16 to 13 even though they came up one goal short for the night.  Both teams were 1-5 on the man advantage.  Norfolk will have a shot at redemption when the two Clubs meet tomorrow at the Mile One Centre in St. Johns at 2:30 EST.