Although bench clearing brawls are more than rare compared to hockey of yesteryear, there's still a line where a brawl can cross over to the next level.  Typically that line is crossed when the goalies cross the line and enter into the fray.  Considering that most goalies don't fight, most goalie fights don't often end well for one of the participants.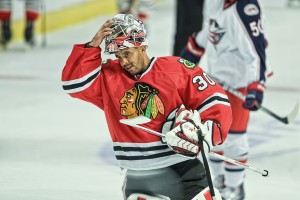 Now of course there are different categories or classifications for netminders.  There are some who throw down with the best of them.  Then you've got those fearless guys (really how can't you be fearless with 90 mph vulcanized rubber whizzing by your head?) who will essentially stand up and take one for the team.  On the other end of the spectrum, you've got your soft flopper types and cheap shot artists.
In any event, when each goaltender wades to center ice or one zips to the opposing end, the melee is on.  Ah yes, the masks go flying and the blockers start jabbing.
Seeing as how I am a "hockey child" of the 90's, we'll start off with perhaps the most heated rivalry of that decade, the Colorado Avalanche and Detroit Red Wings.  This brawl from 1997, had Patrick Roy and Mike Vernon whaling away on each other.
Sticking with the Wings and Avs theme, it's one year later and a tilt between Roy and Chris Osgood.  I'm not gonna lie, I wish there was a current rivalry in the Western Conference that could match this one.
This next one is of more recent infamy.  It's from 2011 and features Brent Johnson of the Pittsburgh Penguins and Rick DiPietro of the New York Islanders.  Honestly I feel kind of bad posting this one for Rick's sake but let's just say Brent nailed him with a left that knocked him into Brooklyn.
Speaking of fights involving Islanders goalies, here's Tommy Soderstrom getting worked on by Corey Schwab of the New Jersey Devils, back in 1995.  I was always a big fan of Schwabby, from his days with the Albany River Rats and unfortunately I think he may have gotten somewhat blackballed by the league for this one.
Moving right along, this fight involves Ray Emery of the Ottawa Senators and Martin Biron and yes Andrew Peters of the Buffalo Sabres.  When I first saw Emery with the AHL Binghamton Senators, he was a pretty fearless guy, even tried to mess with Rob Skrlac one night in Albany.
It took this long to include a Philadelphia Flyers goalie going at it?  Oh but so worth the wait right?  This scrap was pretty epic between Garth Snow of the Flyers and Steve Shields of the Sabres.  On a side note, I really miss those Sabres jerseys.
Here's Curtis "CuJo" Joseph with the St. Louis Blues and Tim (baseball, hot dogs, apple pie and) Cheveldae of the Red Wings and they don't look to be tiring.
Finally, true story and random story, just the other night in Albany I saw someone wearing a Ron Hextall, Quebec Nordiques jersey.  In this clip, Hextall, with the Flyers, goes toe-to-toe with Felix Potvin of the Toronto Maple Leafs.