CALGARY — David Perron had a goal and an assist, while Jake Allen had 28 saves as the St. Louis Blues rode a couple early first-period goals to a 3-1 victory over the Calgary Flames on Saturday afternoon.
Perron has been a Flames killer. His 21 points (nine goals, 11 assists) in 16 games since the start of the 2014-15 season is the second-most of any player against Calgary, behind only Ryan Getzlaf (26 points in 20 games).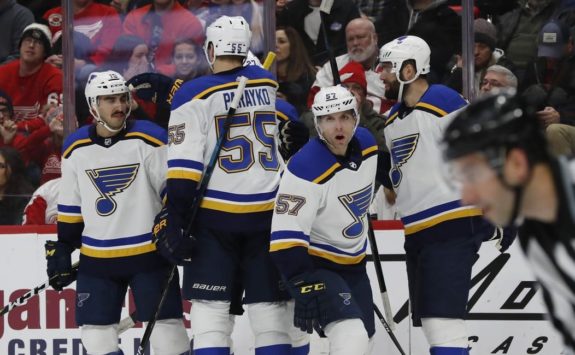 Tyler Bozak and Oskar Sundqvist also scored for St. Louis (14-16-4), which lost 7-2 to Calgary at home last Sunday. The Blues finish 2-1-0 on their road trip through Western Canada. They return to action Thursday when they kick off a five-game homestand against Buffalo.
Matthew Tkachuk scored his 16th goal for Calgary (22-12-3) in the first period. The leaders of the Pacific Division will limp into the break winless in their last three. They're next in action Thursday in Winnipeg.
It was Calgary's first regulation loss at home since Nov. 15, ending a 7-0-2 string.
Tested 27 times, Mike Smith takes the loss to fall to 11-8-1. Smith came in on a six-game win streak, but David Rittich had started the previous four games.
Allen was the story in the second period, stopping everything as Calgary outshot the visitors 13-5, but St. Louis held onto a 2-1 lead.
Related THW Content – NHL Rumors: Kings, Blues, Predators, More
Among the saves was a pad stop on a Johnny Gaudreau breakaway three minutes in. Just over a minute later, rookie defenceman Rasmus Andersson also got behind the Blues defence, only to be denied.
The Blues got some insurance two minutes into the third. Smith couldn't control the rebound of Sundqvist's 40-foot slap shot and when the puck popped back into the slot, Sundqvist buried his sixth goal.
Gaudreau had a second his second breakaway of the night less than a minute later, but again, Allen stood tall and turned aside the Flames' leading scorer.
Allen improves his record to 12-10-4.
St. Louis took the lead 4:06 into the game. Perron gloved down a puck that had deflected high in the air and wristed a shot from inside 20 feet that beat Smith on the short-side.
The Blues made it 2-0 at 11:43 when Bozak chipped in a rebound after Pat Maroon curled out from behind the net and had his initial shot stopped.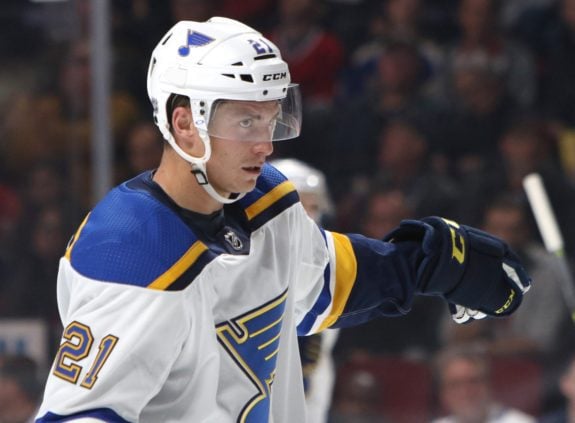 Down 2-0, the Flames got on the scoreboard at 16:49 of the first. On their first power play of the day, they needed just seven seconds to convert with Tkachuk steering in a centring feed from Elias Lindholm.
Notes: Flames LW Michael Frolik (ankle) returned after missing 15 games… St. Louis improves to 11-1-2 when leading after two periods.
Darren Haynes, The Canadian Press