The St. Louis Blues lost a key component to their offensive strategy this morning, when power forward Vladimir Sobotka decided to go play closer to home in the KHL.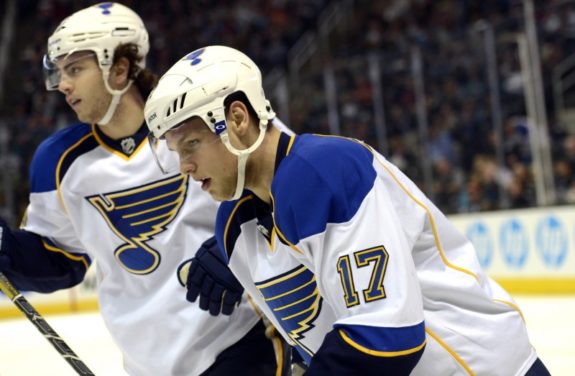 Fans Initial Shock
There are plenty of upset Blues fans around the nation right now, as Sobotka was one of the most loved players who donned the Note on his chest over the past several seasons. However, there is a very slight chance the Blues could retain him at the July 21st arbitration hearing.
Doug Armstrong took questions about Vladimir Sobotka and re-signing Steve Ott to a two-year deal. WATCH >>> http://t.co/2ofKA4p7i1 #stlblues

— St. Louis Blues (@StLouisBlues) July 10, 2014
This will be the organization's opportunity to match or exceed Avangard Omsk's offer (the KHL team Sobotka signed with) to Sobotka, but fans shouldn't hold their breath.
#stlblues resign Ott, lose Sobotka to KHL: http://t.co/RBYH8KBNPE #stlblues — Lou Korac (@lkorac10) July 10, 2014
Steve Ott Remains a Blue
While Vladimir Sobotka was weighing his options to sign somewhere, the Blues were hard at work negotiating a new contract with NHL veteran Steve Ott, just in case Sobotka did decide to play elsewhere.
This was a touchy situation for the entire Blues organization, as Sobotka's 61.9% face-off win percentage was best in the league last season, and his 33 points (9 G, 24 A) were also a career high.
really? MT @KingDonutI: Better way to look at it: Sobotka is easily worth Bryan Bickell money. Esp. with cap going up pic.twitter.com/dMYmxwrE9k

— Hitch's Hat (@HitchsHat) July 10, 2014
Obviously the Blues' front office knew that with budding superstar Jaden Schwartz in need of a new contract (which will include a decent raise to say the least), and with signing Paul Stastny (4 years, 28M), they may not be able to afford Sobotka as well.
Add in the Patrik Berglund deal (3 years, 11.1M) and you already have a craft vet winger who will gain those 30-40 points for the team next season, leaving the door open for the new Steve Ott contract.
.@StLouisBlues signed forward Patrik Berglund to a three-year, $11.1 million contract –> http://t.co/BL1RByZoN4 pic.twitter.com/PorddFzBgG — NHL on NBC (@NHLonNBCSports) June 27, 2014
Ott Could Aid Blues Stanley Cup Hopes
Though Steve Ott has a mixed following across the St. Louis area due to his lackluster play, large scoring drought, and his sometimes hot-headed nature, he may be the best replacement for Sobotka since Bergy was retained.
Though he hasn't registered a goal as a Blue yet (in 29 games including the playoffs), and ended the season as a minus-12 with the team (he was a minus-26 on Buffalo before the trade), he did finish in the top 25 in the league for face-off wins last season at 53.9%, just behind new Blue and homegrown NHL star Paul Stastny.
Steve Ott on the #stlblues: "They were the team I wanted to go to. … Once I got a taste of it there last year, it was a no-brainer."
— Lou Korac (@lkorac10) July 10, 2014
Ott does truly play the Blues style of hockey and definitely fits his bottom-6 role well as a third line hustler. If he can start contributing to the offense, fix his backchecking/defensive zone coverage woes (he is a career minus-47), and stay out of the box as much as possible he may very well see Sobotka-esque numbers next season and beyond.
Other Key Loses and Additions
Though the biggest news of the summer (thus far) has been the Stastny deal and the loss of Sobotka, the team has also parted ways with other key players as well. The biggest and most obvious move was seeing Ryan Miller go to the Vancouver Canucks.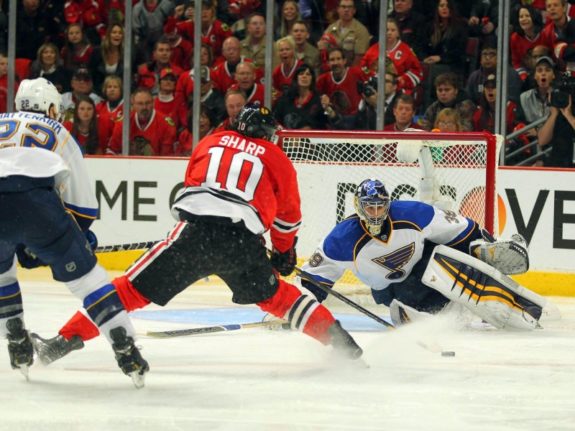 His numbers in St. Louis weren't great (10-8-1 record, 2.47 GAA, 90.3% SV%) and he had problems with over-committing on plays, but his career shows he's a battler and will always bounce back from adversity. Would he have been a better mentor than Brian Elliott for Jake Allen, probably, but the Blues' goalie situation will be a good one next year regardless.
Hitch said #stlblues losing physicality without Roman Polak but better transitional team with Carl Gunnarsson and … Ian Cole. #stlblues — Lou Korac (@lkorac10) July 8, 2014
Don't Open THAT Door
Another big loss for Blues fans to bear was the trade of stalwart defenseman and resident tough guy Roman Polak, who was involved in an exchange that sent him to the Toronto Maple Leafs for quick-up artist Carl Gunnarsson. This was a good deal for the team, as they are transitioning from a huge tough and physical team, to a quick opportunistic one.
The Blues have tried to play the league's "bully" role for too long, and it hasn't seen the club get any closer to winning a cup over that time span. Bringing in players like Gunnarsson, Joakim Lundstrom, and Jori Lehtera to play alongside up-and-coming stars Jaden Schwartz and Vladimir Tarasenko will provide fans with far more amazing passing plays, and highlight reel goals.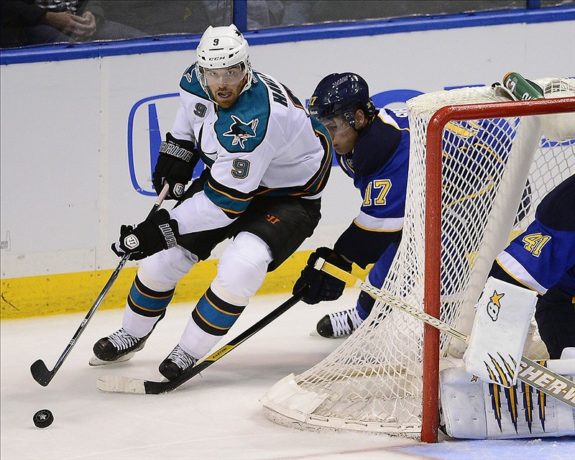 Overall the Blues have managed to strengthen their team despite losing such key pieces as Sobotka, Polak, and Miller. They may not be the group of bash brothers from the past, but they will get the job done, and may even sneak a Stanley Cup win in the next few years while they're at it.
Like what you've just read? Follow me on Twitter: @pep30
Mike has covered the St. Louis Blues and Tampa Bay Lightning in depth for The Hockey Writers since 2013. He is also a contributing writer for KSDK News Channel 5, the St. Louis area NBC affiliate, and has been a credentialed media member of the Blues since 2014. Follow him on Twitter @pep30.