The St. Louis Blues began their 51st season with an overtime thriller against the Pittsburgh Penguins and finished out the first month of the season with a dominating 10-2-1 record. Since October, the Blues have regressed and are third in the Central Division with a 30-18-3 record. Led by the addition of Brayden Schenn and another solid season from Vladimir Tarasenko, the Blues look to have a more consistent second half ahead to avoid playing on the road throughout the playoffs.
The Blues First Half: By the Numbers
Their record may not look dismal on the outside, but the Blues have played 51 games which is the most in the Western Conference. They are tied with the Colorado Avalanche and the Edmonton Oilers for the fewest OT losses, a statistic that shows if the Blues aren't winning games they aren't picking up points either.
St. Louis has been an anomaly this season; while being top five in both goals for (148) and goals against (130), they have had seven different instances of losing two or more consecutive games. On the other end of the spectrum, they have three separate four-game winning streaks, proving that consistency has eluded them to this point.
Schenn is in the top 20 for points in the NHL with 21 goals and 29 assists for 50 points. His 14 power-play points are barely in the top 50 in the league but prove that his even strength play has improved drastically from last season with the Philadelphia Flyers.
In only 31 games, Jaden Schwartz has 35 points with an impressive plus-23 rating (7th in NHL) and a 1.13 points per game average. His play has elevated his teammates and his long-awaited return from a mid-December ankle injury has provided a much-needed spark for the Blues' anaemic offense.
A Goaltending Fight in St. Louis
Jake Allen is in his fifth season with the Blues, coming off an impressive 33-win season last year. But much like last year, and the year before that, Allen has failed to make the starting job his. Carter Hutton has a league-leading .943 save percentage and a 1.74 goals-against average in 21 games, while Allen has posted a .909 save percentage and a 2.73 goals-against average in 36 games.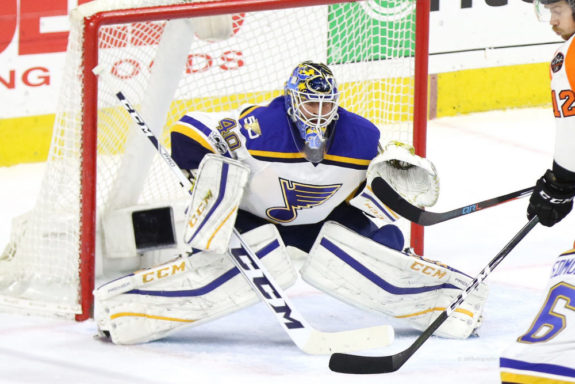 In the years since Mike Liut and Curtis Joseph, the ability to find a franchise goaltender has been elusive. Allen's inconsistent and streaky play has been the spark plug for Blues fans and columnists to constantly call for Hutton to start games this season.
Hutton doesn't have the pressure of being the starter which could account for how he steps in and win games. But it doesn't account for how well he has been playing. A 48 save shutout against the division-leading Winnipeg Jets in December and a 32-save performance in a 2-1 win against the Western Conference-leading Vegas Golden Knights in January have helped the Blues maintain their position in the Central despite Allen's lackluster play.
The Pressure is on Blues Veterans
Although Patrik Berglund, Alexander Steen, and Jay Bouwmeester have all had stints on the injured reserve list (IR) this season, when healthy they've been less than dominant. In 27 games, Berglund has a meager 10 points (6 goals, 4 assists) while in 45 games, Steen has recently eclipsed the 30-point mark (10 goals, 20 assists). Bouwmeester missed significant time with a fractured ankle, but his two points in 20 games has caused others to step up for him.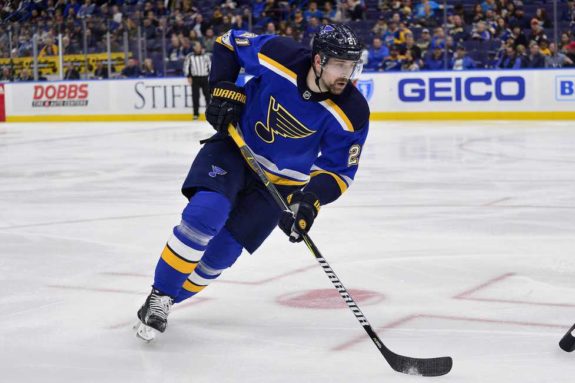 Vince Dunn, a 2015 second round pick, has been a lightning rod from the blue line. His OT goal against the Toronto Maple Leafs helped snap a three-game losing streak and his 11 points are tops among Blues rookies. With Jordan Schmaltz waiting in the wings in San Antonio, the pressure for Bouwmeester and Carl Gunnarsson to step up production is more real than ever before.
Tage Thompson finally got his first NHL goal in December and despite being sent down after starting the season in St. Louis, he has finally found his game in the NHL. With Ivan Barbashev learning his way as well, and Jordan Kyrou and Robert Thomas lighting the junior world on fire, Steen and Berglund's time in St. Louis might be drawing to a close if they can't figure out how to be as successful offensively as they have been in the past.
Keys for the Blues Down the Stretch
The Blues have to be more consistent. In October they averaged nearly three and a half goals a game, but since Halloween, they've averaged well under three goals at 2.73. This season, they have averaged two and a half goals against a game and with the slide in offensive production, the inconsistency has cost them many games in the last month.
Allen must be confident in his play. He's been known to overplay shots and slide out of position, costing his team when they need him most. Hutton has been a solid backup but he too has had outlier games where he gave up too many goals. With Ville Husso and Jordan Binnington are playing well in the AHL, Allen doesn't have the luxury of taking his time to figure out his game.
I'd like to see the Blues return to their heavy hitting ways of the past. Without Ryan Reaves, it will be difficult but Kyle Brodziak, Joel Edmundson, and Vladimir Sobotka have more than enough strength to energize the crowd and their teammates in tight spots.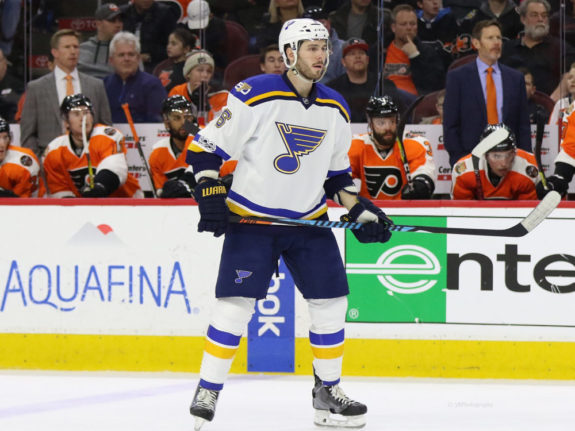 If the Blues can match the success, energy, and momentum they enjoyed in October, then it won't be out of the question to see them climb back into the top spot in the Central Division. However, if they continue to play mediocre hockey down the stretch, then the Avalanche and the Minnesota Wild are going to surpass them in the standings. The Blues have been lights out at home over the last few seasons and the key to winning in the playoffs is to have the home crowd behind them.
A 2016 graduate of SIU-Carbondale and a former junior hockey player for the Peoria Mustangs. Recently have moved back to Illinois after living in South Carolina with the hopes of skating on a frozen pond again.