The St. Louis Blues have been one of the true success stories of the 2014 NHL season, but outside of Missouri little is known of the team…until now. The 2014 Sochi Olympics Men's Ice Hockey tournament has already been filled with amazing stories of heart break and jubilation, and with the medal round's kick off today, we can expect it to get even better.
Some of the greatest stories of all time have put certain St. Louis Blues players in the world's spotlight, and it only spells great news for the NHL franchise that is trying to capture its first Stanley Cup.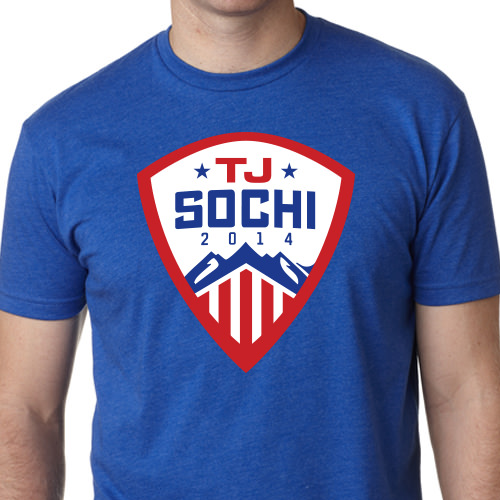 Who, What, When, and Why (I Think We All Know Where)
As this t-shirt stakes claim, there has been one Blue above all others, not just from his St. Louis team, but overall in the entire Sochi Olympics.  TJ Oshie was given a golden opportunity to represent the Blues on the world stage when he was selected to the USA Men's Hockey team on January 1st.  While this confused some, especially with Bobby Ryan being left out, now the world knows why he was picked.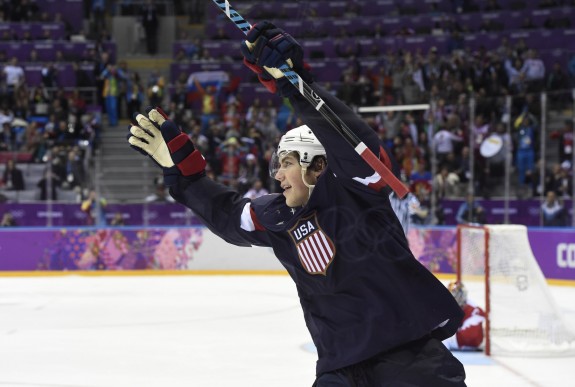 TJ Oshie has always been known around St. Louis as the guy with amazing hands, who always seems to get it done in a shootout.  We all know he may make an extra move that may cause a rush the other way from time to time, but we accept that because he's so much fun to watch, and the good definitely outweighs the bad.  Oshie has been a joy to watch develop for any Blues fan, and seeing it culminate the way it did on Saturday morning (for us US viewers) was the most gratifying thing I have ever seen a Blue do.
Get your OSHIE 2014: CALM. COOL. AGAIN. T-Shirt! http://t.co/CTCzLkVrke pic.twitter.com/7nzpXIeVQF

— Kyle Scott (@CrossingBroad) February 18, 2014
We could talk about why Oshie has the highest shootout percentage in the NHL over the past 2 seasons for days (at 69.2%), but there are plenty of other Blues making waves in the Sochi Olympics this year.
Other Blues Dominate the Olympic Competition Too
The greatest takeaway for Blues fans to keep with them after the Sochi Olympics may be the balanced play of their stars on international ice, against the toughest competition in the world.  Out of the 9 players the team has at the Sochi Games, only 1 has shown signs of weakness in the tournament.  Jaroslav Halak has been the lone Blue to struggle through this Olympic break, and in my opinion this isn't necessarily a bad thing.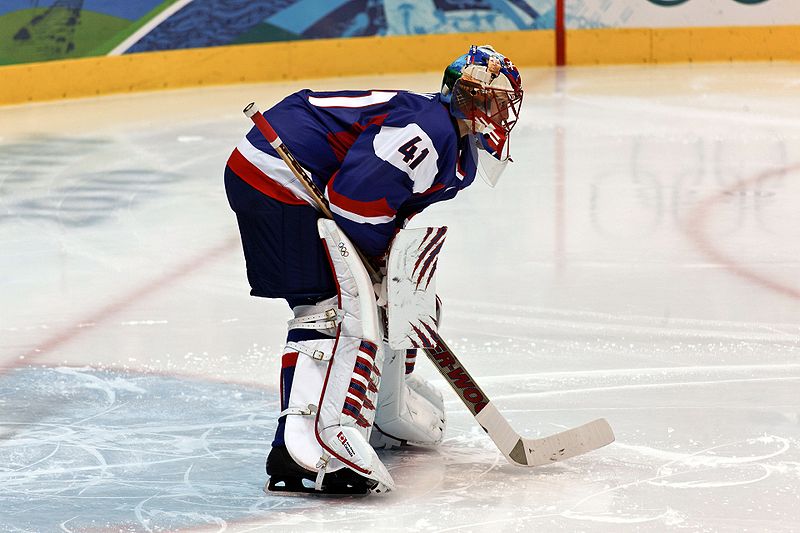 For starters he isn't getting the same caliber of help in front of him consistently as he does in St. Louis, and he doesn't seem comfortable on the large ice surface as he did in Vancouver in 2010.  Halak has also had some trouble tracking the puck which is not shocking for any fans in the St. Louis area, as we see that every year.  However, what makes this the least of our worries is two-fold: first off this means Jaro will have something to prove when he gets back to St. Louis, and secondly, he could possibly be used as trade bait in the coming weeks anyway (nothing is official though) so we may not have to deal with repercussions from these Olympic Games for very long.  That being said, let's return our focus to those Blues players making the Note proud in Russia.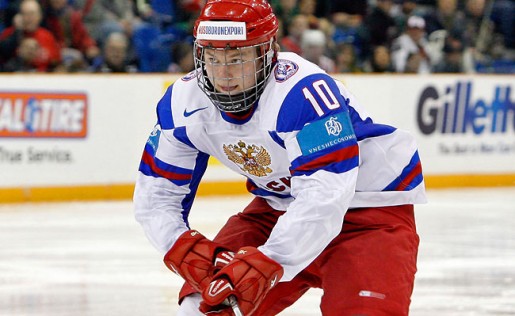 Speaking of the Russians, budding superstar Vladimir Tarasenko has had a great tournament so far, and just registered his first official point of the Games in Russia's 4-0 victory over Norway.  Tarasenko's play on the ice isn't reflected in his stats, but he has been a force for his countrymen.  His ability to battle for pucks and come away with them has given Russia plenty of scoring chances, and his d-zone play has helped them overcome some cohesion issues on the back end.  Look for him to heat up as the Sochi Olympics playoffs heat up.

David Backes and Kevin Shattenkirk have both been making sure the Americans keep their end goal in mind, reparations from 2010, and a shiny new Gold medal to come home with.  They have both combined for a total of 4 points in their 3 games played, including 2 big, gritty goals from the St. Louis captain David Backes.  What shows their dedication to team play is their combined plus-4 stat, which proves their true worth to the US National team.  If they can keep up this play expect big things when they get back to St. Louis.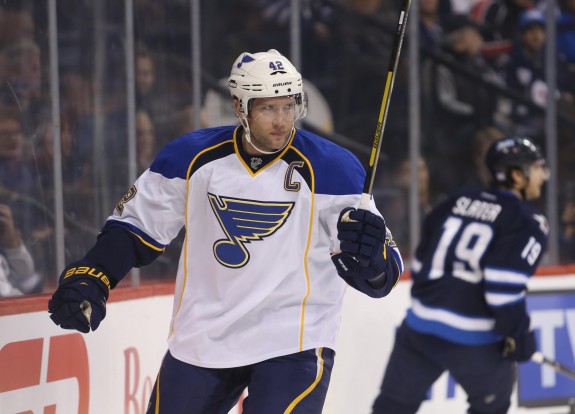 Team Sweden and Canada Each Have a Golden Pair of Notes
The Blues excitement doesn't stop after you leave Team USA by any means, there are Blues showcasing why St. Louis is a Cup contender all over the ice at the Sochi Olympics.  If you take a look at Sweden who sits pretty in the #1 overall seed of the Olympic playoffs you will see 2 more Blues tearing it up for their country.  Alexander Steen has created more scoring opportunities for his team than possibly any other Olympic player at the Games this year, and he has cracked the score sheet twice, with two beautiful passes for assists.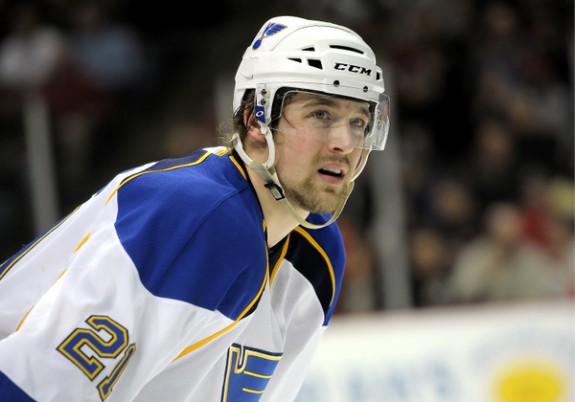 The biggest story for the Blues outside of TJ Oshie's heroics in the shootout versus Russia has been Patrik Berglund's play.  While he is having a quiet year in St. Louis, he quickly made his presence felt in Sochi.  He scored the Swedes first goal of the tournament and has since notched another scoring tally, along with an added assist.  His on ice vision and opportunistic shooting have made him a worthy replacement for the injured team captain, Henrik Zetterberg.  Berglund has found his stride again, and that is great news for all of us Blues fans stateside.
Patrik Berglund scored his 2nd Olympic goal & Alexander Steen with an assist (2nd in OLY) in Sweden's 5-3 win against Latvia. #stlblues

— Lou Korac (@lkorac10) February 15, 2014

Blues Top D-Pair Loving the Sochi Games Thus Far
Team Canada had a relatively easy go of things in  round robin play at the Sochi Olympics, but now they are completely focused on defending their Gold medal from 2010.  A big reason for their success is the stalwart defensive play of Alex Pietrangelo and Jay Bouwmeester.  They are also a combined plus-4 on the tournament and have made sure that the Canadian goalies can see the shots they face, to ensure the least amount go in as possible.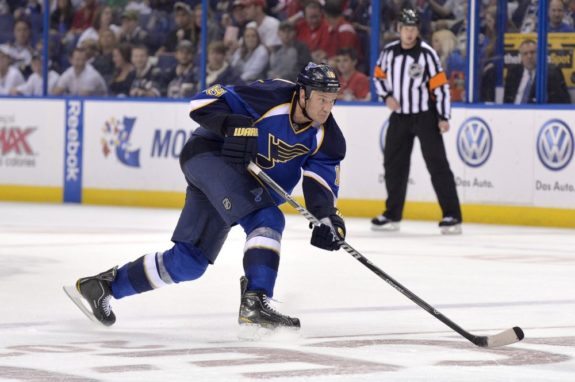 While Bouwmeester has focused on taking away large areas of ice to make zone entries difficult for the competition, Pietrangelo has been helping the scoring find its way.  The Blues #1 d-man already has an assist, but look for him to climb the scoring charts through the medal rounds, as games get more intense and teams take more chances.  It is beginning to look like there will be a USA, Canada rematch in the semifinals so both teams will need to bring their "A" game if they want to ensure taking home some hardware.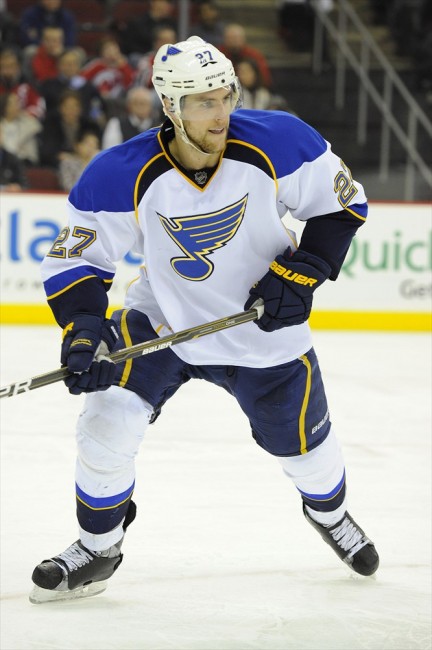 Sochi Olympics Great Exposure for Blues Players, Team
Whatever the rest of the 2014 Sochi Olympics hockey tournament holds, one thing is certain, the St. Louis Blues are chock full of talent ready to begin their true quest for Lord Stanley's Cup.  Each player representing their country in Sochi has made the fans here is St. Louis proud, and we thank them for their dedication to the sport.  I don't know about you, but I can't wait to see the team reunite post-Olympic Games to see the magic develop on ice in St. Louis through June (hopefully).
Like what you've just read?  Follow me on Twitter: @pep30