The Nashville Predators host the Montreal Canadiens on Tuesday in the first matchup between the clubs since they swapped star blueliners P.K. Subban and Shea Weber in the most talked about trade of this past offseason.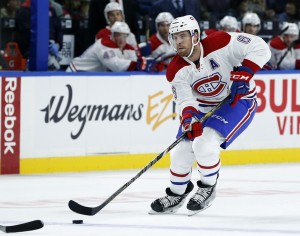 While Weber will make an emotional return to Bridgestone Arena for the fist time since he was traded by the Predators, Subban will be out of the lineup as he continues to recover from an upper-body injury. He was placed on the team's injured reserve on Sunday and is expected to be re-evaluated in two-to-three-weeks.
Subban spoke about how he is progressing with his injury and the importance of tonight's game against his former club.
"(I'm) just taking it every day and the good thing is that I'm seeing progress every day so just getting better…obviously (I'm) frustrated," Subban said on Tuesday morning. "Everyone knows how important this game is for both teams and I'd love to be out there, but (I'm) just going to have to rely on my teammates to get the job done."
The 27-year-old blueliner also addressed how difficult it is to be out of the lineup, including missing this game.
"It's difficult, you know, but at the same (time), I'm optimistic…I've been pretty lucky my whole career to be able to play in pretty much all the games," Subban said. "It just so happens, you know, that this is the way it went for me this time.
"I have to be a pro about it and come to the rink every day and continue to get better just like I have. I've just been working with the trainers and it's been good. Just having the right mindset is most important."
Subban also spoke about the timeframe for his return to the Predators' lineup.
"Right now it's two-to-three weeks….just taking it day by day…I'm optimistic," he said. "I feel every day is getting better and that's all you want to see as a player. I feel good and I've just got to listen to the trainers and kind of follow the protocol."
Weber discussed his return to Nashville after the Canadiens' morning skate on Tuesday.
Habs' Pacioretty a Game-Time Decision vs. Predators
Montreal Canadiens captain Max Pacioretty is a game-time decision for their matchup against the Nashville Predators after he was hit by a Shea Weber shot during the team's morning skate on Tuesday.
Pacioretty fell to the ice and skated off the ice gingerly with the help of team trainers and appeared to be favoring his right leg. However, no official announcement been made about the specific nature of the injury and he's considered a game-time decision, according to Canadiens head coach Michel Therrien.
The 28-year-old winger leads the Habs with 15 goals and 30 points in 37 games this season.
Benn to Miss at Least 1 Game
The Dallas Stars will be without captain Jamie Benn for at least Wednesday's game against the Montreal Canadiens, the team announced on Tuesday.
Jamie Benn (foot) is still day-to-day, but he won't play tomorrow. Antoine Roussel (upper body) could return to the lineup. pic.twitter.com/54fgmyY5Ag

— Dallas Stars (@DallasStars) January 3, 2017
Despite the news that Benn will miss his first game since March 2013, Stars head coach Lindy Ruff sounds optimistic about his status moving forward.
"This is a situation where it's our responsibility to keep him out," Ruff said, according to Sean Shapiro of Wrong Side of the Red Line. "He could probably play, but to what effect he would be and where he would be in a couple days would be a big concern of ours."
Benn injured his foot during the team's 3-1 loss to the Florida Panthers on New Year's Eve and finished the game, but did not practice on Monday or Tuesday, according to Shapiro.
Odds and Ends
— Auston Matthews was name the NHL's Rookie of the Month for December after posting eight goals and four assists in 12 games. He helped the Toronto Maple Leafs to a dramatic 5-4 overtime victory over the Detroit Red Wings, by scoring two goals, including the game-winner, in the Centennial Classic on New Year's Day. He currently leads all rookies with 20 goals and 32 points in 36 games this season.
ICYMI: Auston Matthews has been named the NHL's Rookie of the Month for December: https://t.co/Lwd7tb8c7W#TMLtalk #StandWitness pic.twitter.com/8XuJtinLB9

— Toronto Maple Leafs (@MapleLeafs) January 3, 2017
— NHL fans have voted and the league announced the captains for the four divisional teams that will participate in the 2017 NHL All-Star Game at the Staples Center in Los Angeles on Jan. 29. The teams will be lead by the Edmonton Oilers' Connor McDavid, Nashville Predators' P.K. Subban, Montreal Canadiens' Carey Price and the Pittsburgh Penguins' Sidney Crosby.
.@CP0031 voted Atlantic Division captain at 2017 NHL All-Star Game -> https://t.co/JzGAwkQxcn #GoHabsGo

— Canadiens Montréal (@CanadiensMTL) January 3, 2017
— The NHL announced the league's three stars for the month of December on Tuesday. Columbus Blue Jackets goaltender Sergei Bobrovsky was named the first star after posting a 12-0-0 record with a 1.75 goals-against average and .939 save percentage. The Blue Jackets are currently on a 15-0-0 streak — the longest in franchise history. Pittsburgh Penguins forward Evgeni Malkin was the second star and posted 21 points, including the 800th of his career, during the month. Minnesota Wild goalie Devan Dubnyk went 10-1-1 with a 1.88 goals-against average and .934 save percentage in December.
Sergei Bobrovsky, Evgeni Malkin and Devan Dubnyk have been named the NHL's 3 Stars of the Month for December. https://t.co/mCfgIMUCZm

— NHL (@NHL) January 3, 2017
— The Philadelphia Flyers have activated netminder Michal Neuvirth from the injured reserve, the team announced on Tuesday. The 28-year-old will make his return to the lineup against the New York Rangers on Wednesday for the first time since he suffered a lower-body injury on Nov. 12.
Per GM Ron Hextall, the #Flyers have loaned G Anthony Stolarz to the @LVPhantoms and activated G Michal Neuvirth from injured reserve.

— Philadelphia Flyers (@NHLFlyers) January 3, 2017
— Carolina Hurricanes goaltender Eddie Lack has been diagnosed with a concussion, according to an announcement by the team on Tuesday. The Hurricanes recalled goalie Daniel Altshuller from the Charlotte Checkers (American Hockey League).
.@Altsy31 is back with the #Canes after being recalled from @CheckersHockey today. pic.twitter.com/n9QgzzJUHG

— Carolina Hurricanes (@Canes) January 3, 2017
— City officials in St. Louis are considering a proposal that would utilize city tax revenue generated by the Scottrade Center  to finance an estimated $67.5 million in bonds to cover the expenses to improve the 22-year-old arena, according to a report by The Washington Post on Tuesday.