In the NHL, the schedule will never do a team any favors. That adage rings true for the Rangers while they wait for Pavel Buchnevich, Rick Nash, and Mika Zibanejad to return to full health. As these three important players heal, the team has a few very difficult games to start January. Can they continue to weather the storm?
Tough Conference-Filled January
The Rangers start January with two games in two days against the Sabres in New York and the Flyers in Philadelphia. These games are a prelude to a huge Saturday matchup against the Columbus Blue Jackets. The Jackets haven't lost in over a month with ex-Rangers coach John Tortorella at the helm. If the Rangers plan to win against Columbus, scoring first will be a must.
http://gty.im/630663950
Overall, January features many tough Eastern Conference matchups for the Blueshirts. Two games against the Blue Jackets, as well as games vs. the Flyers and Leafs will prove to be extremely tough. The Rangers will then face Montreal, Buffalo, Detroit, Dallas, and Los Angeles to end the month. There are no easy games in the National Hockey League, meaning that January could make-or-break the Rangers.
Injury Updates
As many hoped, the Rangers injury bug will soon come to an end. Although he's missed games, Rick Nash has practiced recently and will likely return to the lineup Saturday against Columbus. Hopefully, Nash is close to being fully healed and won't have to worry about playing hurt for the rest of the year. Nash said, "Everything felt good," after practice on Tuesday which may signal a return even sooner than Saturday's game.
On the other hand, both Zibanejad and Buchnevich don't have set dates to return yet. Zibanejad has been practicing with a non-contact jersey for the last few days, slowly nursing his injury back to health. He has been photographed on the ice shooting the puck over the last week or two so his recovery appears to be on track. The Rangers have won just 48% on faceoffs without Zibanejad, so having him back in the lineup will do wonders in the circle. His immense offensive ability will help a ton as well.
Buchnevich is another story. The New York Post reported that Buchnevich's recovery has been slowed by conditioning problems. Obviously, conditioning is important for a sport that requires constant movement and hustle. The Rangers have a "bye week" of sorts, with five days off after their matchup with the Blue Jackets. These five days couldn't come any quicker for the Rangers rookie, hopefully helping him get back into shape with full practices rather than gameday walkthroughs.
Holden, Puempel Stepping Up
The Rangers are currently in third place in the toughest division in the NHL. Attribute the Rangers success despite injuries to huge performances from role players throughout the months that Zibanejad and Buchnevich have missed.
One player who has been incredible is Nick Holden. Holden is only two points behind his season total with the Avalanche last season, and is on pace for over 40 points. He has performed above expectations so far with no signs of letting up.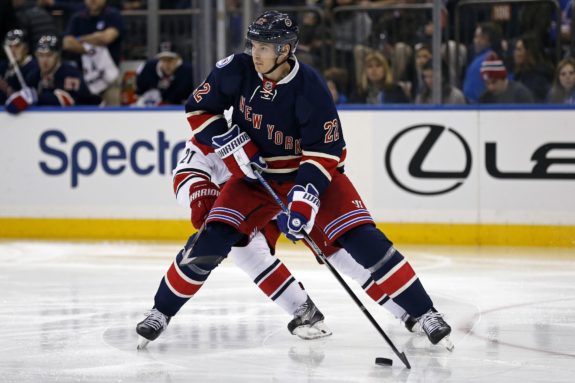 Matt Puempel was basically unknown before being picked up by the Rangers off of waivers. The 23-year-old has four goals and one assist in his last five games, even playing power play minutes as a grinder. He has also played above expectations as a Blueshirt so far, helping lessen the injury burden with a few fantastic offensive performances.
If Holden and Puempel can continue to add offensive flair when the team becomes healthy, the Rangers could return to the blistering offensive pace they showed to begin the year. The Rangers have proven time and time again that they can win games with their depth. If their role players and stars can perform together, this will be a dangerous team come playoff time.
I'm a college student at Robert Morris University. I'll be covering everything Rangers as well as some gaming news as it comes out! Follow me on twitter at THWDonovan!