The Vancouver Canucks have been obnoxiously injury-plagued in this 2017-18 season and one of their major losses has been that of Sven Baertschi, their top-line winger, and sidekick of the also-injured Bo Horvat.
Prior to suffering his broken jaw on Dec. 9, Baertschi managed to tally 18 points in 30 games, leaving him tied for sixth on the team scoring list — he would, without a doubt, be much higher on the list if it wasn't for his injury.
After nearly an entire month of sideline action, Baertschi is finally ready to make his return. Head coach Travis Green stated that he would make his return at some point during the Canucks' coming road trip. The news is beyond welcomed by the Canucks who have struggled since Baertschi was injured.
#Canucks Green says Baertschi will return at some point on upcoming road trip. Says they're pushing Sutter hard now, but still no time frame to join practice group

— Jeff Paterson (@patersonjeff) January 1, 2018
What the Canucks Missed
The 25-year-old Baertschi is a top-line fixture for the Canucks, as I mentioned, and a huge offensive contributor for the team. Now, you might be noticing his statistics aren't exactly spectacular, so how could he be considered a 'huge offensive contributor'? And that's fair, it is, but, think back to last season when Horvat and Baertschi were the team's one-two punch — Baertschi finished third in team scoring with 18 goals.
Who cares about last season? Not too many people, but Baertschi showed his true potential last season — something that has been hidden and shadowed by lack of trust and development. Even with his injury, Baertschi is still on pace for his best statistical season to date — he finished with 35 points last season. So this season, if he stays on track, will be yet another improved season for the Swiss speedster.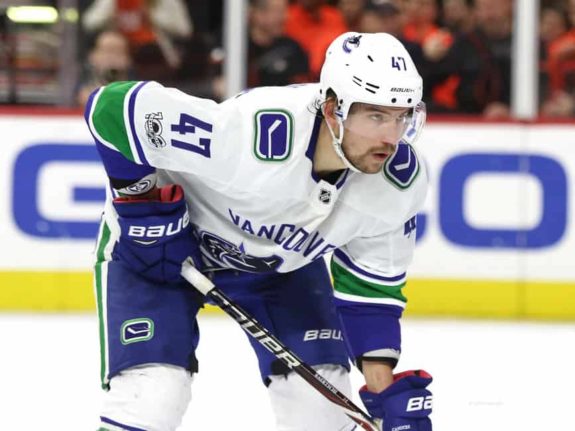 His offensive presence has perhaps been missed the most on the power play where he put home five of his eight goals on the season. His chemistry with Horvat and the newest addition to the line, Brock Boeser, is an integral piece of the Canucks' offence. Without Baertschi (and Horvat), a giant void is left vacant.
The Doubters
There are those who believe that Baertschi is over-rated and not worthy of a top-line placement and, sure, I can see that angle but, I also think that Baertschi's doubters examine him through a narrow and somewhat foggy lens. Looking at his stats, Baertshci is, plain and simply, not a competitive NHL team's top-line player – he's just not. However, the Canucks are not a competitive team, but rather a rebuilding one.
His doubters, in my opinion, are looking at Baertschi with a limited perspective and not seeing the big picture and what could be for the ever-developing winger. Many critics feel that Baertschi has reached his cap and is being held afloat by the offensive prowess of Horvat and Boeser, and I'm inclined to agree, for the most part.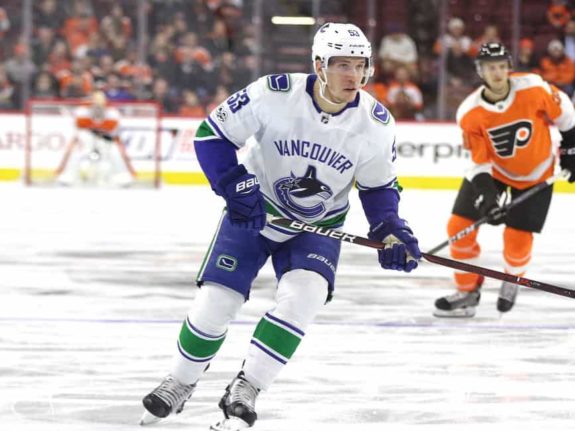 Where I disagree, though, is that Baertschi has reached his cap. I do agree that Boeser and Horvat are elevating his game, but that's what great players do; they feed and grow off one another. Personally, I see Baertschi becoming a 30-goal player in the next couple of seasons and firmly believe that he is, in fact, a top-line forward.
Salvaging the Season?
The battered and bruised Canucks are currently sixth in the Pacific Division and 10 points out of a wild card position so chances are slim for the Canucks making a playoff push this season. On the bright side, expectations were at an all-time low coming into the seasons and the Canucks blew everyone, including myself, away with their ability to actually be a competitive hockey club.
Unfortunately, injuries dismantled the pleasantly surprising Canucks and reduced their level of play to that of what was expected; hard to watch and incredibly inconsistent. So, salvaging this season in terms of playoffs, isn't likely and not to be hoped for too heavily. However, the Canucks have a chance to salvage the season in terms of showcasing what their near future holds and why they are a team to be excited about.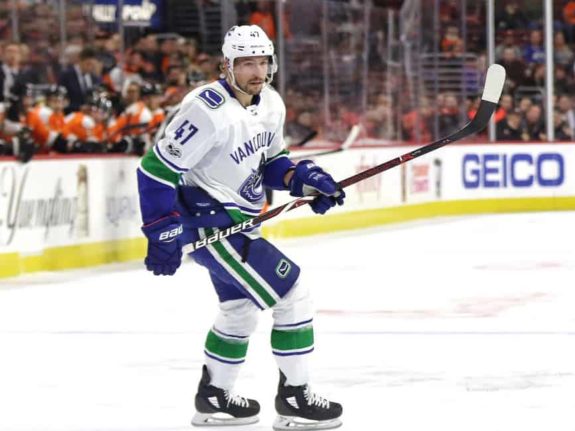 Baertschi is a pivotal part of this showcase, and, if he can bounce back with a hugely productive back-nine of the season, he will hopefully convert some of his doubters. Beating his season-high points total of last season is a very reasonable goal to strive for, and adding some stability to an inconsistent lineup will be vastly instrumental for some of the young talent. His return is something the Canucks' faithful should be excited about, and Baertschi's future is something to really look forward to.
As for predictions, I will go ahead and boldly say that Baertschi will finish this season with 19 goals and 23 assists.
Matt is a longtime fan, player and student of the game of hockey. Broadcast and Online Journalism student at the British Columbia Institute of Technology.