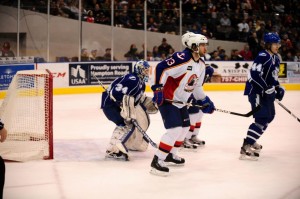 The Syracuse Crunch stonewalled the Norfolk Admirals Friday at Scope skating away with a 3-0 victory.  Tonight's match was a highly penalized tilt. Referee Terry Koharski handed out 128 minutes in penalties with many being fighting majors and misconducts. Folks, this tilt was not for the faint of heart!
Norfolk center Chris Wagner squared off against Syracuse's Cory Conacher just minutes into the opening frame.  Wagner chirped about his first scrum saying, "He had me in a headlock at first and I asked him what's going on? He didn't say anything and it kind of happened." Koharski deemed it was not a fight and gave both combatants double minors for roughing.
Syracuse opened up scoring seconds after the Wagner and Conacher dust-up on the powerplay. Second year pro Richard Panik tallied his 6th goal of the season on a shot that eluded Admirals goaltender Frederik Andersen.
Syracuse's Tyler Johnson contributed offensively scoring his 20th goal of the campaign slapping a shot that tickled the twine to pull the visitors ahead by two. The visiting club had the upper hand in shots the 1st period outshooting the home team 10 to 6.
Neither team found the back of the net during the middle frame; however; there was four ten-minute misconduct penalties resulting from fights. Once again Syracuse outshot their opponents 8 to 5.
Keith Aulie sealed the shutout win for Syracuse one-timing a shot past Andersen at the 17:04 mark of the 3rd period. The final shot count was in Syracuse's favor outshooting Norfolk 29 to 22. Netminder Dustin Toakarski was credited with the win for the Crunch.
Norfolk Head Coach Trent Yawney commented on the game tonight stating, "Their first goal, we basically handed it to them and couldn't get a clear." With the team down a couple goals Coach Yawney switched up line combinations. He stated his reasoning behind this tactic declaring, "I was just trying to find a goal when it was two nothing. Just trying to set a par for the course."
Rookie forward Chris Wagner was on a line with ECHL call-ups Josh Brittian and Ryan Lasch during the third period, but started the game with Maroon and Etem on his wings. "The lines kind of got mixed." Wagner stated. The South Shore King Alumnus shared his thoughts skating with Maroon and Etem saying," As long as we are working, we're in pretty good shape. Patty (Maroon) is great at protecting the puck down low. Emerson has been burying a lot of goals lately so we have a good combination of toughness and speed."
Admirals tough guy Jay Rosehill commented on the physicality of the game saying, "We are both physical teams and we play an aggressive style with a lot of fore-checking." Rosehill added, "They have guys who can hit too. So that clashes." When asked about positives of the game Rosehill responded, "We stayed together as a team out there and we tried to establish our game, but it's tough to find positives right now."
Syracuse was successful on 1 out of 3 power play chances. Norfolk was 0 for 6 with the extra attacker. The Admirals now look for greener pastures today at Scope when they rematch the Crunch at 7:15 in downtown Norfolk.
Ted grew up in Virginia. Warren has a passion for the AHL and dishes out articles about the Norfolk Admirals and the AHL. Follow him on Twitter @bauerhockeydude