Not too long ago, I wrote a three part series about the Tampa Bay Lightning's present goaltending situation and their options when it came to obtaining a backup for Ben Bishop. Now that Free Agent Frenzy has essentially come and gone and Yzerman's decision has been made known to the world, I'm here to offer you a little post-script – a little closure, if you will. In that series, I went over who could fill that hole behind Bishop, left as a gaping wound in the shape of Anders Lindback and his terrible season, and narrowed it down to three people.
The first option I discussed involved Kristers Gudlevskis, who had a stellar (if not legendary) performance at the Olympics this year, but, unfortunately, his lack of consistent experience would've been too much a gamble for the Lightning to take. The next choice the Lightning could've taken was a Russian Monster named Andrei Vasilevsky: a 19 year-old prodigy destined to become the next great goaltender. Alas, Vasilevsky, a Lightning first-round pick in 2012, knows nothing of hockey here in America and thus needs more development with the Lightning's AHL affiliate, the Syracuse Crunch, before he can step into the limelight and shine before the world.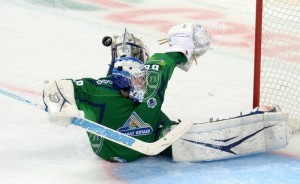 Lastly, I mentioned a final and third option: obtain a veteran goalie, through either free agency or via trade, with experience who has proven that he can step up behind the crease when his teams needs him the most and get the job done. At the top of my list were Jonas Hiller and Thomas Greiss; Hiller: a goaltender in dire need of something to prove after such a disastrous playoff run with the Anaheim Ducks this past year, a need that, unfortunately, decreased his willingness to be signed as a backup goaltender; Greiss: a goalie who has practically made a career out of being a backup, but, since the job required to be only a temporary one, would probably never agree to just a one-year, in-and-then-you're-out deal.
Then, when July 1st came, Greiss and Hiller were both signed to teams outside of Tampa Bay. When Yzerman made somewhat expensive (though still pretty cheap by Free Agent standards) mult-year signings with Anton Stralman and Brian Boyle, many were left scratching their heads, wondering why Yzerman had cleared all that cap space the past Sunday if he wasn't going to sign a backup for Lindback. Speculation was made that Yzerman was just going to let Gudlevskis be the backup next season instead of signing a more experiences goaltender – an understandable but risky decision. Needless to say, doubts were cast.
But…if there's one thing any true Lightning fan should know, it's that you never doubt Yzerman.
Another Russian Signed
So, in the end, Yzerman did indeed go with the third option: sign a free agent. However, as I emphasized in my third article, you can't just sign any free agent with a few years of experience and solid numbers. As in all aspects of hockey, context needs to be involved. Your decision must be a weighted one considering all the different factors involved into making your team a better and more successful one.
And, contextually, what the Tampa Bay Lightning needed most was a veteran goalie who would be willing to play backup to Bishop while also sharing the workload, thus removing a world of weight from Bishop's shoulder, while also being okay with staying on the team for just one year.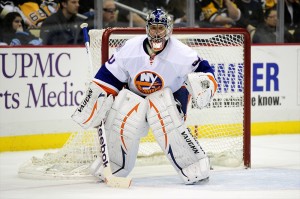 And, contextually, the Tampa Bay Lightning got just what they need, and then some, in 40-year old Evgeni Nabokov.
When the announced was made that Yzerman had signed Nabokov, I thought to myself: "Now, why didn't I think of that!" Yes, he wasn't the best goalie available, and he hasn't been the most reliable lately, but, there's more to hockey than just stats and performance, especially when it comes to goalies. Let me explain.
Nabokov comes from a country that used to be part of the Soviet Union. Sounds familiar, right? Well, that's because Kristers Gudlevskis hails from Latvia, a country that, long ago, hid behind the Iron Curtain. Also, Andrei Vasileski comes from the Red Country itself. All three goalies now have one thing in common: they're heritage. Nabokov would act as a role model for these two up and coming goaltenders. He can act as a mentor, offering them help both on and off the ice, as well as improving their game through communication based off a mutually unique characteristic.
Good luck to Evgeni Nabokov in Tampa Bay. Class act who was never given the credit he deserved for helping #Isles make the playoffs.

— Daniel Friedman (@DFriedmanOnNYI) July 1, 2014
Though many have disagreed with this decision, I really think that Nabokov was the best (& only choice) for the Tampa Bay Lightning when it came to finding a back-up goalie. He fits the bill just as well as the Hiller or Greiss, but offers to the Lightning what no one Free Agent goaltender could provide. All of this is peachy keen, it fits the context perfectly and actually gives more than sought for, but, at last, there remains one more upside to signing Evegeni Nabokov over everyone else.
Evgeni Nabokov is Just Delightful
He's just an all-around, swell dude. I mean, the guy's almost too nice to be a hockey player who sits behind rubber discs flying towards his face at speed close to and past 100 miles per hour.
Signing a free agent, especially a veteran, that's really just a quick fix, obviously brings forth the possibility that he-who-signs would join the team begrudgingly. When Nabokov made the necessary rounds before the media that goes along with the hectic Free Agency period, he was asked why he joined Tampa Bay and how he felt being put into backup role for the Lightning when he'd been a starter for so many years. Nabokov's response, instead of apathetic or hostile, was purely pleasantry and eagerness:
"Anytime my name is called," Nabokov said, "I'm going to be ready. Obviously I understand my age, and people talk about it. But I don't feel it. Nothing I can do with the situation. At this age, I'm fine with it. I'm still enjoying playing hockey. I still feel like I can help the team achieve a goal so that's why I'm still playing."
As a player intended to be insurance in case Bishop gets injured again, Nabokov's attitude seems to be a little more upbeat than you'd expect. Some of the excitement Nabokov's showing probably derives from the fact that he'll now be minding net for an up-and-coming team rather than a bottom feeder like the New York Islanders, but, there's also a sense of a genuine gratitude for being asked to join the Tampa Bay Lightning. And, in a game where emotions form chaotic storms, a good team needs a solid goaltender with a stable head when things get rough. Signing Nabokov assures the Tampa Bay Lightning of stability behind the net, a mental factor which can decide a great number of games during the season.
Problem Solved
In the end, Steve Yzerman sealed up the gushing defeat for the Tampa Bay Lightning. Losses will still come, but few will victories will be handed over to their opponents. Thanks to Nabokov stepping in as Bishop's backup, when the Lightning do lose, it'll only be after the other team has jumped through hoop after hoop and pushed themselves to the limit that the Bolts concede victory.
Yzerman's shaped this team into a beautiful image, a portrait of gritty players, tough-guy defensemen, and forwards that leave defenders confused and pucks behind the goaltender. Now, when it comes to the Problem Behind the Crease, an issue that has plagued the Tampa Bay Lightning for years, a solution has been found.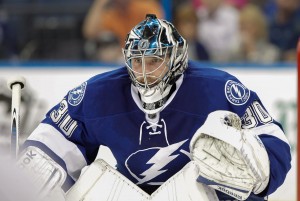 That solution, one Yzerman has been strategically building up to for years, was finally completed this summer with the signing of 40-year old Evgeni Nabokov. Like the other areas on the Lightning's roster, the Bolts goaltending now has depth. From 19 year old Andrei Vasilevski, University of Minnesota goalie Adam Wilcox (who no one seems to really talk much about but should – really, he's amazing) all the way up unto the No. 1 & 2 spots of Ben Bishop and Evgeni Nabokov, the Tampa Bay Lightning goaltending depth goes father and deeper than any other team in the National Hockey League.
And, it looks like it's going to stay that way for a long, long time.